Have you ever dreamed of visiting a foreign city or country? Maybe Venice, London or Paris? Well, if that last city caught your attention, keep reading. Last year I was able to cross Paris off of my bucket list. While there, I tried many new things and saw a huge amount of beautiful and interesting places, and after taking a while to think about my trip, I came up with a list of must-see attractions in the City of Lights.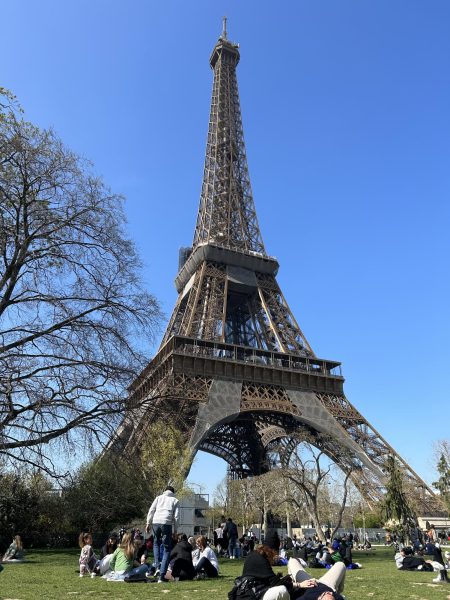 The Eiffel Tower
The first recommendation of mine might not be an actual recommendation, considering that just about nobody would visit Paris without also going to see the iconic Eiffel Tower. And while it's a no-brainer to see it, there are also so many different views of the structure that I would recommend. First, seeing it in the day versus at night are two completely different experiences. And at 9 p.m., you are able to see the well-known twinkling of the tower. It's extremely beautiful and something truly special for those of us who have dreamed of visiting Paris. You can also see the Eiffel Tower from various angles, from the base of the Seine to right below it, offering a different look into the structure and design.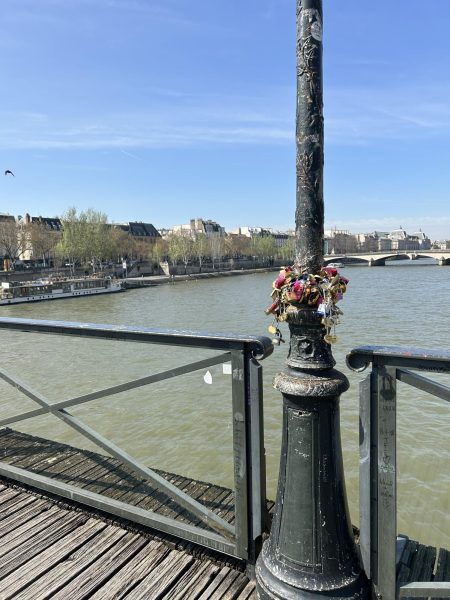 2. The Seine
Speaking of The Seine, its 483 miles that make it through some of France's most iconic spots. This is why I would recommend taking a boat tour throughout Paris. Not only does it allow you a unique way to see the city, but it also gives you some insight into Paris's culture. Enjoying the weather and the views from the river bank or taking a boat ride along the Seine are both equally enjoyable. You can easily pass through the city and get off wherever you'd like—for instance, at the Eiffel Tower.
3. The Louvre
While the Louvre Museum might seem like a place only enjoyable to art or history fanatics, it actually is a place that anyone could find interesting. First, of course, the architecture of the Louvre is a huge symbol in Paris. The large glass pyramid has been featured in many films and is one of the most culturally significant places in the city. That's exactly why I was so excited to see it. But as well as this, inside the Louvre, you find a seemingly never-ending supply of paintings, statues, artifacts, and other art pieces. The pieces have been collected from many different countries and time periods, offering something for everyone. Some of the paintings I enjoyed the most include "The Death of Marat" by Jacques-Louis David, "The Dying Slave" by Michelangelo, and the hugely famous "Mona Lisa," painted by Leonardo da Vinci.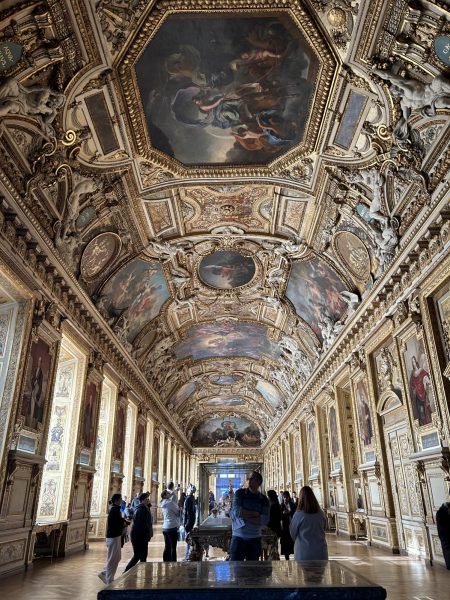 4. The Palace of Versailles
You may recognize this name from one of your history classes. And while, yes, this can make it appear to be boring to some, it's actually a vastly interesting way to have a first-hand account of France's lavish history. The palace is about a 45-minute drive out of the city but still very worth it. After waiting in line, you are able to experience the multitude of gorgeous rooms that make up the palace. One of my favorites was the Hall of Mirrors, probably the most well-known out of the rooms that make up Versailles, and rightfully so. It is a must-see when it comes to Versailles. Moreover, while the inside of Versailles is obviously stunning, the gardens and the exterior of the palace are also very impressive. The gardens stretch across 2,000 acres of land, and you can explore through a maze of trees adorned with musical fountains and detailed statues. The property is huge and really offers an insight into the royal history of France.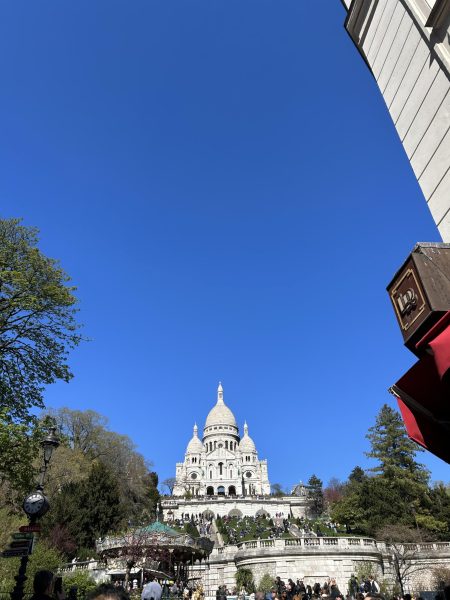 5. Sacré-Cœur 
The Basilica of Sacré-Cœur is one of the places I visited in Paris that I had no previous knowledge about. When I first went to see the basilica, I was definitely confused as to the significance of it. However, my appreciation for Sacré-Cœur grew after I learned about the history behind its design, which was inspired by Roman architecture. Additionally, according to sacre-coeur-montmartre.com, Sacré-Cœur is also known for  its martyrdom of Saint-Denis, the patron saint of Paris.Yet, the beauty of the basilica is also something to admire. When you get off the subway station near Sacré-Cœur, you can see it standing high above its surroundings, atop a huge hill. The height of the structure is what first caught my eye, but I was soon able to notice the design of the cathedral and appreciate the intricacy of the architecture. Climbing to the top of the basilica offers a stunning view of the city of Paris.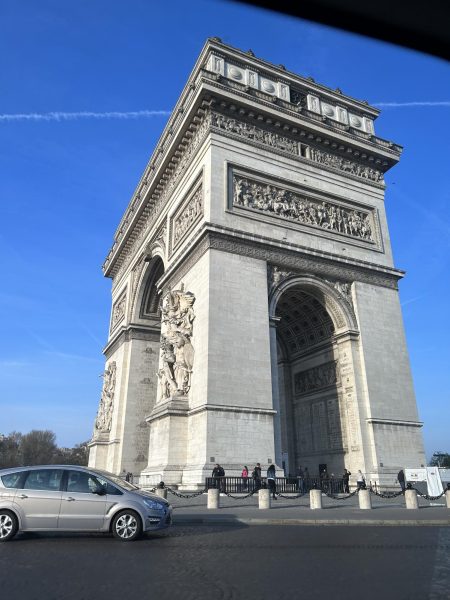 6. Arc de Triomphe
This beautiful piece of architecture is found right at one of the most famous streets in Paris, the Champs-Élysées. This street has a myriad of luxury stores, cafes, and restaurants. If you are coming to Paris and thinking about buying a luxury item for a docked price, then this street should definitely be on your list. But the best part about this street (in my opinion) is that as you walk up it, you get closer and closer to the Arc de Triomphe. This is another iconic image located in Paris and its grand and intricate inscriptions on all four sides are a marvel in themselves, and its size is extremely impressive as well. It is definitely worth seeing when visiting Paris.
Finally, if you do end up visiting Paris, make sure you take in the city itself. The experience of Paris isn't just indulging in tourist attractions; it also includes eating French food, listening to French music, and overall just taking in the rich culture of Paris. You will have a great time no matter what, and make sure to take plenty of pictures. Au revoir!