A heavy silence blankets the court as tension rises. The Tenafly First Doubles team gets ready for what will be the final point. As the last shot hit by Zoe Han ('24) sails in on the opposing court, it is clearly in, and too good to be returned. Cheers erupt from fans and family members as Tenafly's Kay Considine ('24) and Zoe are titled state champions in girls' doubles.
Seniors Kay and Zoe, Tenafly's Varsity First Doubles and the co-captains of the Girls Varsity Tennis Team had a successful season as they secured first place in both the County Tournament and NJSIAA State Tournament. The chemistry between this duo in their second season as partners is unmatched, and they were undefeated throughout all school matches. Having been on the varsity tennis team since freshman year, they were excited to lead the team and make this last season a memorable one.
Before the pair gave a final farewell to the tennis team, Kavya Chettur ('25), Kailyn Cho ('25), and Sophia Lee ('25) interviewed them to get their final thoughts and reflections on the 2023 tennis season.
How was the tennis season?
Zoe: It was great! I'm so proud of the team. We had a really great season this year. Although we lost two of our singles starters (last year's seniors who graduated), I'm so glad that we managed to do as well as we did.
What is some future advice that you would give to younger aspiring tennis players?
Kay: Remember that we are PLAYING tennis! Winning is important and nice but having fun is the most important part. Don't get hung up on mistakes you make and move on to the next point.
Zoe: Just have fun with it! It doesn't have to be serious, and when you play with friends and family it can be really enjoyable. Practice whenever you can and get lots of match experience!
What are some challenges that you and your team had to overcome in this season?
Kay: The constant consecutive matches that we had because of the weather this season. I think the last two weeks of the season I played a match every day.
Zoe: Our hardest challenge this year (besides the bad weather) was probably the big loss with our starting lineup. We lost our first and second singles, so some of our other players had to step it up. I'm so proud of Sophia, Sam, and Michelle in our singles positions for doing so well and helping the season go smoothly. 
What was your favorite memory from the season?
Kay: My favorite memory has to be winning states with Zoe!
Zoe: I don't have a single favorite memory, but I really loved watching everyone play their matches and hanging out with the whole team before matches. We always had tons of snacks and fun talks on the bus rides to the away matches that always made the season so memorable. I am so grateful for such a great season and such an amazing team.
What will you miss about the team?
Kay: I'm going to miss practicing with everyone the most. I would always be smiling and laughing and just being able to play tennis with everyone is something I can't replicate.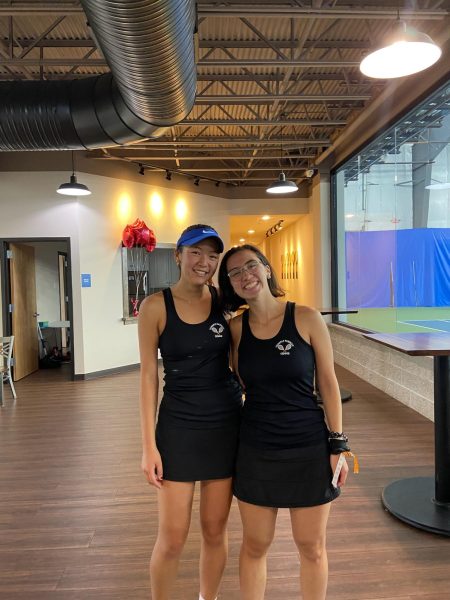 As two starters on the Tenafly High School Varsity Tennis Team, Kailyn and Sophia will definitely be missing Kay and Zoe. The duo always took care of everyone on the team; from helping to regrip rackets to getting everyone in the right mentality after a heavy loss, they helped bring the varsity girls together to form a cohesive and supportive team. This season was filled with so many laughters, and Kay and Zoe were true stars in representing Tenafly High School.