LEGO toys are perhaps one of the most well-known toys in the world. Since The Lego Group has gained popularity, it has come to dominate the market of toys through its delicate and exquisite designs of their toy bricks. We can assure that every child—at least in our generation—has once asked their parents for a LEGO set. But how did such a simple toy develop to dominate the toy industry? 
LEGO's History
The story of LEGO began in 1932 with its Danish founder, Ole Kirk Christiansen. At the time, the carpenter from Billund, Denmark began making wooden toys with his first woodworking shop. Unfortunately, his business was not very profitable, and he even traded his wooden creations for food to promote his business. Two years later, Christiansen renamed his company "Lego," which he derived from the Danish word leg godt, meaning "play well," according to The Collector. 
Shortly after, unfortunately, World War II broke out, and his business location burned down. However, this did not stop Christiansen from pursuing his works again. In 1947, after decades of working solely with wood, he began working with plastic blocks. In 1953, his works centered around the creation of bricks, and his company was renamed as we now know it: "Lego Bricks." 
In the next few decades, LEGO's company size exponentially grew, and its popularity grew to become the renowned toy company it is known as today. In fact, there are currently over 400 billion LEGO bricks on the Earth!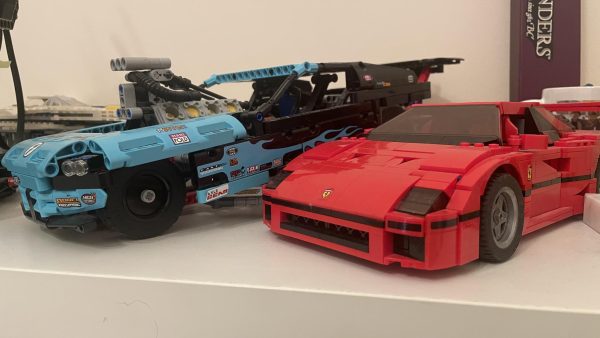 Justin's Story
My story with LEGO came with my obsession for cars. If you look around my room, you'll find that most of my displayed sets are composed of cars, such as my most beloved LEGO Ferrari. When I was about 7 or 8, I would often use these cars to perform races with each other, even breaking some sets in the process. Nevertheless, I made sure to quickly bring the pieces back together and continue the race.
Back then, since I was so little, I mostly did my sets with my parents. The building process took a few hours, even requiring a few additional hours if I messed up one step. However, by the end of the gruesome process, I was ultimately full of joy to see my finished masterpiece, and I proudly displayed the sets all around my room. 
Thinking back, the joy I received from completing these LEGO sets were truly unlike any other. Although "putting bricks together" for hours might not sound appealing to some, it was the best few hours my childhood self could ask for and I don't regret any of it.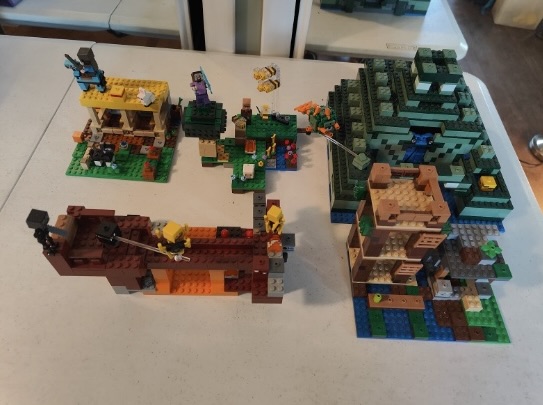 Calvin's Story
Personally, LEGOs have always been a huge part of my childhood. For nearly all of my childhood interests, there was a LEGO set about it. When I was younger, I especially enjoyed playing the video game Minecraft. Turns out, there are numerous LEGO sets built with a Minecraft theme on Amazon. I bought numerous Minecraft LEGO sets, whether it be for my birthday or a holiday. 
I vividly remember the excitement I had when receiving a box of LEGOs. Every opportunity I had,  I would get to work on putting the LEGOs together. Hours flew by as I worked on transforming a bunch of small, colorful bricks into a recognizable whole. The process was a lot of fun. The satisfaction I would receive after completing a LEGO set made the effort all worth it. 
Like most toys, I would eventually get tired of one LEGO set and move on to another. However, I still made my best effort to keep all the LEGO creations in my room. I would look back on these completed LEGO sets like trophies. Sadly, as we moved, it was sad to see some of these LEGO sets go, although many still remain in my room today. 
What It Means to Us
Though it is inevitable that we eventually got tired of a LEGO set, they never fully disappeared. These LEGO sets exist not only in our memories, but also around us in real life. Though they may have lost much of their earlier importance as we grew older, we believe that LEGO sets still served an important purpose. The little colorful bricks will continue to remind us of the interests and experiences we had in our childhood. LEGO sets serve as time capsules that allow us to examine how we changed and look back on some of the most enjoyable moments in our lives.