With the AI buzz that has seemingly taken the world by storm comes a series of benefits, including the potential of action automation, advancements in technology, and changes within education. One specific, but largely unmentioned benefit within the educational field is new language-learning methods assisted by AI, which can transform the future of language learning. 
First, AI can help language learning by creating personalized and adaptive learning plans for users through the use of algorithms and language models "These platforms analyze the learner's strengths, weaknesses, and learning style to deliver customized lessons and exercises," said Verbalplanet. In addition, they can provide real-time feedback and help users understand what they need to work on. AI chatbots can also act as people, allowing users to engage in simulated conversations which develops crucial skills needed when learning a new language. 
There are also limitations to the extent that AI can help with language learning. According to the same article on Verbalplanet, AI chatbots may not be able to represent the specific nuances and context of a realistic conversation. In addition, the answers that AI provides may be misleading or inaccurate. After all, AI language-learning models depend upon the development of AI technology. For students to be the most successful, they should seek help from native speakers and educators. However, they can still use applications that utilize AI to help them with their learning.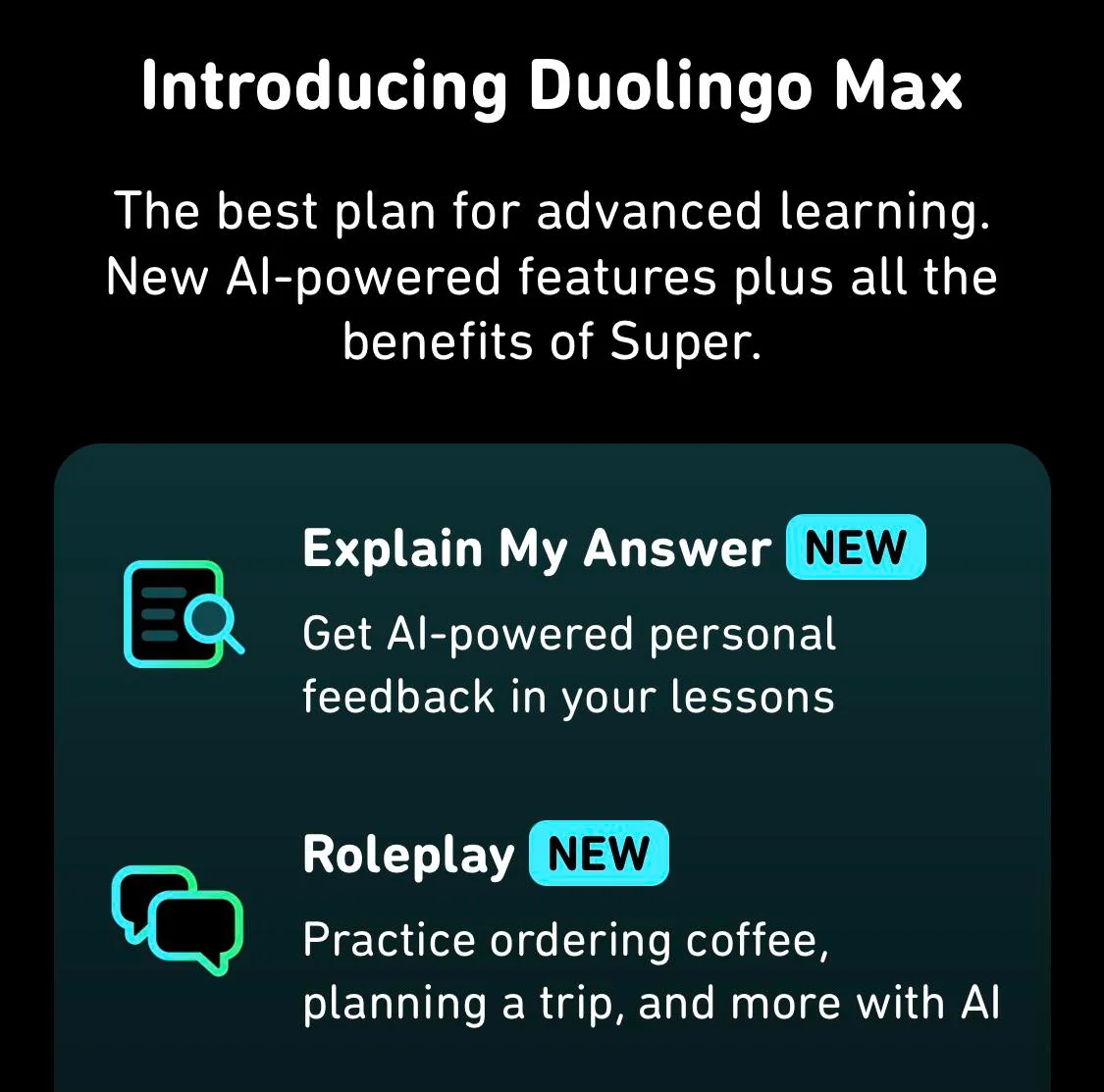 One example is Duolingo, which has introduced a new tier in its subscription service. According to Duolingo Blog, users subscribed to Duolingo Max will have access to two new features powered by GPT-4. One is called "Roleplay" which allows casual dialogue between learners and characters within the app, and another is called "Explain My Answer" which explains why an answer is right or wrong. Holding a conversation is an important part of learning a language, yet, many people may lack a physical person to practice with, which is where the "Roleplay" feature comes in. In addition, having the "Explain My Answer" feature is helpful, since the AI can respond to additional questions or misunderstandings if necessary, which is more effective than a potentially confusing explanation.
There are, however, some drawbacks to these new additions. For one, they will only be available to iOS users, and solely for English, Spanish, and French learners. Furthermore, the update is limited to certain countries. Duolingo does plan to expand these features to more of their language courses, along with other platforms and countries. Nevertheless, to even access these features, one must subscribe to the highest tier of their subscription service, paying a total of $168 yearly, a high price for a subscription in the language industry right now. In addition, user reception has been mixed. "The new features are practical and useful, and improve the Duolingo experience. However, right now, I don't think [Duolingo] Max has enough to justify the current price point," wrote Matt from Duoplanet. 
Other apps are incorporating AI to make language learning more accessible too. Take LingQ for example, a reputable language-learning site that prioritizes immersion and input over scrupulously studying grammar rules, which in collaboration with WhisperAI is putting in work to make transcription from spoken sources easier. "The LingQ integration with Whisper AI allows users to generate text from any audio file, including podcasts and audiobooks," said Elle from LingQ. Whisper AI provides an even larger, more accessible supply of content for learners to digest on their language learning journey, made possible by its support for a vast array of languages and precise transcription capabilities.
These are all just a few examples of the changes that AI has brought to the language-learning world. From simulated conversations to transcription generation, the process of immersion and progression in any given language has been greatly accelerated for learners. This will only continue to grow in the future with more improvements to these systems and the development of software. However, language inaccuracies and high paywalls prevent language learners from getting the best out of AI software. Hopefully, in the future, these features will be accessible to everyone for free. It is safe to say that AI has permanently changed the landscape of language learning for the better.