This coming Sunday, November 12, marks the celebration of Diwali (derived from the Sanskrit word Dipavali, which means "row of lights"). This highly cherished and widely celebrated Indian holiday also coincides with the Hindu New Year and, according to National Geographic, "celebrates the triumph of light over darkness, good over evil and knowledge over ignorance."
Diwali is celebrated by Hindus, Jains, Sikhs, and Buddhists in India and around the world and has individual meaning for each belief system, and observances of Diwali differ depending on region and tradition. For Hindus, it honors the return of Prince Rama of Ayodhya, his wife Sita, and brother Lakshman, from a 14-year-long exile as well as his battle against King Ravana, which Prince Rama won. People of Ayodhya lit lamps along the way to light their path in the darkness on this day. For Jains, it is the day when Lord Mahavira, the last of the Jain Tirthankaras, achieved nirvana—complete knowledge and enlightenment. For Sikhs, it symbolizes the freedom of Guru Hargobind, the sixth guru, from Emperor Jahangir. While not a primarily Buddhist festival, Diwali is observed by certain Buddhists to mark the day when Emperor Ashoka embraced Buddhism.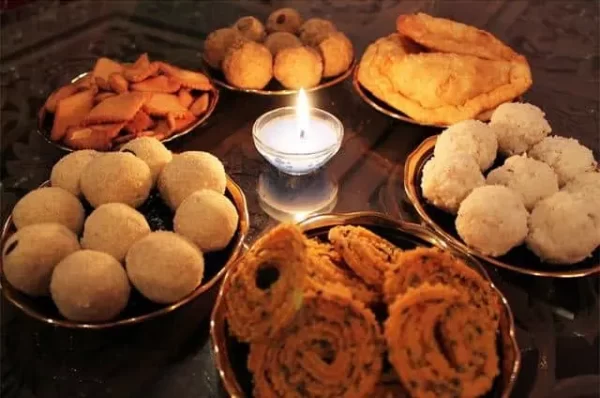 Celebrated over five days, the festival is celebrated with much pomp and joy. People generally clean their homes and decorate with 'diyas' (earthenware lamps), candles, and lights, representing goodness and good luck. "Homes are decorated, and floors are covered with 'rangoli,' made up of elaborate designs of colored rice, sand, or flower petals," according to Britannica. "It is generally a time for visiting friends and family, exchanging gifts, wearing new clothes, and feasting together." People also light firecrackers and make charitable donations during this time. They engage in prayer to Goddess Lakshmi and Lord Ganesha and hope to be blessed with health, wealth, and prosperity. In Bengal, located in eastern India, where our grandparents live, people pray to Goddess Kali during this time which is known as Shyama Puja.
No matter the different ways of celebrating Diwali, the overarching messages are ones that unite us all — hope, joy and togetherness. For many who celebrate, "darkness represents ignorance, and light is a metaphor for knowledge," according to the Guyana Chronicle. "Therefore, lighting a lamp for Diwali symbolizes the destruction, through knowledge, of all negative forces."
Happy Diwali!