The vibrant and cherished school tradition is officially back! Of course, I am talking about the lip dub. You may be wondering: what is a lip dub? In a school context, a lip dub is a video in which students and staff collaborate and chosen "singers" lip-sync to audio-dubbed songs while, most importantly, showing off major school spirit. The students and staff will be grouped by clubs, organizations, sports teams, grades, and departments. Every extracurricular at Tenafly High School was invited to participate in this beloved event to showcase its particular group, and each group's section may include sports equipment, posters, and heaps of confetti. 
So, where has the tradition been hiding all these years? Tenafly High's first lip dub was in 2013 a trailblazing spectacle with an iconic song, "Roar" by Katy Perry. What could be more fitting for a school whose mascot is a tiger? The next Tenafly lip dub took place in 2016, which included a diverse medley of songs, from "Shake It Off" by Taylor Swift to "On Top of the World" by Imagine Dragons. The most recent lip dub was from 2019, which started off with a humorous skit of a staff meeting discussing boredom in students. The lip dub is an incredibly special tradition, so it isn't possible to execute it every year. In the past, the plan was to do it every three years, but the Covid-19 pandemic derailed that plan.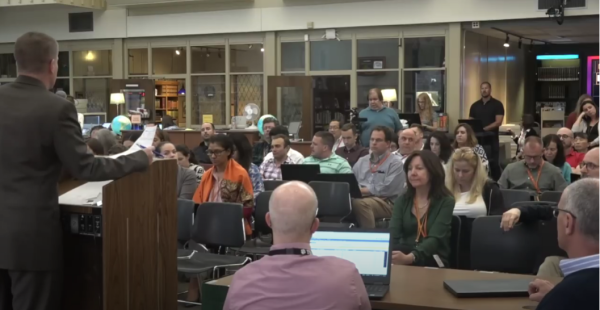 Despite the hiatus, the lip dub is back and planned to be better than ever! This one is going to be a one-shot video, rather than versions of separate clips edited together. There will be a one-hour time slot designated at the end of Tuesday, November 21, to get this continuous video. The majority of the planning and organization is conducted by the Lip Dub Committee—a group of MTV students, led by Mr. Moger, who volunteer to help. This group puts great effort into bringing back and immortalizing the tradition, from editing transitions between the various songs to color-coding school hallways into organized zones. 
"While putting the lip dub together was fun, it was also time-consuming and frustrating," Grace Chung ('24), a member of the Lip Dub Committee, shared. The committee's first agenda was to figure out which songs were going to be used because it was the basis of the entire project. In addition to the Lip Dub Committee, there was a collaboration from MTV peers and friends to see which songs people preferred and which they didn't. "Our initial idea was to use the entire song of 'Roar' by Katy Perry to pay tribute to the 2013 lip dub because it's been four years since we did a lip dub and it's such an iconic song. It's especially iconic for Tenafly High School since we're the Tenafly Tigers. But then we wanted to do a mashup of different songs so that we could make the lip dub closer to eight minutes, allowing us to move slower in the halls to feature our clubs/sports better. This year we're doing 'Animal' by Neon Trees, 'Good Time' by Owl City & Carly Rae Jepsen, 'Uptown Funk' by Bruno Mars, 'Shake It Off' By Taylor Swift, 'I Ain't Worried' by OneRepublic, and last but not least, 'Roar' by Katy Perry," Chung said.
"Not adding 'Call Me Maybe' by Carly Rae Jepsen to the mashup was probably the most controversial decision because the majority of students loved the song, but some teachers didn't. In the end, we decided to remove the song from the mashup entirely. Another issue that came up was finding songs that are 'hype' and that everyone knew the lyrics to," Chung added. Most of the songs from this year's lip dub are from several years ago (for example, 'Animal' by Neon Trees was released more than a decade ago, in 2010). Chung explained that due to the inability to use songs with negative connotations and curse words (including the clean version of those songs), the majority of modern-day songs were eliminated.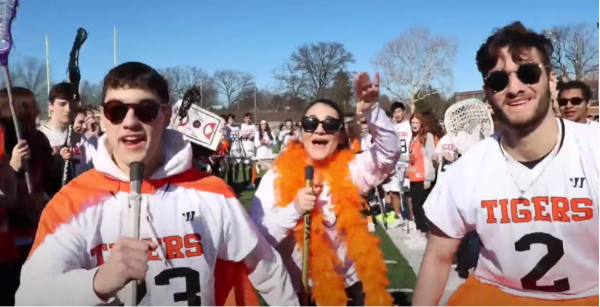 Once the songs were chosen, the next step was to blast out an email and Google Form to see which clubs and sports teams wanted to be featured in the lip dub. "I would say it went really smoothly," Chung said. "We got a lot of responses fast, which we greatly appreciated." The groups nominated singers and stated what they were going to do when the camera showcased their section. 
After the groups were accounted for, the committee had to figure out the path the camera would follow throughout the video. To do this, they color-coded hallways and exits of a school floor plan. These lines correlated to the splitting of participants into different sections. "The most embarrassing part was walking backward through the path to get a feel of how the music is going to match up with the singers because people in the hallways were looking at us like we were crazy," Chung said with a laugh. Chung did the majority of the lyric division for each song and singer, carefully timing it so that the whole thing goes as planned. It is up to the singers to learn their given lyrics for the day of the lip dub as they will not be able to read off their devices. Singers are also expected to be smiling and exhibiting school spirit for the camera. 
The Lip Dub Committee stayed after school numerous times the week before the lip dub, recording demos to make sure the timing of every singer and zone-switch was on point. Preparation is key for this elaborate event. "Not many people realize how much effort we put behind the scenes to make this happen, but at the end of the day we all get to enjoy the fruits of our labor," Evan Ralske ('24) said. 
The THS Student Organization (S.O.) decided to carry out the lip dub this year. They provided funding for materials and props that groups in the video will use. "I am honestly thrilled we are doing one since it's been so long. I hope we revive some kind of Tenafly tiger spirit!" Lucia Martinez-Pelaez ('25), Junior Board of Education Representative, said. 
Zach Shammash ('24), President of the S.O., advised his peers to look the part. "The lip dub is a great way to build school spirit in the THS community, and it is what you make of it. Remember to buy confetti, make posters, and wear spirited clothing for the event. Because without all that, the lip dub can't happen," Shammash said.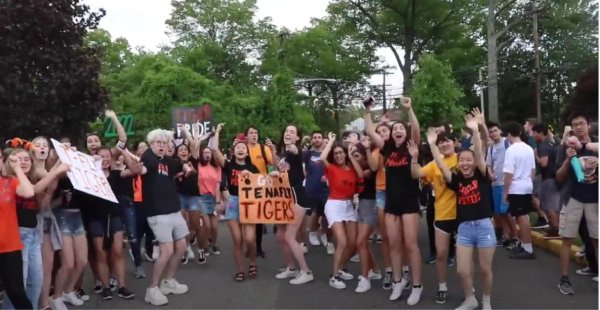 Overall, it is important to note the efforts of the entire Lip Dub Committee and Student Organization for contributing to a fun opportunity for the entire Tenafly High School community. Not only is this video sure to spread tiger pride and unite the entire building but it will surely be remembered for years to follow.