Superheroes have been around in various forms of media throughout history: in comics, TV shows, and movies all around the world. However, superhero-themed video games remain rare on the market. This year, on October 20, the anticipated Spider-Man 2 video game was released on the PlayStation 5 (PS5), breaking the minds of gamers with high-quality graphics and an impressive storyline.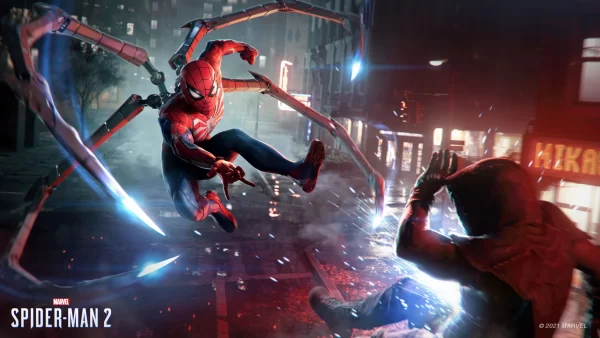 Developed by Sony's gaming company Insomniac Games, Marvel's Spider-Man 2 was brought into the world to embody the feeling of being a real-life superhero. The expectation was already high from the two previous games about Spiderman: Spider-Man: Miles Morales and Marvel's Spider-Man 1. Even so, no one expected the amazing gameplay that was brought forth by Spider-Man 2. According to Sony Interactive, it is the fastest-selling PlayStation game in history, selling more than 2.5 million copies in the first 24 hours. 
In the thrilling world of the game, Spider-Man swingings into action, a superhero introduced by Stan Lee, the former publisher of Marvel Comics. With powers mirroring those of a spider, Spider-Man's captivating story is slowly unfolded. The plot becomes more complex as Miles Morales—a new Spider-Man of both Latino and Black heritage—teams up with the original Spider-Man, Peter Parker, to learn the ropes in New York City. Morales brings in similar powers but has a special ability, which is being able to shoot electricity at his opponents. The story in the game swings between the two characters, letting you play both Peter Parker and Miles Morales. This feature allows the player to experience what struggles each character is going through. Parker goes through having to balance a relationship with his wife, Mary Jane Watson, while being the hero of the city, which affects him greatly. Morales is a high school student at Brooklyn Visions Academy, who has the daunting task of doing his college admissions essay while protecting the city. Everything is going well for this duo until two powerful villains appear: Kraven and Venom. Kraven is a brutal man who is intent on killing every person with supernatural powers, with killing Spider-Man being on his list. Venom is an alien that swallows any human, turning them into a mindless zombie. As players play this game, they learn more about each character's past and secrets. 
This video game provides Spider-Man fans with the opportunity to take a break from the complex, interdimensional storyline in Spider-Man Across the Spider-Verse and allows them to immerse themselves in the game as their beloved characters. The challenges that these heroes encounter in their personal lives, such as Miles navigating the college application process and Parker balancing his relationship with Mary Jane, makes it easier for people to connect with the characters. The storyline is not the only reason this game has been so highly rated. According to ign.com, the quality has become even more advanced, when compared with previous Insomniac games. The game has a quality that is almost 4K, and its frame rate is smooth, allowing users to play the game with minimal technical issues. The large amount of suits that can be unlocked with more gameplay between the two characters makes the customizability of the game greater. In a world flooded with superhero content, Marvel's Spider-Man 2 stands out as a shining example of how video games can provide fans with a highly engaging way to experience their adventures. This game not only celebrated the legacy of Spider-Man but also set a new standard for superhero video games, leaving players to eagerly await for the next web-swinging adventure.