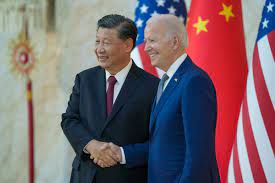 "For two large countries like China and the United States, turning their back on each other is not an option," said Chinese President Xi Jinping on Wednesday, November 15th, in a meeting with US President Biden, as reported on CNBC. "Planet Earth is big enough for the two countries to succeed."
Amid decades of tension between the two countries, President Biden US and President Xi, along with their closest advisers, met at an international summit near San Francisco to discuss pressing global issues. It was their first face-to-face meeting in over a year. Early on, the leaders made it clear that they were meeting to stabilize relations between the countries and the world.
"The China-US relationship has never been smooth sailing over the past 50 years and more, and it always faces problems of one kind or another," Xi said through a translator, according to ABC News. "Yet it has kept moving forward amidst twists and turns."
In terms of the present-day relationship between the United States and China, there have been many political disagreements concerning spheres of influence. These issues have only magnified in significance as China grew in power and global influence. During the 1970s, the Communist leader Deng Xiaoping implemented economic reforms that boosted China's economic activity and heavily involved China in the affairs of the West, including Europe and the United States. Since then, China's GDP (Gross Domestic Product) has grown to be the second-largest in the world, only behind the United States. China has also begun expanding militarily, putting more and more money into developing technology that rivals the United States, Europe, and their Asian allies.
The summit lasted a total of 4 hours, and many high-stakes matters were discussed in a very direct fashion. Topics ranging from discussions concerning the war of Ukraine and the Taiwan crisis to Chinese fentanyl production and artificial intelligence were all points of interest during the summit. The main objective of the meeting appears to have been to open up military communication between the two juggernauts once more and to avoid miscommunications that could elevate tensions.
A "substantial" topic discussed between the two leaders concerned Taiwan. Xi sees Taiwan "as potentially the biggest and most dangerous issue that could undermine China's relationship with the U.S.," according to a senior Biden Administration official as reported by ABC News. In recent years, the relationship between the two countries has become increasingly strained. Matters concerning Taiwan, a disputed island, have been a point of focus between both powers. China views Taiwan as a province of China that broke away to rule independently, while the United States is a robust ally of Taiwan. China is also looking to expand its sphere of influence into the Pacific region, where it conflicts with the United States' sphere of influence.
The official also told ABC News that during the talks, Xi asserted that although China was increasing its military presence, it had no intentions to invade Taiwan. Biden additionally asked China to respect Taiwan's election process, which is ongoing.
Another focal point during the summit was fentanyl. Fentanyl, a highly addictive and deadly opioid responsible for causing a drug crisis in the United States, is mostly produced in China. The Biden Administration requested that China curb the companies that contribute to the production of fentanyl by limiting the necessary resources. China has agreed, but the US will follow up and monitor China's veracity in their statement.
"I think it's paramount that you and I understand each other clearly, leader to leader, with no misconceptions or miscommunication," Biden told Xi, according to ABC News. These leaders look to work together in the future and solve the world's problems without conflict.