The Upcoming Showcase: Coffee House
The school's students will be showcasing their talents by performing in a number of ways at the Ninth Annual Coffee House on the half day before Thanksgiving, Wednesday, November 22nd, from 10:00 a.m.-12:00 p.m.
The laid-back, talent show-like event will be held in the cafeteria on a makeshift stage, with the lunch chairs arranged for audience members. Performances will range from a short poem to a long song, and from rap to opera. This show, performed by the school's students (and sometimes by the faculty), promotes creativity and celebrates the arts in the community of students wanting to show off their talents. "It's just a good time seeing everyone get a chance to show their passion. It's surprising," said Sophia Dongaris ('20). 
Mrs. Donna Lewis, the Supervisor of Student Services, has been organizing this event for years and will continue to be conducting it this year. The show first originated the day before Thanksgiving in 2009, back when Lewis was teaching Spanish, and two of her students had an original idea. They wanted a platform, much like a talent show where anyone could perform, and it would be a warm, nurturing environment. "The whole purpose was to showcase students who aren't necessarily in the music or theater departments, for them to have an opportunity to tell a joke or sing a song…people who wouldn't normally ever have a stage for that," said Lewis. The show gets its name—Coffee House—from the students wanting a folksy feel and introducing the idea of serving coffee. 
Coffee House has become a tradition at the school, and on the half day before Thanksgiving break there are always a variety of performances to start the holiday season. The tradition of choosing a senior host will also continue, with Jack Goldsmith announcing this year's acts. "The original song where somebody plays the ukulele or guitar—sometimes that ends up being the act the students appreciate really well," said Lewis about acts that have been performed in past years. The Coffee House virtually requires as much prep as you put into it unlike the plays and musicals that go on in the high school. "We have a play and musical every year, and that's a big commitment for anyone signing up, so a lot of people—who do sports or are loaded with school work—might not be able to do it even though they want to," said Alika Saxena ('19). Coffee House offers those students a chance to show off their talents.
"
The original song where somebody plays the ukulele or guitar—sometimes that ends up being the act the students appreciate
— Mrs. Lewis
Acts that are performed have to go through a process of approval. First students must think of an idea to be performed, whether it's reciting a poem, singing, or acting. The students then must sign up for a time slot in the show and have their act ready for Mrs. Lewis to approve. "They need to meet with me and tell me what they're going to do, whether it's an original poem or song. I just have to see the lyrics. It can't be anything that's offensive to anyone," said Lewis. There are no limits to the creativity that can be shown, just in the bounds of school rules.
Coffee House has been held at a number of location, but the most optimal location has been the cafeteria, because it allows students to pop in and out without any disturbance to the acts. The show isn't just popular for the performers. Students fill the cafeteria for a chance to see their fellow students come up with something creative. "It's kind of shocking to see students from our school perform with so much talent that you could never expect, and such creative things too," said Hunter Neuman ('20).
To sign up, students must meet with Mrs. Lewis a week before, but it is on a first-come first-served basis, where not everyone might get the chance to perform. "It's laid-back and completely stress-free. There were no nerves and I felt like we were just having a great time performing and entertaining people," said Alika Saxena ('19), commenting on her performances at last year's Coffee House.
As always, the performances will be airing on THS-TV, and classes are encouraged to tune in.
About the Writer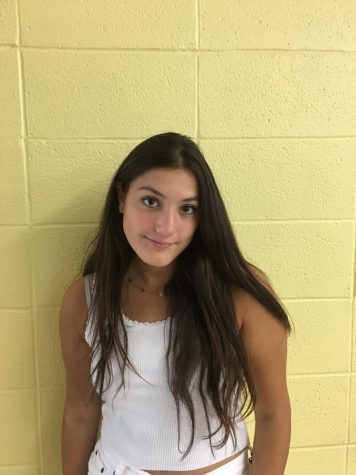 Ariana Bondi, Social Media Editor
Ariana Bondi ('20), the Social Media Editor for The Echo, enjoys writing, photography, fashion, swimming, lacrosse, reading, and clubs. She is excited...