Class of 2018 Halloween Parade
On Tuesday, October 31st, inflatable babies, movie characters, and other festive costumes filled the school with Halloween spirit as the Class of 2018 participated in the school's annual Halloween Parade—one of the class's privileges as graduating seniors. The parade took place in the Library Media Center during third period, where participants were eligible for prizes for best individual costume and best group costume.
Seniors interested in participating in the parade had to register their costumes on Friday, October, 27th, with details regarding the appropriateness of their costumes. On the day of the parade, seniors reported to their third period classes and were called down to the auditorium to prepare. From there, the parade began.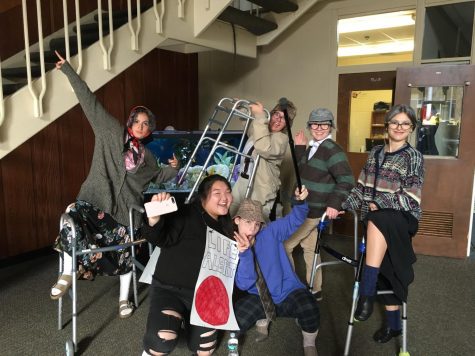 Caitlyn Arfman, who dressed up as a scary clown, and Sam Kurtz, who dressed up as Ursula from The Little Mermaid, tied for having the best individual costumes. Each received prizes of $25 in Dunkin' Donuts gift cards. "It was super fun getting to plan and execute my costume with the help of my friends," said Kurtz. "The creativity in the parade was inspiring."
Seniors Ji Chung, Morgan Donohue, Sakura Eguchi, Cacike Estrada, Eli Glass, Grace Jang, Emily Kahn, Talia Krumerman, Sydney Lerner, Kodai Ueyama, Rebecca Yeh, and Ashley Yom won the best group costume as characters from Toy Story. Each received Dunkin' Donuts gift cards of $5. "I'm so proud of how the parade turned out," said Lerner, who was dressed up as cowgirl Jessie. Also the Class of 2018 Treasurer, Lerner said, "Though organizing it was hectic, the end result was so worth it to everyone's creativity. And winning does make it a little sweeter."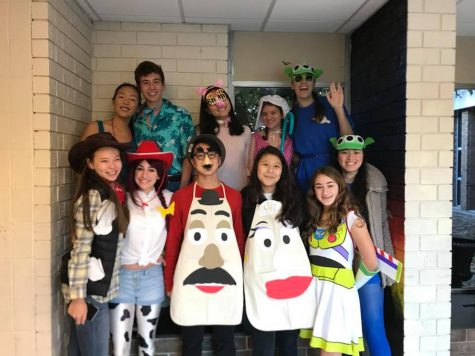 Many participating seniors have been looking forward to this event since the start of their freshman year. "It was really fun to finally dress up as seniors," said Lauren Kim, who was a part of a Winnie the Pooh and Friends group costume as Eeyore. "Though, it would have been great to have seen more of my classmates' costumes during the parade. I know how hard they worked on them!"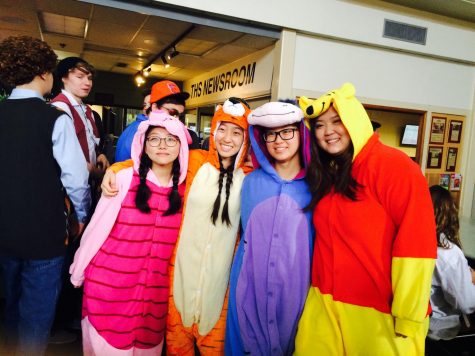 Underclassmen who were able to see the parade also enjoyed watching the annual event, looking forward to their own Halloween moments two to three years from now. "I thought the parade was very fun to watch and many of the seniors were very creative with their costumes," said Olivia Wong ('20). "I'm really excited for senior year to dress up. My friends and I are already planning what we want to be!"