A Con to Remember
Since the first ever Comic Con event in San Diego in 1970, Comic Con has become one of the biggest annual pop-culture-inspired events of the year. This massive event showcases popular comic books, graphic novels, manga, video games, movies, artists and other mainstream media while hosting major celebrities, local artists, well-known authors and famous gamers. This year's New York City Comic Con took place at Javits Convention Center from October 6th through 8th, bringing together a diverse population who came to celebrate a common love and have a good time.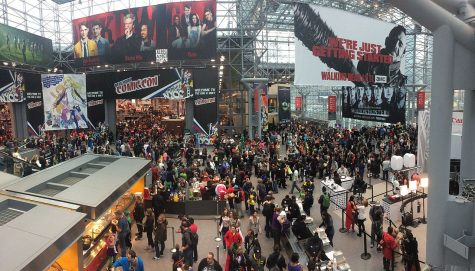 Upon entry, guests were greeted with large crowds, a vast open space, massive posters and a security check. As guests ventured further in, they saw stands as far as the eye could see—some for events, some selling goods, and some for meet-and-greets. When attendees walked back out and traveled upstairs they could find a cafeteria center. When they traveled downstairs they could find rows of stands occupied by independent artists showcasing their work.
Even though many people say that the crowds are why they don't want to attend Comic Con, some say it's their favorite part. "The most exciting part is meeting new people. Think about being in one big room with thousands of people and being able to connect and speak to hundreds over the weekend. Some have even become friends that I talk to now," said Lindsey O'Donnell, founder of the special effects makeup company Symphony Blush and regular Comic Con attendee.
Many people think that Comic Con is only about comic books and superheroes. They associate it with big crowds and overpriced toys, but that's not necessarily true. "While I do associate Comic Con with big comic book titles and superheroes, I feel like it has expanded into pop-culture of all variations expanding beyond the pages of a comic book," said Camila Ferrer,  a senior at Immaculate Heart Academy. "Through this, however, I think it brings people together."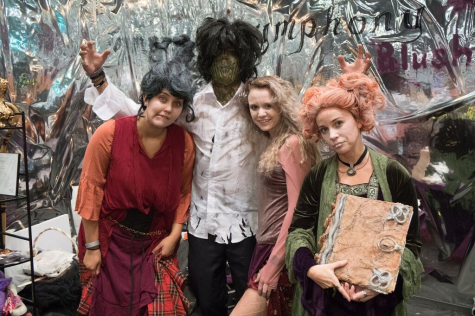 Comic Con provides a platform for many people who are trying to get started in an industry to showcase their work and talent. "I like to see the different vendors with figures, but the best part of being a part of this is the crowd," said O'Donnell. "Just interacting with them or hearing how they feel about my work is a feeling like no other. Especially when they take pictures." O'Donnell has had her own stand at Comic Con for the past five years, and she explained that Comic Con provides a place for artists to get noticed, but at the same time, due to overpopulation, sometimes get overlooked. "Comic Con is an extremely busy, bustling place, but that, to me, makes it the most exciting," said Ferrer. "You're always meeting new and vibrant people and seeing amazing costumes that people put dedication into. What makes it so exciting are the thousands of people who turn their passions into visual art for others to appreciate and relate to," she explained. Many people do certainly get elaborate with their costumes. But to many, that's one aspect that makes Comic Con so fun.
Attendees also have a chance to meet their favorite celebrities. "I was able to meet Theo Rossi from Luke Cage and Sons of Anarchy; Kevin Conroy, who is most notable as the voice of Batman from the Arkham games and Batman the Animated Series; and Pablo Schreiber from Orange is the New Black," said Ferrer. "It's always exciting to meet celebrities at these cons because they're people I look up to and respect. Moreover, their dedication to their craft and their enthusiasm for their fans is something I deeply respect."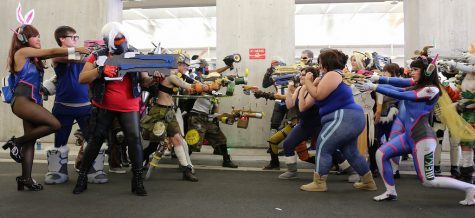 Comic Con, overall, provides a safe and positive environment for people to be themselves. It's a great place for people to get together, dress up, and—most importantly—have fun. Both Camila and Lindsey agree that the lines are their least favorite part. More specifically, the lines to meet celebrities, to get food, and to go to the bathroom. However, it seems it's a small price to pay for the amazing experience of Comic Con.