The Women's March: A Year in Action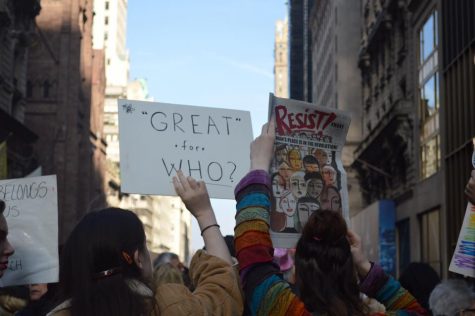 As we near the one-year mark under the Trump administration, the discord in our country only continues to grow with each passing day. With white supremacists and neo-Nazis proudly taking to the streets, bans in the military and of immigration for certain minority groups, attacks on healthcare, shootings at concerts, people dying in Puerto Rico, and so much more, it feels like our country is moving backwards instead of forwards. Although no one could predict what Donald Trump as the leader of the free world might look like, there is one group who has been fighting for everyone's rights and urging people to act and resist the Trump administration since the very beginning. That group is the Women's March. The Women's March is an organization formed by women, for women, or any other marginalized groups that came under attack during the 2016 election. Their goal is to provide ways for ordinary people to get involved and take action against unjust treatment of people in the United States.
One of the main values upheld by the group is intersectionality. The group is a staple in modern intersectional feminism and prides itself on maintaining intersectionality at all times. It's mission statement reads: "The mission of Women's March is to harness the political power of diverse women and their communities to create transformative social change. Women's March is a women-led movement providing intersectional education on a diverse range of issues and creating entry points for new grassroots activists and organizers to engage in their local communities through trainings, outreach programs and events. Women's March is committed to dismantling systems of oppression through nonviolent resistance and building inclusive structures guided by self-determination, dignity and respect." It has focused efforts not just on women's rights, but also civil rights, the treatment of the LGBTQ+ community, immigration policies, and healthcare. The goal of intersectional feminism is for all marginalized groups to come together and fight for each other with the same vigor and passion with which they fight for themselves. The Women's March exemplifies this with everything it does.
Most people know about the Women's March from the worldwide protest march that took place last last January. What not everyone knows is that the group continues to provide opportunities to take action every day. For the first 100 days of Donald Trump's presidency, the group sent out one "act of resistance" a week. These included writing postcards to politicians discussing issues the individual is passionate about; calling senators to oppose various bills and plans put in motion by President Trump; encouraging open conversations on racism, sexism, islamophobia, and homophobia within one's community, and many others. After the first one hundred days came and went, the Women's March began to plan bigger events to show resistance, such as the "day without women," a day meant to show the importance women have in society, providing lists of businesses contributing to the North Dakota Access Pipeline and encouraging their patrons to divest their money and find alternative businesses, organizing a protest against the NRA's recent video portraying people of color badly, as well as all but inciting and encouraging violence against those who oppose Trump and the second amendment openly; and putting out a letter demanding they remove the video and apologize.
Most recently the group organized a Women's Convention, which took place on October 27-29 in Detroit. The goal of the convention was to provide a space for female activists of all ages to learn how they can continue to involve themselves in the fight for equality and social justice. The three-day event entailed panels, speeches, and workshops discussing issues from representation in television and media, to how organize a protest/rally in less than twenty four hours. The convention, like the march, was run by women, for women, to discuss issues that affect women. One of the notable speakers  at the event was Senator Maxine Waters, who, during a House Financial Services Committee meeting, refused to allow Treasury Secretary Steven Mnuchin to evade her questions by interrupting him and saying she was "Reclaiming her time," which eventually became the slogan for the convention.
For me, and many others, the Women's March has been a beacon of hope for the past year. Thinking back to the night Donald Trump was elected, I remember feeling hurt, angry, scared, and most of all powerless. Attending the protest march in New York City last year made me feel like I was doing something to make my voice heard for the first time after the election. After that, I dedicated a large portion of my time and resources to social activism and taking action in any way that I could. The Women's March was a silver lining in the dark and gloomy cloud that was the 2016 election, and continues to provide hope and empowerment to women across the nation in a time in which bigotry and hate seem to be showing up in places we didn't even know they existed. The election results opened our eyes to the darkness residing in our country, but the Women's March was a reminder that love will always trump hate.