Remembering Jonghyun
Hang on for a minute...we're trying to find some more stories you might like.
On December 18, 2017, the Korean artist Jonghyun Kim from the boy band SHINee died by suicide. The singer passed away at the young age of 27, choosing to take his own life after suffering from depression.
This incident has brought attention to depression and suicide in Korea. According to a study conducted by the Wharton School at the University of Pennsylvania, the suicide rate of men in Korea in 2013 was 41.7%. With the highest suicide rate in the world, the country has been struggling for years with mental health issues. According to

mental health professional Jin Hee from intheforefront.org, "In Korea, there is no such thing as mental health. One is seen as 'weak' if they have a mental health issue. People with issues are seen as 'crazy' and the issue is something that must be overcome." Celebrities have to put on facades of having perfect lives and being happy, even when they aren't. The harsh environment in which Koreans are expected to hide their feelings have both negative and positive sides to it. "Because Korea has such a 'deal with it' society, it helps some people who really need the bitter words to become their drive for success, but for others, it breaks them down," said Elli Choi (' 20).

The society in Korea and its ignorance of mental health are some of the reasons that the country has such a significant problem with depression and suicide. Mental health in Korea is just starting to be recognized, and the death of Jonghyun Kim is proving to sharpen the focus. According to quartzy.com, "Over 130,000 SHINee and K-pop fans have … signed a petition on Change.org started by a fan in Costa Rica petitioning the Korean government and Korean entertainment agencies to take the issue of mental health for artists in the entertainment industry seriously." The petition asks for entertainment agencies to provide their artists with a program that monitors the well-being of artists' mental health in order to keep them healthy. Currently, over 413,000 people have signed the petition, in hopes of preventing an incident like this from happening again.
In the past, Jonghyun had mentioned the depression with which he struggled. However, no one expected this to happen. "He was in a pretty good place in his career, making it harder to believe that he took his life with so many eyes watching. Maybe that was one of the problems," said Michelle Lee ('21). In Jonghyun's suicide letter that was released by his close friend after his death, he wrote, "Up until now, I have endured well. What other words are there? Just say 'you've done well.' Just that much is good. Tell me I've done well." The goal of celebrities and entertainers is to please and entertain their audiences. Their entire lives are based on looking to be in the good favor of others. This pressure that people in the spotlight receive sometimes consumes them, and unfortunately, Jonghyun succumbed to this pressure. The price of fame comes with having to be wary of every action taken.
Jonghyun was loved by many people around the world, and there have been a number of vigils and memorials held by fans in his honor. According to soompi.com, fans from Chile, Russia, Mexico, Argentina, United States, Panama, Philippines, Peru, and more gathered to pay tribute to the late singer. SHINee fans, also called SHAWOLs, mourned the death of Jonghyun by trending Twitter hashtags #RosesForJonghyun, #StayStrongSHAWOLs, #SHINee, and #Jonghyun, according to sbs.com.
Jonghyun was an amazing artist and performer who will be greatly missed and remembered forever.
If someone you know is going through a crisis or if you wish to have further information on suicide prevention, please call the National Suicide Prevention Lifeline at 1-800-273-TALK (8255) or check out https://suicidepreventionlifeline.org

About the Writer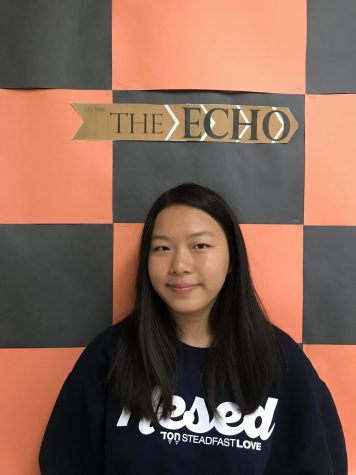 Priscilla Song, Managing Editor
Priscilla Song ('20), Managing Editor, enjoys writing and reading. In her free time, she also likes to spend time with her family and participate in...