Cape Town—Running out of Both Water and Time
The head of Cape Town's disaster control center is frantically preparing for a day he never thought would arrive: "Day Zero". The apocalyptically named day signifies the point at which Cape Town's main water source, The Theewatersloof Dam, plummets to 13.5% of capacity, forcing the city to turn off all basic water access to conserve the very last supplies. When Day Zero does indeed arrive, Cape Town will become the first—but unfortunately, not the last—city in the world to turn off all its water taps.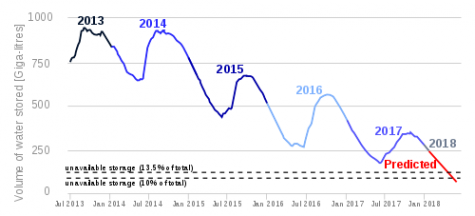 Millions of people across the world live without adequate water access. What makes the water crisis in Cape Town particularly alarming is that it is not a developing, poverty-stricken city but rather an affluent metropolis. Cape Town is a city lined with multi-million dollar properties, filled with art galleries and top restaurants, and booming thanks to a tourism industry responsible for 9.9% of South Africa's GDP (gross domestic product). Despite Cape Town's enormous cultural and economic success, it can't seem to provide its people with basic water supply.
The crisis derives from a disastrous combination of climate change, poor planning, horrific crisis management, and a rapidly growing population. Cape Town is currently facing the worst drought in South Africa in over a century. The drought has forced the citizens of Cape Town to drastically change their lifestyles to compensate for the lack of water. According to CNN, since February 1st, each resident of South Africa has been limited to using 50 liters of water a day. Due to this shortage, residents have been doing anything they can to conserve water. For example, people are stocking up on bottled water, washing their hands with sanitizer, and collecting excess water in buckets. Although desperate lifestyle changes have been made, many citizens of Cape Town are not taking the crisis seriously. "It is quite unbelievable that a majority of people do not seem to care and are sending all of us headlong towards Day Zero," a statement from the mayor's office said. Despite resident's awareness of the crisis, they continue to overuse and waste their water supply. Overall usage is still over the goal by 86 million liters, and with nearly barren dams on the horizon, South Africans will need to reach that goal—or even reach under that goal—to avoid "Day Zero."
The Cape Town government has failed to keep up with the escalation of the crisis. The city has not adapted its outdated water infrastructure in face of its augmenting population. For the last two years, dam levels have considerably decreased, yet all the government has done is encourage its people to be "water aware." Such open exhortations have done nothing to stop the crisis, but instead, have provoked chaos without a cure. The only way that "Day Zero" can be avoided is if the Cape Town government takes serious and applicable actions towards the crisis.  
Life without water is almost unimaginable for many people, especially for us. "This crisis just goes to show how fortunate we are," said Lawrence Lim ('20). "We live in a world where a shortage of water isn't even an issue. We're very fortunate that we don't have to go through struggles such as this."
As seen with Cape Town's failure to prevent "Day Zero," if governments do not take environmental risks seriously until calamity is impending, more than water will dissipate. Complacency and passivity in face of climate change are undeniably some of the biggest threats to the Earth, and if continued, will inevitably lead to the dissipation of our world as we know it.
"The Cape Town water crisis is sadly an indication of what is to come in many parts of the world as climates continue to shift. Water restrictions are going to become more and common in dry regions and as this becomes a bigger issue globally we may begin to see additional "climate refugees"," Ms.Halliwell, an environmental science teacher, said.