The Newest Addition to the Kardashian Family: Stormi Webster
'How well can you keep a secret? Well, for Kylie Jenner, her secret was being pregnant for nine months. Kylie Jenner, age 20, is a CEO, model, and reality TV star, most known for being on Keeping up with the Kardashians. Recently, there were rumors that the star was pregnant with her boyfriend, Travis Scott, whom she had been dating for two months. On February 4th, Kylie announced on Instagram that on the first of February she gave birth to her baby daughter, Stormi Webster.
The Kardashians and the Jenners are known for their stunning looks, bodies, and fashion. Kylie Jenner takes part in many fashion campaigns and has a significant online presence, so hiding her pregnancy must have been difficult. The conspiracies started to formulate when Jenner posted a drawing of her and a younger child. People had the idea that it was her child in the picture. The rumors died down until people found it suspicious that Jenner was not shown in any of her family's Christmas cards, that she had not been posting on social media, and that the only pictures she did post hid her abdomen. "I understand you're used to me bringing you along on all my journeys. My pregnancy was one I chose not to do in front of the world," Jenner said in her Instagram post.
Stormi Webster's name was released on Tuesday. Webster is Travis Scott's, the father's, surname. It is speculated that the name Stormi, which is a play on 'storm', or stormy, comes from the idea of the butterfly effect. The butterfly effect says that the single flap of a butterfly's wing can trigger a storm. Later, fans noticed that she was wearing a diamond-studded butterfly necklace gifted by Travis Scott. Scott also released a single called "Butterfly Effect," which came out nine months prior to Jenner's pregnancy.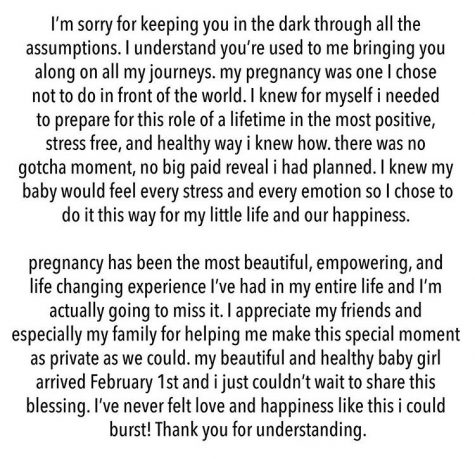 For many, Jenner's announcement isn't a surprise. "Why else would she go into hiding for so long? There's no other excuse for that," said Nikita Mahadeo ('18). Jenner said in her announcement that she kept the baby a secret for her and her baby's health. Even though many fans are hurt by Jenner's secrecy, many do understand why she would choose to keep her pregnancy private. "I wouldn't want everyone in my business saying, 'Oh, how's your pregnancy going?' and there's also a lot of hate and backlash," said Mia Larame ('18). "There's a lot of judgment."
Much of that hate stems from the idea that Jenner is unfit to be a parent, given her age and lifestyle. However, some people do think that Jenner will make a great mother. And many argue that no matter what, it's her decision and her life. "If you're financially stable and have a working partner who's gonna be there, then you can have a baby if you want to," said Mahadeo. "It's not a forced thing. You don't have to have a baby if you don't want to." 
Many people have their own opinion on what the best time to have a baby is, and even though there is quite a bit of backlash, Jenner continues to keep a positive outlook for her and her baby. "The baby's cute. Congratulations," said Mahadeo.
Here is a link to the video Jenner posted on YouTube explaining her journey: https://youtu.be/BhIEIO0vaBE