Mark Salling: Another Glee Cast Member Gone
On July 13th, 2013, the world mourned the loss of Cory Monteith, one of the main characters of the hit television series Glee. Recently, the Glee family lost another one of its cast members. Mark Salling passed away on Wednesday, January 30th in Los Angeles, CA.
"In his last days he became a total shut in," a source told E! News in an article on Mirror.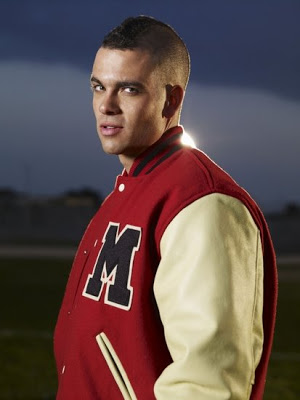 "He isolated himself in that house in Sunland and was a very depressed, lonely human." Apparently Salling had been suffering with depression and had been secluding himself in his home for a while. Salling played the "bad boy" role of Noah Puckerman (or "Puck") on Glee. The cause of his death? Suicide by asphyxia. The actor was only 35 years of age when he took his own life. According to Fox News, Salling was reported missing on Tuesday, January 30th, and it wasn't until six hours later that his body was found and Salling was confirmed deceased. According to Us Weekly, Salling committed suicide by allegedly hanging himself from a tree. According to Mirror, officials say that his body was found next to a children's baseball field. Before his passing, Salling was involved in a case where he was accused of possessing child pornography. According to Fox News, more than 50,000 images of child sexual abuse were discovered on Salling's computer and thumb drive. Salling had pleaded guilty to the claims.
He admitted to possessing child pornography involving a prepubescent minor and was arrested in December of 2015. According to Page Six News, Salling was facing four to seven years in jail, and, according to Mirror, he would have also been registered as a sex offender and been banned from going within 100 feet of playgrounds, schools, parks, public swimming pools, video arcades, or any other facility where children under the age of 18 might be. Officials were alerted to Salling's possession of child pornography after being tipped off by one of his ex-girlfriends. According to New York Daily News, a TMZ report stated that Salling had tried before this to take his own life in October by slitting both his wrists.
Mark Salling was born on August 17th, 1982 in Dallas, Texas. His parents were John and Condy Sue Salling. As well as starring in Glee, Salling also starred in Glee: The 3D Concert Movie, Glee Encore, The Graveyard, Children of the Corn IV: The Gathering, and Rocky Road. According to New York Daily News, Salling would have also starred in a mini-series, Adi Shankar's Gods and Secrets, but was fired after his arrest for child pornography.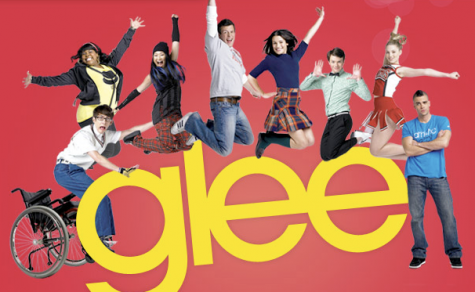 Even though it has been five years since the last season of Glee aired, fellow cast members dearly miss Salling and are keeping him close in their memories. According to E! News, once the news of Salling's death was released, many cast and crew members commemorated his passing through social media and red carpet events. "I know life was very, very hard for Mark," said Jane Lynch, a fellow cast member from Glee. "I think we all do the best we can at the end of the day. I know that Mark did the best he could."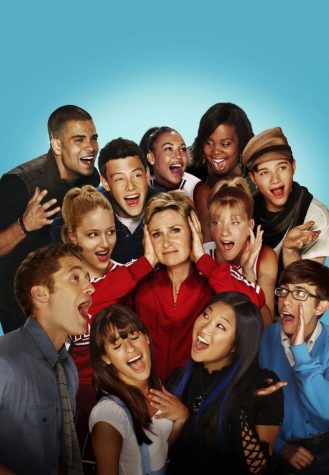 Matthew Morrison, another cast member from Glee, posted a throwback photo of himself, Cory Monteith, and Salling on Instagram. Morrison captioned the photo with a sad emoji face and two angel emoji faces. "Mark was a gentle and loving person, a person of great creativity, who was doing his best to atone for some serious mistakes and errors of judgment," said Michael J. Proctor, Salling's lawyer in an article on E! News. "He is survived by his mother and father, and his brother. The Salling family appreciates the support they have been receiving and asks for their privacy to be respected."

Salling's death has caused mixed reactions because of his recent arrest and confession to possessing child pornography. "I'll remember him as the guy who made that really sweet video in the beginning of Glee when he was so happy to be a part of this group," Lynch said, according to an article on Fox News. "It's a painful loss, again," Paris Barclay, director of Glee, tweeted along with a photo of Salling and Monteith.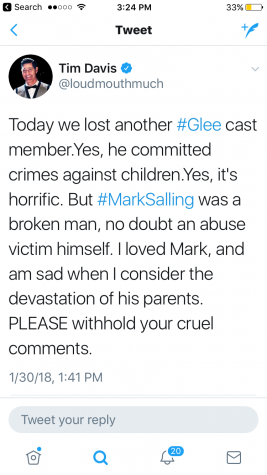 "Today we lost another #Glee cast member. Yes, he committed crimes against children. Yes, it's horrific. But #MarkSalling was a broken man, no doubt an abuse victim himself," Tim Davis, a vocal contractor and vocal arranger tweeted. "I loved Mark, and am sad when I consider the devastation of his parents. PLEASE withhold your cruel comments."

"Let me be clear. Having compassion for #MarkSalling in no way minimizes his crimes, nor does it minimize the pain and devastation of the victims of those crimes. I'm just saying stop adding to his family's pain. This was their son. If you're without sin, feel free to cast stones," he added.
Jenna Ushkowitz, a former Glee actress, commented on the post with a red heart emoji. Iqbal Theba, another cast member, also composed a tweet remembering Salling.
Let's not lose another Glee member or anyone to the dangers of self-harm. If you or someone you know needs help, please call the National Suicide Prevention Lifeline at 1-800-273-TALK (8255).