Round of 16 Recap
Hang on for a minute...we're trying to find some more stories you might like.
The UEFA Champions League is an annual soccer—or commonly called in Europe, "football"—tournament. It involves the top teams from Europe's top soccer leagues, and it is one of the most viewed sporting events across the world. These teams' goal is to win the league, which will give them the title of the best team in Europe. The tournament has entered its Round of 16, which draws each team against another opponent. There are two legs played for each matchup, one at one team's stadium, and another at the other team's stadium. Here are the results from the first leg matches.
Porto vs. Liverpool: 0-5
Even at its own stadium, Porto couldn't handle the power of Liverpool's attack. Liverpool thrashed Porto 5-0 with ease. Sadio Mane, one of Liverpool's best players, netted three goals, as Mohamed Salah and Roberto Firmino each had a goal of his own. Winning an away game is a tough feat, but Liverpool cruised through Porto's defense. As the next game takes place at home for Liverpool, the club is almost 100% guaranteed a spot in the next round of play.
Bayern vs. Besiktas: 5-0
The "German Giants" gained an easy win at home against a Besiktas team that looked lost. Even with stars such as Ricardo Quaresma and Pepe playing, Besiktas was absolutely destroyed. Bayern had a total of 35 total shots, and they had 69% possession, while Besiktas only managed to take six total shots. Besiktas was down to ten men within 16 minutes when Domagoj Vida received a red card and was sent off (ejected). Bayern will travel to Turkey and should easily make it into the next round.
Sevilla vs. Manchester United: 0-0
Manchester United has not been what it was since Sir Alex Ferguson managed the club. The club used to be the most feared club in England, and in the world. Now it isn't feared at all. This was perhaps the most boring game out of all that were played. Sevilla came close, but United's star goalkeeper David De Gea made a couple saves that helped United keep a nil-nil (zero-zero) score. United returns to Manchester where hopefully the club can win, and keep its Champions League dream alive.
Juventus vs. Tottenham: 2-2
Juventus was the runner-up in the Champions League last year. As Italy's best club, it was looked as favorites in this match. With a few missed calls, Juventus drew with one of England's top clubs, Tottenham Hotspurs. Tottenham has Harry Kane, the best English striker in the world. He scored a goal, as well as Christian Eriksen, another top talent. The next match will be played at Wembley Stadium, and the Spurs look as if they will win. 
FC Basel vs. Manchester City: 0-4
FC Basel isn't a big club, and it went up against the best team in England. Manchester City dominated the game in every aspect, and it had 75% possession of the ball. The club scored 4 goals, and it didn't even play its best players. If fewer were injured, the score could've been even greater in difference. FC Basel travels to Manchester, where it will surely lose.
Real Madrid vs. PSG: 3-1
PSG and Neymar traveled to Madrid to face Cristiano Ronaldo and Madrid's amazing team. PSG scored first, but Ronaldo quickly netted two goals for Madrid, with Marcelo Vieira netting the final goal. PSG, I felt, played a better game, but Madrid capitalized on its chances of scoring. Real Madrid was last year's champions, and its current win suggests the club will win once again.
Shaktar vs. Roma: 2-1
Shaktar was at home to face a very strong Roma side. Roma was the heavy favorite in this matchup, since Shaktar isn't known as a "big" team. Roma took the lead first with a goal in the 41st minute. However, Shaktar struck back with two goals in the second half, beating Roma 2-1 at home. The stats were very even, while the predictions were heavily in Roma's favor. Now, Roma must win at home in order to keep its chances of winning the league.
Chelsea vs. Barcelona: 1-1
Messi and Barcelona travelled to Stamford Bridge to take on Chelsea and Eden Hazard. Barcelona dominated in possession, but Chelsea scored the first goal of the game. Messi saved Barca with a draw as he scored late in the game. Barcelona was heavily predicted to win, but Chelsea was able to barely hold on.  Chelsea will travel to Camp Nou in Barcelona, where Barcelona is expected to advance in the Champions League with a win.

About the Writer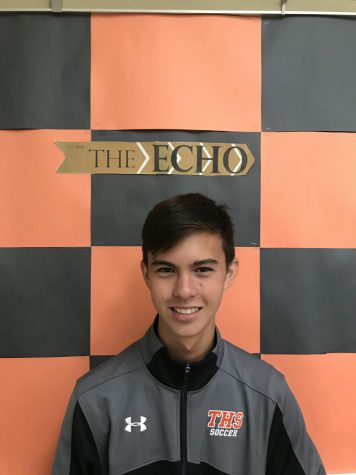 Hunter Neuman, Sports Editor
Hunter Neuman ('20), Sports Editor, loves playing soccer and hopes to one day become a sports journalist. He is an avid fan of the Premier League, and...