Arsenal: A Club in Shambles
Hang on for a minute...we're trying to find some more stories you might like.
Arsenal has been one of the Premier League's biggest clubs since the late 1900s with stars such as Sol Campbell, Patrick Vieira, and Thierry Henry. It won various Premier League titles in the late '90s, as well as early 2000s. Arsene Wenger, who became manager in 1996, has led the club to several titles and league cups. However, since its 2003-2004 title, Arsenal hasn't won the title, and now it looks like a club struggling to win a spot in next year's Champions League.
Last year, Arsenal finished 5th place in the Premier League, one spot off from Champions League qualification. Now, the club rests at 6th place and is 13 points (five games or more) from a top spot. Recently, the club had a four-game losing streak, which has just been broken with a win over AC Milan. Arsenal lost to Manchester City three-nil two games in a row, and to Brighton two to one.
Arsene Wenger has faced much of the backlash, as he is criticized for causing the downfall of the club. Many supporters want him to get "sacked," or fired from his position. "Arsenal's back line is weak, and they have no real leader," said Lawrence Lim ('20). "Wenger's tactics are not nearly as progressive as the newer world class managers such as Jurgen Klopp and Pep Guardiola."
Arsenal made several signings, including Alexandre Lacazette in the summer, and Pierre-Emerick Aubameyang in the winter. Even with these new signings, Arsenal still hasn't been able to live up to the legacy of the 03-04 squad. "It's very disappointing to see my favorite team have such a long drought without a league trophy," said Miguel Garcia ('20). "It's hard to even watch games anymore. The club has lost to so many worse clubs that it's just embarrassing."
Even though Arsenal hasn't had too much success winning the league, it has had success winning several league cups. These cups aren't nearly as important as the league, but they still give fans more hope for the club to do well. Arsenal won the FA Cup in 2014, 2015, and 2017.
Even through so much adversity, Arsenal still has a great fan base, and their supporters still have high hopes for the club. Hopefully, the club can return to its former glory and start winning trophies once again.

About the Writer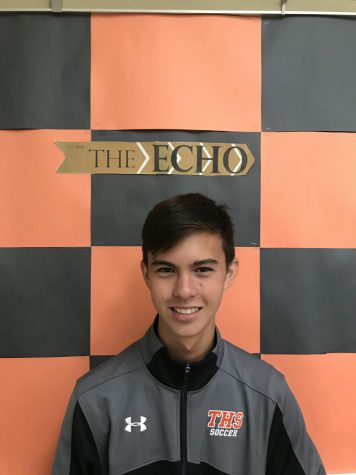 Hunter Neuman, Sports Editor
Hunter Neuman ('20), Sports Editor, loves playing soccer and hopes to one day become a sports journalist. He is an avid fan of the Premier League, and...