The Evolution of Weezer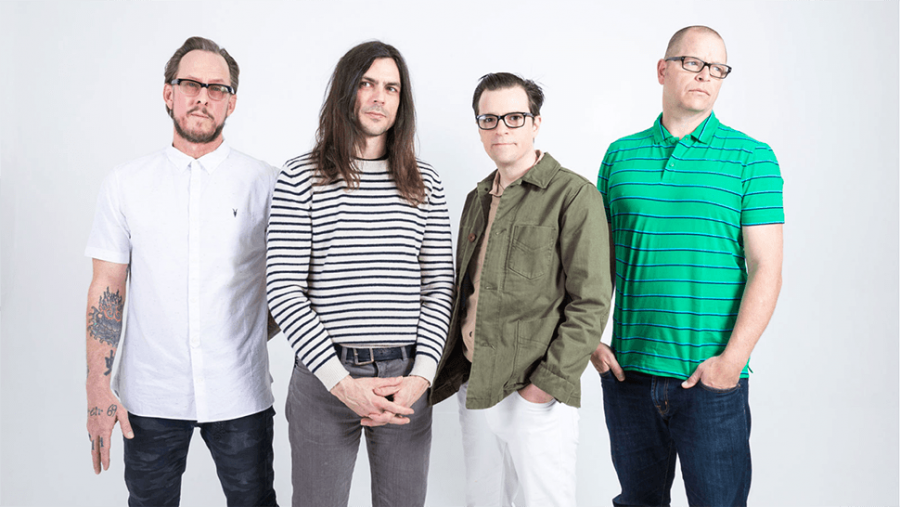 Weezer is a genreless band that has been around since the early '90s, and has released nearing a dozen albums throughout its colorful career, the latest in late October of last year. Weezer alternates, coming out with an experimental indie rock album one year and a radio-ready power pop album the next. The leader, Rivers Cuomo, has created a band to fluidly transition between one genre and  the next, producing collections of tracks that sound nothing alike yet have that signature Weezer mark all the same.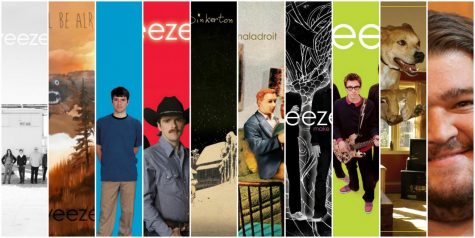 Weezer's iconic debut, Blue Album, was released in May of 1994 and sold more copies than any Weezer project. The tracks on this album borrow from sounds such as The Velvet Underground, Pixies, and Sonic Youth, but essentially stray from the indie scene to form a modern rock album that is most likely inspired by The Beatles and, a modern rock god of the day, Nirvana. Songs like "Say It Ain't So" and "My Name Is Jonas" suggest a cool yet desperate sound that fans at the time probably thought they could expect from the rookie rock band. Songs like "Undone: The Sweater Song" and "Buddy Holly" showcase an edgy, sarcastic side to Weezer. The album itself is pretty simple, boasting ten similarly crafted songs, but it came to later be deemed one of the most influnetial alternative rock albums of the decade.
Blue Album is what Weezer is known for and is what Weezer's overall sound is generally associated with. But Weezer's sound has so many layers to it, as the following albums would soon showcase.
Cuomo went through a bleak period of his life following the release of Blue Album, and Pinkerton, Weezer's second album, is what resulted. Cuomo himself describes it as "sick in a diseased sort of way." It takes us to dark places, ones very much unlike those that Blue Album's anthems took us to. Songs such as "Tired of Sex" and "Getchoo" show Cuomo taking on much harsher vocals, and lyrics for that matter. This experimental album is the first to show that Weezer's music highly depends on Cuomo's state— and Cuamo wasn't a jocular teenager anymore.
Green Album was later released, and Weezer's fans were thrown yet another curve ball. We're back to the old sound! Or at least, almost. Green Album is meaningful and fun, simple modern rock. And in this chapter of Weezer's career, we're gifted the gem of "Island in The Sun," a soft and sweet rock ballad that is arguably one of Weezer's best songs to date and definitely a fan favorite.
Maladroit comes next, and although it sounds like Weezer, due to Cuomo's distinguishable vocals, it's unlike anything they've ever released. It's weird, but that isn't surprising for the band. Despite some of the oddness of the tracks, it's a completely respectable album and it shows Weezer entering into, and this term is used very broadly, an almost psychedelic scene.
Make Believe is the next album, and Cuamo makes a good effort to be different, but most of songs, like "Beverly Hills" and "We Are All on Drugs," come off as cheap and very un-Weezer.  But Cuomo was not in an ideal metal state, as he describes this period as living a "life of ego and vice." But after that, we're treated to a Green Album sound-alike, Red Album, and there's not much to be said about it besides that Cuomo was definitely feeling himself when this album was made. It's fun rock, and it makes up for Make Believe.
Ratitude is next, and it's not completely unlike the Weezer that we've been getting to know in the more recent albums. This album is purely fun, with songs like "The Girl Got Hot," "I'm Your Daddy," and "Can't Stop Partying." It even includes some weird rap-rock, showing the band trying hard to step into a new zone. Although some songs are catastrophes, it establishes a Weezer that produces catchy tunes while singing about completely trivial topics, which we haven't gotten much of until this point. Cuamo was probably in a pretty stagnant mental state, because the following album, Hurley, is more the same pop-rock.
But now we come to a new stage of Weezer's career. The proceeding two albums, Death to False Metal and Everything Will Be Alright in the End, are completely indie. Cuomo has subdued vocals and psychedelic lyrics— it's different, but unlike previous efforts, it isn't forced. It's just Weezer, a different Weezer, but Weezer nonetheless.
The latest two albums stray from that sound completely, however. White Album is strictly pop, with subtle touches of the old Weezer. Although it feels un-Weezer, it really is good music, so Cuamo must have been in a good place to move on to a different taste of music.  It still has that signature sunshine and sarcasm that Weezer has grown to be known for, but this album showcases Weezer's complete evolution more than any one to date. It's enjoyable, and although some would say it's a sign of Weezer selling out, it's just a sign of Weezer changing pace.
Ah, finally, we get to the last album on Weezer's repertoire, so far. Pacific Daydream is a masterpiece. Not unlike White Album, yet far superior, this collection of beachy tracks is what Weezer is now. Weezer is fun ("Beach Boys"), sweet ("QB Blitz"), meaningful ("Any Friend of Diane's") and sometimes all of the above ("Get Right"). Cuomo said, "To me this is the most different-sounding Weezer record ever. I'm so excited because we finally broke away from the downstroke eighth-note power-chord thing."  The thing, in other words, that made Weezer famous in Blue Album.
This band has been through all of Cuomo's ups and downs, from when he was a naive child trying to make it big, to his adult life where he's really trying to figure himself out. So many people would say that this iconic band is just a sellout nowadays, but Weezer is simply a band that has evolved, and lives in the golden days of their career whenever a new album is released. Cuomo says, "As the years go by, I just seem to withdraw more and more into a shell, into my world of comfort, in this room, working on music…I miss the days when it was me and the guys goofing around, having adventures, making stuff together…At the heart of it all is just going to be me doing insane experiments and having fun and evolving."
About the Writer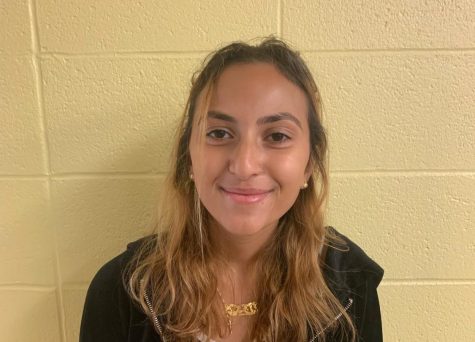 Nicole Shaker, Co-Editor-in-Chief
Nicole Shaker ('20) is Co-Editor-in-Chief of The Echo, alongside Kathryn Zheng. She loves to write about entertainment and is excited to have her pieces...