St. Patrick's Day, 2018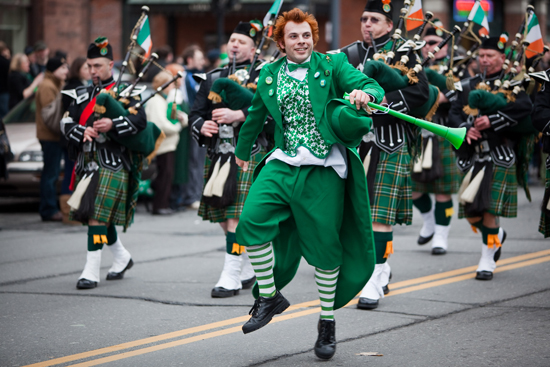 The inside of CVS looks like leprechauns threw up green all over the store. Irish soda bread lines the aisles of supermarkets. People walk around the streets with green face paint and shirts displaying the phrase, "Kiss me, I'm Irish." Saint Patrick's Day has arrived.
St. Patrick's Day is an Irish holiday that takes place every March 17th, celebrating the death of Saint Patrick who, according to history.com, was the patron saint of Ireland. He was born in Roman Britain, kidnapped, then brought as a slave to Ireland at age 16. He later escaped, but eventually returned to Ireland and introduced Christianity to its people. He is most well known for his explanation of the Holy Trinity (the Father, the Son, and the Holy Spirit) using the three leaves of the shamrock, an Irish clover leaf. For over 1,000 years, the Irish have celebrated the death of Saint Patrick as a religious holiday.
The annual Saint Patrick's Day Parade in New York City was held on Saturday, the 17th, from 11 a.m. to 4:30 p.m. It began on 5th Avenue at 44th Street and ended on 5th Avenue uptown at 79th Street. All different schools from around the area came and marched in the parade with their marching bands. There were also bagpipe and dance performances as the parade went on. Generations of Irish families came and marched in this parade to celebrate the holiday. "To celebrate we usually go to the parade in the city and get Irish breakfast beforehand with some of our aunts, uncles, and cousins," said Anne Rafferty ('20). Irish breakfast typically consists of Irish sausages, beans, Irish bacon, blood pudding, potato bread, Shepherd's pie, corned beef, and endless pots of tea.
Many cities and countries around the world, not just Ireland, celebrate Saint Patrick's Day. "It's just a fun day to spend with family and to really get into celebrating Irish traditions," Rafferty says.