The Arctic Monkeys Back from the Dead
"Don't believe the hype," Alex Turner might say before performing one of his band's hits. Alex Turner is a British rocker who leads three bands; the Arctic Monkeys, The Last Shadow Puppets, and the Death Ramps. The latter two are fairly new projects, having been around since 2007. The Arctic Monkeys, arguably what Turner is most known for, has been around since 2002. They took a hiatus in 2013, but have just announced that they're back and better than ever.
The Arctic Monkeys has released five studio albums: Whatever People Say I Am, That's What I'm Not (2006), Favourite Worst Nightmare (2007), Humbug (2009), Suck It and See (2011) and AM (2013). After AM, the band embarked on a hiatus so that Turner could focus on his other projects, much to the dismay of fans. Their debut album is the fastest-selling debut by a band in British chart history, and in 2013, Rolling Stone ranked it the 30th-greatest debut of all time, boasting classic rock-pop tracks like "I Bet You Look Good on the Dance Floor."

Fast-forwarding to to 2013, AM stole fans' hearts once more. It is definitely the most unique in the Arctic Monkeys repertoire. Unlike the majority of tracks in the previous albums, AM takes on a more mellow sound, Turner's vocals slowing down and deepening to produce edgy soft-rock songs that still possess that signature Arctic Monkeys catchiness. Some of the most well-received tracks are "Do I Wanna Know?", "Arabella", "Why'd You Only Call Me When You're High?" and "R U Mine?". They all have the same sort of sound and show the band stepping into fairly new territory quite successfully. Fans ate it up. Unfortunately, at the height of their career, the Arctic Monkeys, or Alex Turner specifically, decided to take a break. It's been five years, and they just announced they're coming back with a sixth studio album. Fans are already quaking:

Some are even doubtful:

But the Arctic Monkey's album really is happening, and it's about time. It's impossible to predict what the new album's sound will be like, considering the band has been separated for five years. Hopefully we see Turner stepping into even newer territory than AM, and hopefully, he won't disappear again by the time the album is released. The band has yet to announce a name or a single, but what they have released are tour dates. A lot of the dates are already sold out: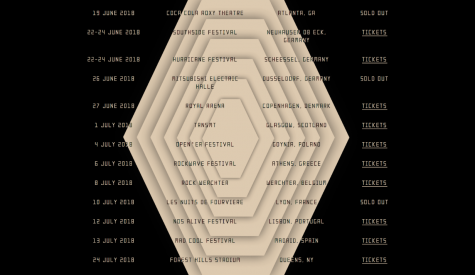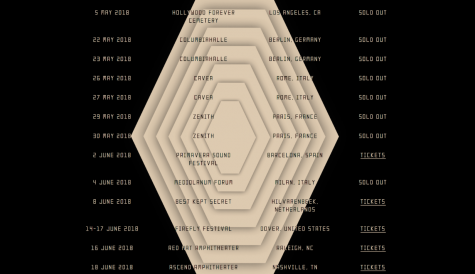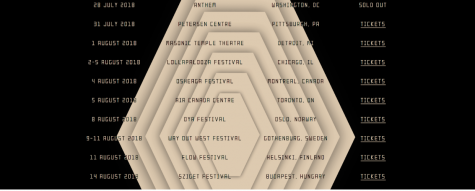 It has also been announced that the Arctic Monkeys will be playing in several music festivals, including Lollapalooza. The band is really bouncing back into the music scene after a dreadfully long hiatus, and seem to be ready for their first album and live show in five years. The fans are beyond ready: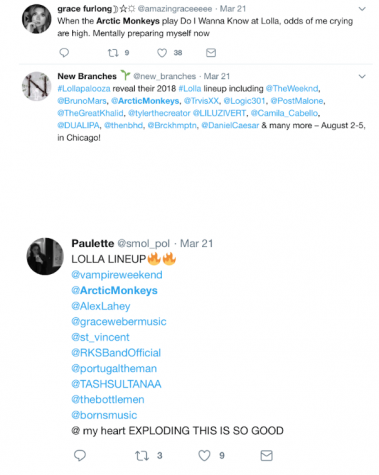 Katherine Edwards ('20), a fan that has stayed loyal during the five-year break, thinks it's about time. "Every album is different, so I think this new one is going to be really different than their old stuff since it's been such a long time since they made music. I cannot wait for the new album. It's going to be so good and I'm so impatient for it, I mean like, the other bands Alex Turner is in are nowhere near as good as Arctic Monkeys."
But it will be hard for Arctic Monkeys to follow up on previous albums, considering how much AM was a triumph with fans and critics. The fanbase is putting so much pressure on the band to come out with a masterpiece, so let's hope that the Arctic Monkeys don't disappoint us with a mediocre album and disappear again for another half of a decade.