Call Me by Your Name: That's Amore!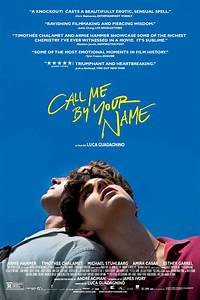 The movie Call Me by Your Name sets forth a new way to look at intimacy, sexuality, and beauty through the coming of age love story of Elio (Timothee Chalamet), an Italian American teen boy and Oliver (Armie Hammer), an American in his mid-twenties. The romance between the two is so real that it gives the viewers a slight sense of envy. Furthermore, the cinematography showcases the natural beauty of Northern Italy and is a feast for the eyes, touching into one's soul.
.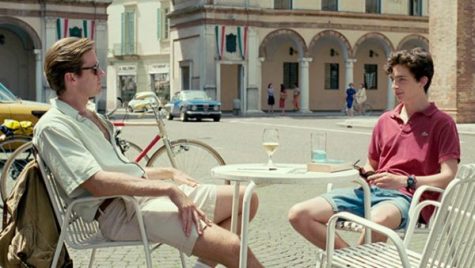 The basis for Elio's character for the majority of the film is the confusion regarding his sexuality. Oliver comes to study abroad with Elio's father (Michael Stuhlbarg), who works as an eminent archaeologist. At first, Elio sees Oliver as arrogant and impolite. He points out that it's rude the way that Oliver says "later" to conclude a conversation. But soon, Elio starts to think Oliver's nature is attractive and intriguing, while Oliver finds interest in Elio's disposition, intelligence, and musicality.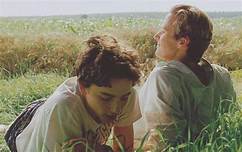 Eventually, their budding interest in each other flowers into an intimate love filled with passion. They attempt to sneak around, and the condition of their relationship remains vague. When Oliver's visit abroad comes to an end, he has a stop at Bergamo before he goes home; Elio joins him. The two spend three romantic days together in the little bubble of a cozy Italian town. Oliver then departs and we soon find out that he is engaged to a woman.
I found the character of Elio to be enticing and attractive, radiating poeticism and intelligence. The writing allows Elio to be portrayed as superior in cognitive abilities, despite his being younger in age compared to Oliver. Elio speaks English, French, and Italian, conversing fluently, while Oliver can barely manage to get around. Elio reads many pieces of fine literature and we get a glimpse into his mind when he writes his thoughts down. His impeccable piano skills and the way he can play a Bach piece in several different ways amuses and attracts Oliver. Elio's parents are both shown as intellectuals, his father being an intelligent archaeologist and his mother (Amira Casar) an impeccable translator. Elio does not come off as arrogant the way Oliver does; he is humble, and that's what makes him the more mature character.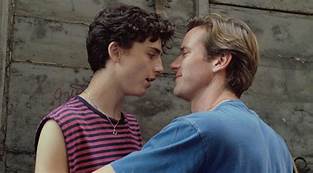 In a way, like Elio, Oliver's intelligence also makes him attractive. I believe Oliver is strong in the field he is studying; he corrects a teacher, impressing everyone in the room including Elio. We see Oliver as less cultured than Elio when he needs help in cracking an egg at the dinner table. Although he is intelligent, he is a typical American. He uses slang that can be taken as impolite or arrogant. I enjoy the way the writers made Oliver so confident in himself, despite the fact that he is unsure of his sexuality.
The cinematography enhances the whole movie and sets a romantic tone. In some scenes of the movie, there was no talking, just small actions from the characters in the Italian landscape; these scenes let your eyes gloss over and truly appreciate the beauty. The movie was filmed in Moscazzano, Crema, Bergamo, Pandino, Montodine, Valbondione, Capralba, Corte Palasio, Ricengo, Campagnola Cremasca, Parco Regionale del Serio, Pizzighettone, and Sirmione. Some locations show the old towns and structures. Some show tranquil bodies of water. The movie makes you want to be in Italy and indulge in the culture.
The specifications of Elio's and Oliver's sexualities are never truly explained in the movie because we see them being intimate with both women and men. They show how that even though they have a strong love towards each other, they are not bound by a specific attraction. They do not label themselves as gay; the word is not even used in the whole movie. Sexuality is simply fluid and free of restraints.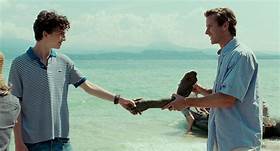 We love hearing sappy love stories. It's what we want for ourselves: a fairytale love story. The writers make the relationship worthy of envy. Even Elio's father comes off as a little jealous when talking to him about Elio and Oliver's relationship. Watching this movie allowed me to live vicariously through the actors; whatever heartbreak was felt was felt by me in turn. So many people can connect with the love that is shared between the two because of the effortless fluidity of the love. The way Elio is left in the end feeling rejection and anguish is a feeling anyone can relate to. Although the relationship between Elio and Oliver is not directly severed, the way that the movie ends leaves the audience with a resonating pain.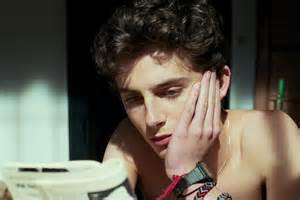 About the Writer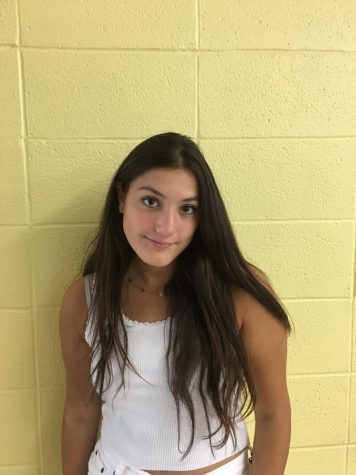 Ariana Bondi, Social Media Editor
Ariana Bondi ('20), the Social Media Editor for The Echo, enjoys writing, photography, fashion, swimming, lacrosse, reading, and clubs. She is excited...