Two Fun and Flavorful Local Restaurants
Poké Crew
Where? Englewood
Why? Poké, a celebrated Hawaiian dish that took off in California, is now trending on the East Coast as a casual yet delicious lunch option. Poké Crew, which recently opened in Englewood by Michelin Star chefs Titus Wang and Yong Kim, is the perfect local stop to get your poké fix.
The laid-back atmosphere of Poké Crew, with its tropical decor and friendly staff, transports you to Hawaii on even the coldest of New Jersey days.
But even more beautiful than the atmosphere is the meal itself. With fresh fish picked from the market every day, a rainbow of vegetables, and a wide selection of sauces, each and every dish is more unique and tasty than the next. My favorite bowl is Skuna Bay, a fresh and flavorful melody of salmon, seaweed salad, hijiki, pickled ginger, and wasabi yuzu. If you are looking for a spicier option, the Double Dragon bowl is a wonderful choice.
Poké Crew also offers a delightful drink menu to accompany your meal. Every drink is more fun and flavorful than the next, with teas ranging from oolong plum to jasmin honey and hibiscus cranberry to camomille mandarin. If you are looking for a healthy, delicious, and fun place to stop and grab a quick lunch, Poké Crew is the place to go.  
Ma Mi
Where? Closter
Why? Ma Mi, the sister restaurant to Tenafly's critically acclaimed Simply Vietnamese, is the perfect place for a fast, casual, and delicious meal. Owners and creators, Amy Nguyen and Joseph Diovisalvo, opened up Ma Mi hoping to give the community a playful restaurant with affordable yet well-made food. Every dish is made on spot and comes from a family recipe book going back three generations. The ambiance is just as welcoming with its sparkling tile walls and inviting neon signs.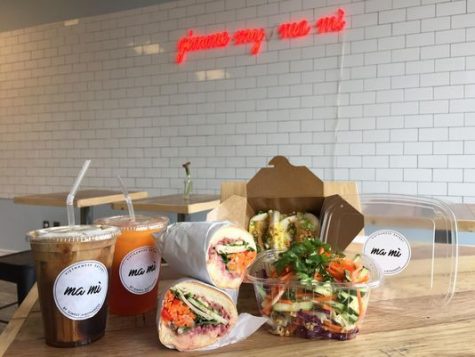 Ma Mi serves a wide variety of both traditional and inventive Vietnamese dishes, such as pho soup, bao buns, bahn mi sandwiches, salads, and more. While every dish I have had at Ma Mi is more delicious than the next, my personal favorites are the shrimp pad thai and the spicy ma mi sandwich (a savory combo of buttermilk fried chicken, pickled vegetables, and spicy Asian slaw). In the drink department, I usually opt for the sweet and smooth Thai iced tea or the coconut coffee if I need a burst of energy.
Ma Mi's diverse menu, heartfelt roots, and welcoming atmosphere make it undoubtedly one of my favorite local lunch spots.