Pulitzer Prize-Winning Poet Peter Balakian Visits THS
After his upbringing in Tenafly in the 1950s and 1960s, Peter Balakian came to build his writing craft around a growing awareness of his Armenian origins and the tragedy of the 1915 Armenian genocide. What resulted were multiple poetry collections, including Ozone Journal, which won the Pulitzer Prize for Poetry in 2016, and a memoir, Black Dog of Fate, which won the PEN/Albran Award and chronicles his grandmother's experiences in the Armenian Genocide and his own travels to research it.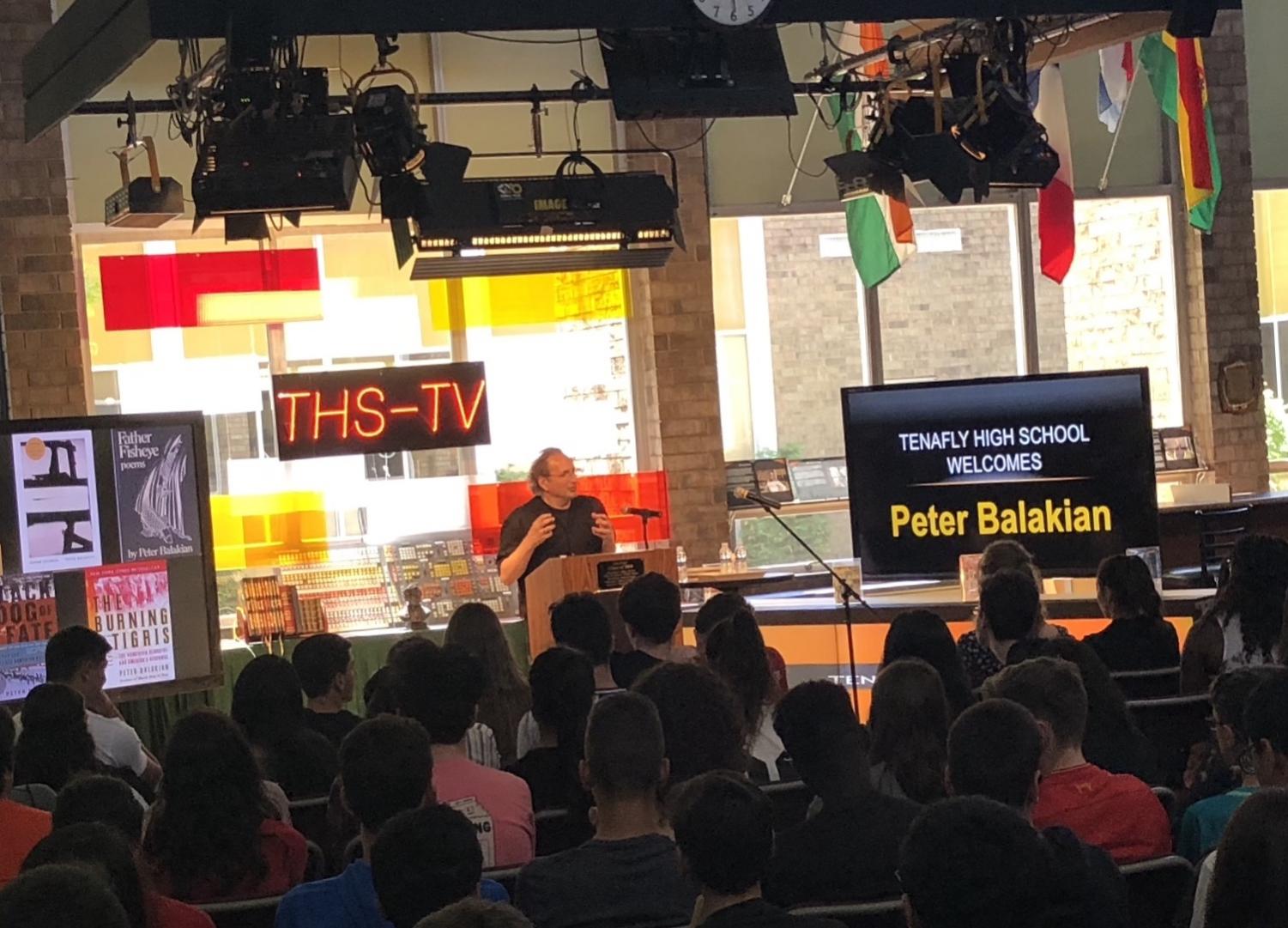 In the wake of his recent successes, Balakian last week returned to his hometown and visited the school to lecture on poetry, memoir writing, and the Armenian experience, and to share his work with Tenafly students and staff. Visiting the school for the day, he met with classes and gave a reading to all period 5 English classes in the Lalor Library Media Center. During his lectures to the sophomore Humanities classes throughout the day, he offered students valuable advice concerning poetry and tapping into the personal sphere to create something with impact. "Poetry shouldn't be easy…We want art to narrate our difficulties," Balakian said. It definitely wasn't easy for him to accept the horrific tragedy of his family's origins, and he said he uses writing as therapy as well as an awareness mechanism.
The poet was raised in Tenafly by Armenian parents. He has written of tragedies such as the Armenian Genocide and 9/11. His book, Ziggurat, for example, includes many 9/11-inspired poems, such as "World Trade Center/ Mail Runner/ .73." He credits his writing on the Armenian Genocide to his grandmother in particular. She would share her experiences relating to the Armenian Death Marches with him in graphic detail. Balakian did not become fully acquainted with his grandmother's past until his mid-twenties, after finding out that his grandmother was one of the few survivors of the death march in the Syrian desert, and the only one to survive in her family.
Balakian said, "I feel like that event has transmitted across generations to me and it has had a huge impact on my life and imagination. I write about a big, tragic event like the Armenian Genocide because it is important to explore the worst parts of history and human experience—literature has to do that; that's one of its roles. And we need to continue to immerse ourselves in the difficulty of modern life." His grandmother came to the United States in 1920 and had two children. Balakian was able to learn of her experiences and share in her pain, leading him to write his memoir Black Dog of Fate, for which he chose to travel to Armenia in order to gather information and conduct research.
Balakian takes pride in having lineage in Tenafly. He attended Tenafly Middle School. In high school, he transferred to Englewood School for Boys, which is now known as the Dwight-Englewood School. Balakian's nieces, Katherine ('21) and Alexandra Balakian ('19), currently attend Tenafly High School and were present in the audience. His nephew, Nicholas, attends Tenafly Middle School.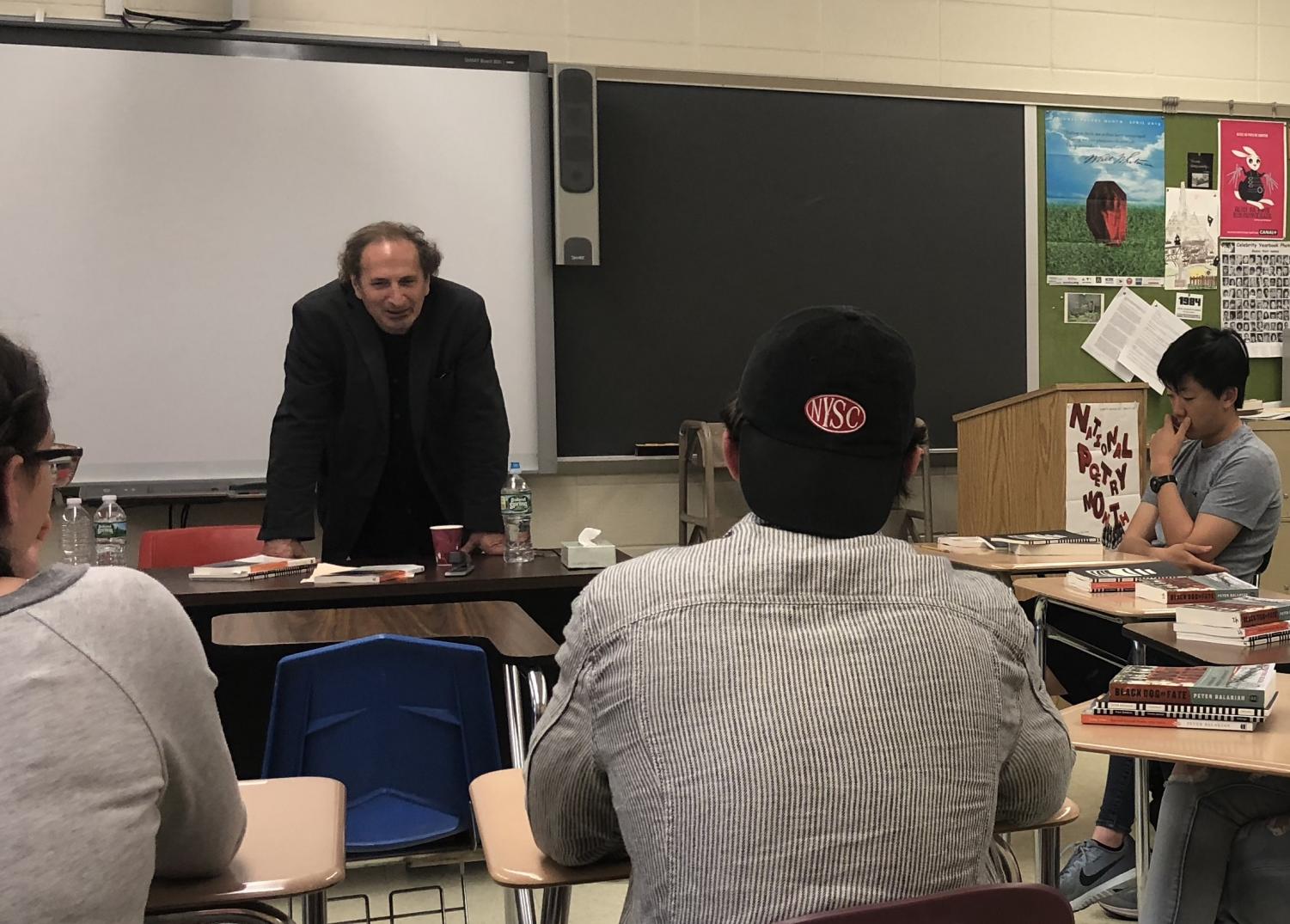 Balakian requested to work with the Humanities classes, in which he talked about the importance of lyrical poetry. "Lyrical arts have a different pull on us [than narrative prose]. Americans are less comfy with lyrical arts than the narrative arts. I'm here to break that." He explained that young writers must push their boundaries because art shouldn't be easy. He communicates this in his poems, particularly in the Pulitzer Prize-winning collection Ozone Journal, by including many allusions, complex metaphors, and subtext in his poems. He is able to set up a scene in the reader's mind through time shifts and imagery. This is showcased in the poem, "Out of School," in which he reminisces on a summer day in childhood. He includes many allusions to history, such as references to the Dacian Wars as depicted in the bas-relief story on Trajan's Column in Rome.
He not only gave our students advice on how to go about writing from personal experiences but also advised them on how to view and appreciate art. "The first time you look at a Picasso cubist collage, you don't know what to do with it because you are used to looking at realistic paintings on canvas. Now, when you are given something new, you don't know what to do with it, but you're interested. I feel the same way about any work of art, even if you don't know what to do with it. If it starts speaking to you, if the materials start speaking to you, that's your way in."
There are many ways to gain access to Balakian's poetry and memoir, as Tenafly students and staff recently learned. His books can be requested from the English department or found in the Lalor Library Media Center.