Shauna DeMarco: A Superintendent with Super Intentions
The Tenafly public school district welcomes Shauna DeMarco as its new superintendent.
Hang on for a minute...we're trying to find some more stories you might like.
This year, Tenafly Public Schools welcomes to its helm a new superintendent—Shauna DeMarco—who last summer replaced the interim superintendent and soon-to-be-retiring Barbara Laudicina. Mrs. DeMarco previously served as the Superintendent of the Lyndhurst school district, but now has bright plans for Tenafly's education system and hopes to enhance the ways in which students learn. With extensive experience in education, Mrs. DeMarco is highly qualified for the position. Many students now know Mrs. Demarco as the Superintendent of Schools, but they may not know is that she also has had a lifelong passion for reading and writing.
Mrs. DeMarco's love for literature began in college when her professor complimented her on her command of the English language. "I love English and writing, so I began wondering how I could share it with others. When I thought about the fundamentals of English, it made me go back to the fundamentals of education," said DeMarco, when asked about why she chose to pursue a career in education. DeMarco was the valedictorian of her class at Seton Hall University in South Orange, New Jersey. After graduation, she attended Montclair State University, where she obtained two master's degrees—in American Literature and Leadership. DeMarco first taught kindergarten and ended her teaching career as an AP English teacher, so she has taught language arts at a far-reaching range of levels.
As superintendent, DeMarco has a strong plan for what she wants to see implemented throughout the district. Instead of large-scale changes, she wants to make small refinements that will advance the effectiveness of the Tenafly schools. She is determined to innovate school policy and keep all of Tenafly's schools on the cutting edge of education. With the help of the faculty, Superintendent DeMarco is also excited to increase the drive of students and progress their interests in every subject.
One of DeMarco's greatest concerns, however, is mental health in the school environment. As the rate of teen suicides rise, Tenafly is one of the many schools looking closer into the health and well-being of its students. "We have things on the forefront of our attention: school safety, school security, mental wellness of students, and making sure students are not overloaded and underprepared," said DeMarco. Nowadays, adolescents in school experience an unhealthy amount of stress. DeMarco understands the struggles that students face today and plans on making the school environment a safer and healthier place to learn.
There's no doubt that DeMarco's future as Tenafly's superintendent holds many challenges, whether it be budgeting, school security, or students' mental health. She is stepping into an undoubtedly difficult position, and it will be interesting see to her responses to key issues faced by Tenafly's educational system.

About the Writer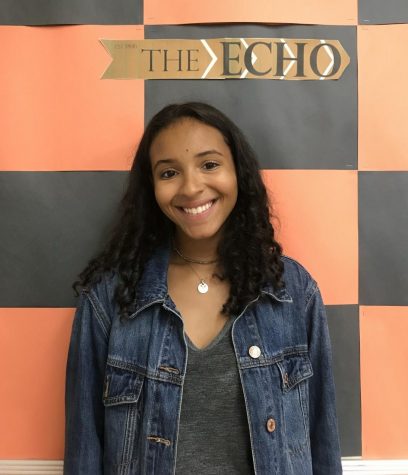 Serenity Cray, Senior Editor
Serenity Cray ('19), Senior Editor, likes to voice her opinions and inform people on the latest topics through The Echo. She enjoys writing news articles...