The New School Year Brings a New Google Classroom
The popular education tool, Google Classroom, has released a new update allowing teachers and students easier accessibility to classwork and assignments. While some students and teachers find Classroom easier to use, others find the changes confusing and difficult to navigate.
Thousands of students around the world are going back to school, hitting the books, purchasing new school supplies, receiving their schedules with new classmates and teachers, and now, the 2018 school year is rolling along with a new Google Classroom, as well. This past August, Google's popular educational application released its biggest update yet. The Classroom layout, features, and pages have completely changed. The idea is that this update will make it easier and more efficient than ever to work on the site, but some students and teachers feel that the new update is actually quite difficult to use.
Below are all the updates released in August of 2018.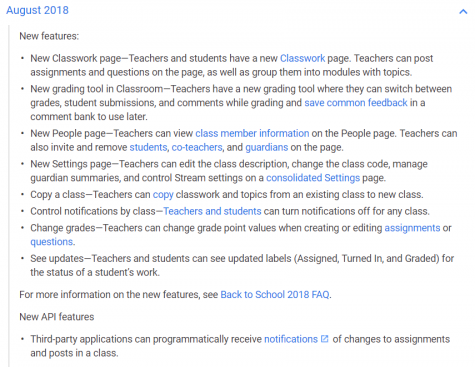 Before the update, there were three main pages in a class—Stream, Classmates, and the About section. Now the three tabs are Stream, Classwork, and People.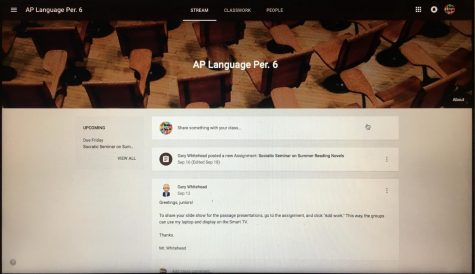 The Stream page consists of all the activity posted by the instructor, with titles for each assignment.
The new Classwork page consists of all the assignments organized into categories, making it easier to find what you're looking for. The People page is the same as the Classmates page, simply listing all the members in the Classroom.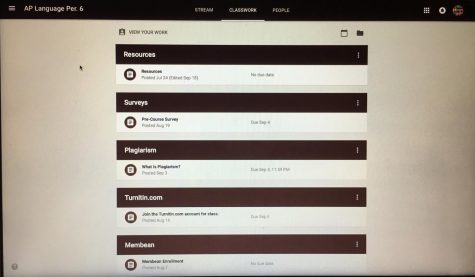 While the new version of Google Classroom includes more changes for teachers than students, students still have many changes to adjust to as well. For one, the layout of Classroom for teachers as well as students is now completely different. 
In the past, for students, each assignment that the teacher posted would pop up in Stream—the full and detailed version of the assignment. Now, however, only the name of the assignment shows up. Students have to click on the name of the assignment before reaching the full and detailed assignment and can't see if the assignment is missing or completed without clicking on the title of the assignment first. According to Google's blog, though, "Having a single stream page, while simple, became too crowded, and it was hard for teachers and students to find what they needed. That's why we're introducing a new Classroom page, which lets teachers better organize assignments and questions by grouping them into modules and units."
The majority of students aren't too crazy about this new version of Google Classroom, as they find the new format "confusing" and "hard to navigate." However, some students actually like the new changes Google has brought to the table.
Some students, who have been using Google Classroom since middle school and now use it for almost all of their classes, aren't too fond of the new update and prefer the original version over the new one. "I think they should never have changed it," said Olivia Wong ('20), "There was nothing wrong with it in the first place." "I liked the original version," said Laura Lee ('20), "It's harder to find your assignments because you have to click on it to see the details."
However, some like the update and find it easier to use. "I like how it's simpler looking," said Eleni Lotito ('22), "Before, it was confusing and sloppy. And I think it's easier to find assignments now."
I too sit here struggling at times to find sections of Google Classroom that are now either on another page or section of the site. Just a couple days ago, my unfamiliarity with the update shone through when I was unable to find the questions my U.S. History teacher posted as a class comment for us to answer. Another time, I was on the site and I found that the About section was now no longer a page but a small link in the upper right-hand corner.  
For teachers, however, the changes on Google Classroom are more beneficial than inconvenient. Teachers have a new feature to use when grading their students. Now, they can alternate between grades, student submissions, and comments simultaneously as they grade. They can also save comments that they regularly use in a comment box for later use. There is also a new people page for teachers. Teachers can pull up information of the members in the Classroom. Teachers are also able to invite and remove class members, assistant teachers/guardians. However, since Tenafly is not a "full-Google district," meaning it doesn't use Gmail, guardians cannot access Google Classroom. Teachers can also change the description of the class, class code, manage Stream settings, and—for districts that are fully Google—control guardian summaries.
Teachers can also change grades while creating or changing assignments or questions at the same time. Many teachers like these new features with Classroom and feel that Google has made a good effort towards helping the education community.
"Google has made it easier to grade assignments and to toggle from student to student when marking," said Mr. Whitehead, an English teacher and Echo advisor, who has now used Classroom for three years. "The update also added to the grading window the ability to open a document in full screen and enter grades and comments in that same window. It's a lot less clicking," he added.
"My main request, which I've already shared with Google, is to allow teachers to change sharing options for documents after an assignment has been posted," said Whitehead when asked about what advice he would give Google to better the site. "Classroom doesn't have this feature, and it's annoying because I often forget to 'make a copy for each student' when I'm in a rush—which is all the time—and then I have to trash the assignment and start over."
"I do like that students are able to more clearly see where their coursework is by unit," said Ms. Celli, a History teacher, who has now used Classroom for four years. Ms. Celli has been "going paperless by using the platform's and the multiple programs, apps, and extensions that sync with Classroom." However, Ms. Celli wishes Google would bring back the About tab. "This was a perfect location to place things that students could refer back to all year such as the course syllabus and my schedule or contact info." She is also not a fan of the Stream tab. She stated that Google should "eliminate the Stream tab. Frankly, it is useless." Additionally, she wants to bring back the ability to select Topics. "This feature could easily be added to the Classwork page so that students are able to only view the units that they are currently working on."
"I think it's been easier to organize assignments," said Mrs. Woleslagle, a Chemistry teacher. "Honestly, I hate reading long written assignments on the screen, so for me, I only use it to grade shorter assignments or look through drafts."
Woleslagle wishes Classroom could add the feature of drag and drop. "I would ask them to add a drag and drop feature for reordering classwork assignments—I like to have the most recent ones on the top, but when I add an assignment under a category, it defaults to posting at the bottom of the category," said Woleslagle. "I end up having to click 'Move up' several times to get it where I want it."
Thanks to a group of teachers who participated in a beta test in July, including Mr. Whitehead, Google has now made it possible for teachers with multiple periods of the same course to copy  classwork and topics from current classes to new classes. Google also realized that teachers join one another's classrooms for tips on teaching strategies, lesson plans, and simply to exchange ideas to maintain more organized classes. And while teachers like being able to share content and ideas, they don't like the idea of receiving a million notifications when there is activity present in the Stream. So Google accommodated to educators' needs. With the new update, Google now allows all notifications for a single class to be shut off.
Although it might be difficult for some to adapt to these new changes, students—like they did with the Snapchat update in the past—will, in time, adjust. Have any questions remaining about where particular content has now gone? Click here to read more about the Classroom update.