How to Make the Most Decadent Chocolate Cake
I've always considered chocolate one of the most decadent indulgences, which is why I'm so excited to share my favorite chocolate cake recipe with you! Here, I've decorated it with sprinkles and a ganache glaze to create the perfect birthday treat.
Ingredients
For the Cake:
1 cup (2 sticks) unsalted butter
2 1/2 cups sugar
4 eggs
1 cup cocoa
2 cups water
2 3/4 cups flour
2 tsp. baking soda
1/2 tsp. baking powder
1 tsp. salt
For the Glaze:
24 oz. semi-sweet chocolate
3 cups heavy cream
Instructions:
Sift your flour, baking soda, baking powder, and salt in a bowl and whisk them together. Set aside.
Boil some water. Pour your hot water onto your cocoa and whisk until your cocoa dissolves completely. Set aside to cool slightly.
Cream your butter and sugar at medium speed for about 8-10 minutes until light and fluffy.
Add your eggs to your sugar mixture, two at a time, and blend until incorporated. Scrape down the sides as needed.
Add your dry ingredients alternately with your warm cocoa mixture. Begin by adding dry, then alternate with wet. Add dry in four parts and wet in three.
Pour your batter into your desired parchment-lined 8″ pans. Bake at 350 degrees for about an hour or until a toothpick comes out clean.
Once cooled, ice the cake and stack the layers.
Heat heavy cream in a saucepan until hot, then pour over chocolate. Let sit for 1 minute.
Stir contents together until smooth, then immediately pour onto cake. (Add more heavy cream if too stiff, and more chocolate if too runny.)
Enjoy!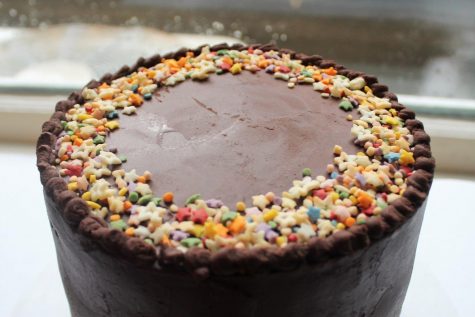 Recipe adapted from How to Cake It