Apple Music vs. Spotify—Who Is on Top?
Competing to be the "top dog" in the music streaming industry, iTunes' more developed sister app Apple Music and Swedish-based Spotify continuously prove themselves worthy of the coveted title. But which platform truly deserves it?
According to an Echo poll, 68% of students who voted use Spotify over Apple Music or another streaming platform; unsurprisingly so, considering Spotify's more than 83 million subscribers compared to Apple Music's 50 or so million. Although Apple Music lacked a couple of features that kept at Spotify's heels in the past, it may have just closed the gap with Apple's iOS 12 update.
Here are the facts:
Song Library
Boasting 50 million songs, Apple Music has a more definitive number of tracks in its repertoire compared to Spotify's vague "more than 35 million" songs. This is a broad number, but it is reported that there are about 20,000 songs being added to Spotify every day. Though Apple Music used to have an advantage over Spotify in terms of exclusive artist deals, many of the albums and content that used to be Apple Music-exclusive have now found their way to Spotify, albeit after a much longer wait. This one-to-one comparison, however, excludes Apple's Beats 1. Beats 1 is Apple's source of live radio, interviews with artists, and exclusive video content that is released through Apple Music with the aid of Apple companion platform iTunes.
Both Apple Music and Spotify include the capability to download local files off of a laptop onto their offline music section. This requires having either app on a laptop and connecting it to a mobile device's account. This is a helpful feature when a certain song is on YouTube but is not on a streaming platform.
Price
Both of these platforms charge the same monthly rate, offering different user account options: a single account for $9.99; a family plan–which allows up to six accounts–for $14.99; and a special discount for college students that lowers their monthly price to $4.99. Although both college discounts are the same across both platforms, Spotify's deal with Hulu, a video streaming platform, is an added bonus for college students—it comes a "Limited Commercial" account with their subscription to a premium Spotify account.
With the family accounts, both platforms offer the same price and only have minor differences. On Spotify, each person under the family account gets his or her own individual profile, whereas Apple Music's family account allows for a group of people to share an account. "Being able to share music across all the similar accounts makes [sharing music] so much easier," said Rachel Gallay ('20). "I like that I can listen to my brother's music and he can listen to mine very easily."
Although the platforms are the same price, Spotify offers a completely free account option, and though it can be a bit of a hassle—with the free option, you can only shuffle songs and cannot scrub through songs, all offline features are not available, and there are ads between songs—it is a free way to stream music on the go. Apple Music, however, only has a limited free trial.
Design/Aesthetic
While Apple Music sports a bright aesthetic, complete with a white and red-pink theme, Spotify has become iconic for its black and neon look. While this category will certainly vary based on your own tastes and opinions, Spotify's darker interface gives it a more "chill" vibe. "The interface of Spotify is more appealing than that of Apple Music," said Olivia Westfield ('19). Within a playlist, the designs are similar, with the only major difference being the presence of thumbnails for each song's cover art being a feature of Apple Music's design. This makes it easier to find a song while quickly scrolling through a playlist, as the colors and design of cover art may make the song stand out a bit more. On Spotify, the lack of the thumbnails and the white font on a black screen can make it a bit difficult to read each song title when trying to find a song in a big playlist.
User Friendliness/Customizability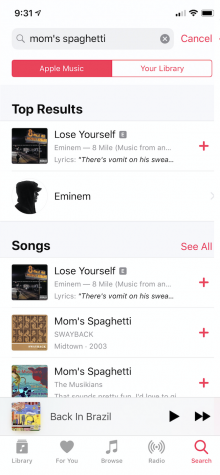 Apple tends to make it difficult to branch out into other brands and services, and Apple Music is no exception. Although both platforms have apps on iPhones and Androids, PCs and Macs, Apple Music only connects to the Siri Home Pod, and not other smart speakers such as Amazon Alexa or Google Home. Spotify, however, does connect to Alexa and Google Home, but it cannot connect to Apple's Siri Home Pod.
In addition to connectivity, Spotify offers more customization options regarding your experience of listening to music. In Spotify, you can adjust the way music is played and how it sounds with a built-in equalizer, selection for data usage, crossfade of songs, and more. Apple Music also provides a bit of customizability when it comes to sorting out what features you prefer. On the library page, users are able to select which categories they want to include. This can prevent users from having folders that are never touched and take up valuable real estate, such as those seen on Spotify's main page.
Both platforms allow for music to be downloaded onto the device it is used on, allowing you to listen to music without using WiFi or cellular data. While this will take up more storage on the device, it is a good feature to have for situations such as plane rides or when you are low on data.
Also, Apple's iOS 12 introduced a new feature to Apple Music that has yet to reach Spotify: lyric search. Typing in just a few lyrics of a song will result in that song popping up, eliminating the grunt work of first manually Googling that song's title.
Social Aspect
Although Apple Music is making strides to step up to Spotify's social integration, Spotify's socialization blows Apple Music's out of the water. Having only been introduced in iOS 11, Apple Music's feature of being able to follow and view other subscribers' accounts is still relatively unused and undiscovered. Spotify, however, give users the opportunity to connect their Facebooks when signing up for an account and even suggests people that they are friends with who also have Spotify accounts. On its desktop app, Spotify offers a feature that allows users to see what the people they are following are listening to. Although many find this to be a bit creepy, it shows the immediate connection between users and their followers, and even further proves Spotify's inclination towards helping users to discover new music.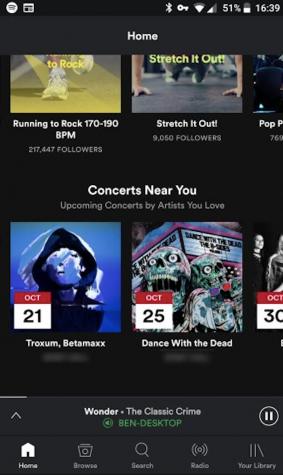 Curated Content
Apple Music and Spotify both offer a variety of curated content for users based on the artists and genres of music the user listens to. Each week, both platforms release a specialized playlist customized towards the music preferences that are recorded through a user's listening patterns. These playlists suggest new tracks to listen to by including songs deemed similar to the ones the user already listens to. Apple Music has its "For You" playlist, while Spotify has a "Discover Weekly" playlist. In addition to "Discover Weekly" playlists, Spotify provides up to six "Daily Mix" playlists, which make a compilation of songs that have been frequently listened to and/or recently added to a user's library; these playlists separate songs by genre. "I like how if you just play one song on Spotify, it'll start a radio and play an endless amount of similar songs," commented Westfield. 
Additionally, Spotify also works with artists to make getting their music and updates out to their listeners. For artists with shows coming up, Spotify will have a section to inform users about upcoming performances by artists they like.
Each platform offers different qualities that may suit users differently. Spotify's impressive song recommendations and music discovery are valuable to a music fanatic, and Apple Music's song lyric search can be helpful for the times you hear a song but aren't sure what it's called.
Now it's up for you decide: which platform would you rather use?
About the Contributor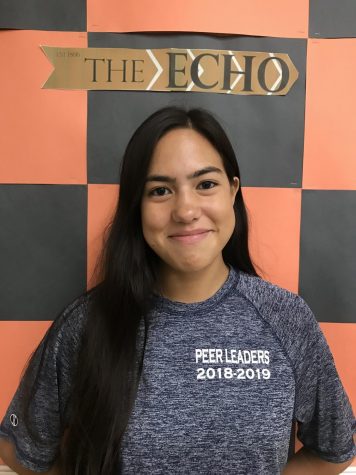 Alessandra Bontia, Staff Writer
Alessandra Bontia ('19) is a staff writer for The Echo. She enjoys listening to and discovering new music, learning more about pop culture, and being...