Trying Tzatziki and Rice Bowls
There are two new additions to the array of local restaurants in Tenafly: Yasou Santorini and Mandoo Cafe. For those who have never tried Greek or Asian cuisine, these are convenient restaurants to taste unique flavors with friends or family. For those who have tried Greek or Asian cuisine and need a place that serves it nearby, these are the places. If you are in a dilemma about where to eat for lunch or dinner, go to either Yasou Santorini or Mandoo Cafe.
Yasou Santorini
Yasou Santorini, a Greek rotisserie located on 35 Washington Street, features a revamped Greek style menu with fresh salads, seasoned chicken, warm pita, and more. There is a wide selection of Greek food from which to order, and because the dishes are not as heavily seasoned as those from other countries, they're not too daunting for newcomers. Main customers include students looking for a fast meal, workers with time for a quick break, and anyone who wants to savor authentic Greek food.
Once you enter the restaurant, you are greeted by the calm blue and white interior of the place, and more importantly, by the amicable atmosphere. The owner initiates conversations with all of his customers, even those who are new, and helps make them comfortable in the wait for their food. There are only a few seats for those who wish to dine inside, but because the majority of customers pick up their food, those seats are usually available. There is a selection of fresh vegetables and other ingredients on display, and if you peek inside, you can see the meat being prepared for plates such as gyros or souvlaki.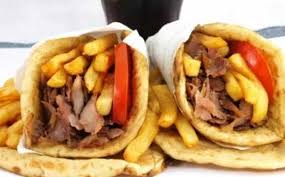 There are many delicious Greek dishes to choose from. You may have never heard of some of the names on the menu, such as the Horiatiki or Spanakopita, but all of them are worth the experience, if at least for the novelty. Their Mediterranean food is not only flavorful, they are also healthy additions to your daily diet. My favorite dish was the chicken gyro: pita stuffed with chicken, tomatoes, and fries, complete with tzatziki sauce. I also tried both the white Greek yogurt and chocolate Greek yogurt for dessert, and although I enjoyed both, I recommend the chocolate Greek yogurt with the sweet cherries.
Be aware that the food may take a while to prepare, so you should probably order ahead of time. However, it's well worth the wait, and Yasou Santorini is a tasty restaurant for those who have never tried Greek food or have a craving for it.  
Mandoo Cafe
Mandoo Cafe, on 35 Highwood Avenue, offers authentic Asian dumplings, in addition to other traditional Asian dishes such as bulgogi and japchae. It was founded by a family with more than 40 years of restaurant experience, and is focused on showcasing the owners' love for dumplings. The restaurant finished renovations a couple months ago, and newly features a more extensive menu while keeping its specialties.
People generally dine inside, so you can usually see at least two tables with groups eating together and conversing. This contributes to the pleasant mood of the place, and you can usually find a table to eat with your friends or family. There is also a display with all the ingredients for the rice bowls, from which you can create your own unique flavors. If you decide to order another type of entree, the wait tends to be around ten minutes, and the food is given to you hot and delicious.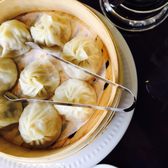 While most people get dumplings here (hence the first part of its name, which means "dumpling" in Korean), there are plenty of other savory dishes from which to choose. Try the hot and sour soup, or build your own rice bowl. Maybe even taste stir-fried spicy pork. Their dumplings are handmade, and you can even buy frozen ones from them to make at home. My go-to food here are the fried Taiwan dumplings, which are thin dumpling skins filled with pork and shrimp fried for a crispy texture. You can also try Asian teas, such as Chrysanthemum or honey citron; different fruit smoothies, like mango or peach; and boba teas, but my favorite is the lychee boba tea.
Mandoo Cafe bills itself as Asian cuisine, but you should note that the food is primarily Korean. Nevertheless, Mandoo Cafe is a nearby location to try Asian food, where you can sample delightful dishes with unique flavors.