Local Historians Document Tenafly's History
How many people regularly check out books at our school's library? I know that many don't and that the rare occasion they do is when they have to complete a book report or assignment. But the other day, in the Lalor Library Media Center, I actually stumbled upon a book that I couldn't pass up. On its cover, I noticed the word "Tenafly" and the phrase "Home of the Tigers." Did someone actually write a book about our town? What was so interesting about Tenafly? And after just skimming through the pages, I couldn't put it down. Believe it or not, I actually went up to the desk where people usually punch in their student ID numbers to take out Chromebooks and I wrote my student ID down to check out a book. I know! Crazy!
Even crazier was when I went home from school that day and showed my mom. The two of us couldn't believe how much history and work was put into this town. We looked at photographs of some of Tenafly's first schools being built and old businesses that used to exist in town. Tenafly was once an Old Dutch farming community filled with businessmen and railroad executives. It is now a thriving suburb with an excellent school system, a booming population, and a diverse community.
Whether as a former or current Tenaflickian, have you ever wondered about Tenafly's history and how it became the town that it is today? Images of Modern America: Tenafly, co-written by Paul J. Stefanowicz and Alice Rigney, delves into Tenafly's evolution through the later part of the 20th century and into the 21st century.
Stefanowicz is a historian, a councilman, and a lifelong resident of Tenafly. In this book, he uses his own experience as a resident to tell the great story of Tenafly and how our town has evolved over time. The book walks us through the development of Tenafly's outstanding public schools, sports, local businesses, houses of worship, historical buildings and homes, historical events, town celebrations, famous Tenafly residents, and other notable Tenafly figures. The book begins with a cover page depicting members of the well-known Nelson family: Willy ('62), Rob ('68), Don ('46), Al Jr. ('53), George ('55), and Rich ('58). The men are gathered in front of a building, the sign for which reads "Home of the Tigers." When you turn the page, Stefanowicz goes into his first chapter, "Schools and Sports."
Before the Tenafly Public Schools we have today—THS, TMS, and our four elementary schools—existed, Tenafly had the Browning School. The Browning School was one of Tenafly's first schools and is still standing today. Built in 1907 and designed by William Stoddart, it taught children from kindergarten through eighth grade. The school was named after a notable school board member and town patron, J. Hull Browning. In 1922, a high school was added on to the building, and the tandem schools were used until 1971. The building is now part of the Browning House Condominiums. This building served as both Tenafly High School until 1958 and Tenafly Junior High School until 1971. What is known as Tenafly Middle School today, constructed in 1958, was also Tenafly High School once. The prior high school and the Browning School became the junior high school. Stefanowicz also includes a picture of our current Tenafly High School in the middle of construction. It opened in 1972.
And do you know our recently upgraded, glowing field, better known as the Geissinger field? Well, that field was named after John B. Geissinger, who was superintendent of the Tenafly Public School System from 1958 to 1976. He was in office during a time of prosperity for Tenafly, in which there was tremendous growth of the student population and new buildings were being constructed.
And, hey, look! Stefanowicz mentions us too! The Echo, the online outlet you're reading right now, was a print newspaper long before. He includes a cover of the 50th anniversary edition, which showed front pages from the first half century of the paper's publication. Stefanowicz also displays an early photograph of when Stillman Elementary School, the last of the four elementary schools to be constructed, opened in 1957.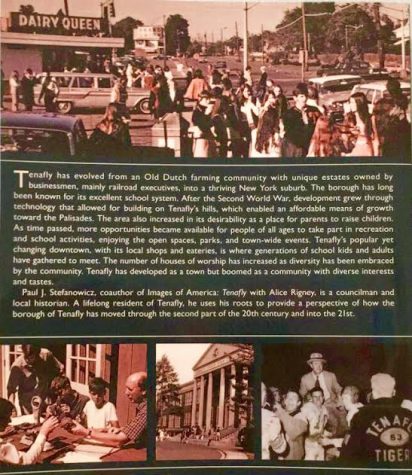 And within our outstanding school system is Tenafly's honorable athletic program. Eugene Littler, a University of Nebraska alumnus and U.S. Army Veteran, was a football and track-and-field coach and Vice Principal of Tenafly High School. Under Littler, the Tigers went to the state football championship in 1954 and helped track athletes receive league, county, and state titles. He retired in 1982, and our school's gymnasium is named after him.
In this chapter Stefanowicz continues by talking about the football program's long success over the years and also briefly mentions the Tenafly High's baseball and soccer team. Stefanowicz also touches upon Tenafly's long standing and still popular today, Recky's Day Camp.
The rest of the book features photographs of historically significant homes, stores, shops, local businesses, and places of worship that have come and gone over the years, and the significant people who did good for our town.
Stefanowicz and Rigney do a great job of telling how Tenafly went from nothing to something. The book details the town's history along with the celebrations, buildings, people, and community that made the town what it is today. If you'd like to read about all the great accomplishments and success of our town, you can find the book at our school and town libraries.