Nike Just Did It: Running A Marathon in 2 Hours
Hang on for a minute...we're trying to find some more stories you might like.
On September 21, 2017, National Geographic posted a documentary on YouTube titled Breaking2. It traces the attempt by Nike to select professional athletes and train them within four months to run a marathon in under two hours. This is a feat considered impossible even for the most accomplished runners but Nike, forever the inspirational daredevil, does not accept limits. "This is not just difficult; this is practically impossible," said a scientist on the Nike team. "Nobody can run that fast for that long, so we're doing it."
Staying true to the Nike motto, they reasoned that scientifically speaking, it can be done. The current world record holder for the marathon is Dennis Kimetto, finishing in 2:02:57. To run a sub-two hours marathon, an athlete must run around thirteen miles per hour with a mile pace of 4:34, which on its own is just twenty-two seconds shy of the women's world record for the mile. Running at a 4:34 mile pace for 26.2 miles isn't just difficult, it's futile.
To achieve an impossible feat, Nike needed nonpareil athletes. They chose Lelisa Desisa, Zersenay Tadese, and Eliud Kipchoge. Lelisa Desisa is the 26-year-old two time champion of the Boston Marathon with a record of 2:04:45. Reducing his time by nearly five minutes, even Nike acknowledged, was ambitious. Zersenay Tadese, the oldest of the three at 34, is considered the "Rocky Balboa" of the group, with a record of 2:10:41. Despite his astonishingly lagging time, Nike believed that with a little adjustment, he would be a substantial addition to the team. Tadese holds the world record in the half-marathon, but the challenge was successfully transitioning into the marathon.  Eliud Kipchoge was the overall favorite at 2:03:05; he has run eight marathons and won seven. Kiphchoge is also an Olympic gold medalist in the men's marathon. Nike understands that to achieve greatness, one must be the greatest.
The runners were judged in three categories: their exercise capacity, running economy, and sustainable velocity. Each athlete excels in a separate field, making them the perfect team collectively. However, running a marathon is an individual sport; they may run together, but their skills and determination will remain separate. With three athletes and three different strong suits, Nike set out to train each one specifically with their weaknesses in mind.
Throughout the next four months, the athletes trained alongside Nike with the help of top-tier trainers and equipment. Desisa is an Ethiopian who is also one of the youngest marathon runners in the world, winning the Boston marathon at a mere 22 years of age. He even competed in his high school cross country team while barefoot. "I didn't know any better," he laughed. Yet a few years later, his name would be written in the history books after winning the 2013 Boston Marathon, which he considers to be "the greatest moment of [his] life."
However, once he returned to the hotel on that fateful, he received a call about a bombing. Upon seeing the finishing line demolished, he decided to return his trophy to the city, only to win the next year again. His training regiment consisted of short runs due to his insufficient lactate value; he lacks the speed needed for running a marathon in under two hours. Despite his achievements, Desisa was still considered the underdog in the competition due to his young age. He began running marathons exceptionally early on in his running career, yet he was resolute in making history once more.
Zersenay Tadese won the first Olympic medal his country ever received in the half marathon. When speaking of his career, he stated, "I never wanted to be a runner. My dream was to be a professional cyclist, but I could not afford a bicycle." With his school being 14 kilometers away, Tadese recalled running every morning on the side of the road while people in cars passing by him looked at him like he was crazy. With the encouragement of his teacher, he began running competitively and quickly demonstrated his skill in the half marathon, yet he was unable to translate this speed onto the marathon. The Nike team believed that this was due to his insufficient amount of hydration. During his marathons, Tadese never swallows a drop of water, which is known to add minutes onto an athlete's final time. Though unable to pursue his dream as a cyclist, he still had the opportunity to achieve a sub-two hour marathon time.
Eliud Kipchoge, at 32 years old, is an unrivaled champion in long distance running. Reflecting on his childhood, he stated that being raised by a single parent made life more difficult for him. "But it's okay," he said. "I've never complained, and I will never complain." Eliud keeps himself on a strict training regiment and follows what the science tells him to, making him a unique problem for Nike: "He's already doing everything he should be doing, so there's little space for us to intervene," said one Nike scientist.
Though Kipchoge is one of the most decorated runners, he believes in a "calm, simple, and low-profile life." "In life, the idea is to be happy," he stated. "To live simple and train hard is to live an honest life. Then you are free." Kipchoge heads a camp for long-distance runners in Kenya, where he trains with other established professionals. Though running is considered an individual sport, he stated that "100% of me is nothing compared to 1% of the whole team." His ideology has made him into a respected and unparalleled athlete.
"
"100% of me is nothing compared to 1% of the whole team.""
The first test for the athletes was to run a half marathon in under one hour, that is 13.1 miles in 59 minutes and 59 seconds. The track's location was designated as Monza, Italy. This was the athletes' first test to prove themselves. Kipchoge finished first under the designated time at 59:19, then Tadese at 59:42, and finally Desisa, incredibly off-pace at 1:02:56. Though the athletes demonstrated immense skill in the challenge, it was still doubtful if they could achieve a sub-two-hour marathon pace when fatigue was taken into account.
The marathon was set to take place on the same racetrack in Monza, Italy, at 5:25 am. The athletes were woken up at 3 in the morning for breakfast. Out on the track, it was still dark; the path was lit for the runners by a sleek Tesla, which carried a giant timer attached to its back for the runners to view their time. A green laser beam was also emitted from the Tesla, which marked the line that the runners must keep up with to hit the desired pace of 4:34 minutes per mile, 13 miles per hour, and with it the guarantee of breaking under two hours once the marathon is completed.
People gathered on the sidelines; bicyclists prepared to bike alongside the runners for encouragement and to analyze them for any signs of affliction during the race. The athletes lined up, and the race began with a gunshot fired into the air. They all started on pace, completing the first mile at a time which would set them to finish the marathon in 1:59:51, eight seconds faster than needed. They continued until they had 18 miles to go, which was when Desisa began wavering. After one more mile, he began lagging until a sizable gap severed him from the others. With 16.5 miles to go, Tadese and Kipchoge kept pace, set to finish 3:22 faster than the world record. With 14 miles left, Tadese seemed to be having trouble keeping up with Kipchoge and the green laser marking the proper pace. At 13.1 miles, Tadese lagged until he was a minute behind, while Kipchoge remained 30 seconds ahead of pace. However, with 7.5 miles to go, Kipchoge slowed until he was 1 to 2 seconds over pace, with his finish time projected at 2:00:04.
Kipchoge began breathing notably heavily, yet he grinned painfully as he sprinted to the finishing line. He ran over the line and, without stopping, headed to his trainer who engulfs him in a hug. Released by his trainer, Eliud slowly makes his way onto the ground, taking a moment of repose. "Three laps to go, I felt a little tired in my legs," he stated. "I tried to pick it up, but I was too late." Kipchoge's finishing time was 2:00:25. Another 1 second faster and he would have made history. "You can aim for something," he stated, "but then it slips out of your hands."
"It's only 25 seconds," Kipchoge later stated. "No human is limited; that is my message. The world now is just 25 seconds away." The documentary ends with a crowd of runners embracing Kipchoge and lifting him to the sky.

About the Writer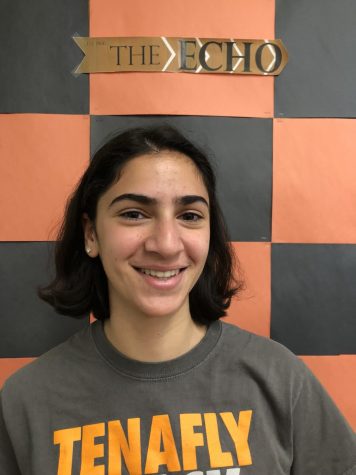 Michelle Musheyev, Staff Writer
Michelle Musheyev ('20) likes reading and writing, but more importantly, she loves watching artsy and sometimes cringe-worthy films and discussing them...