Do You Consider Your Race When Applying to College?
Students spend their high school careers preparing for college applications by maintaining high GPAs, earning stellar standardized test scores, participating in various extracurricular activities, accumulating hours of volunteering, perfecting their college essays, and practically slaving away to make sure their applications are immaculate. These, along with luck and personal traits, are considered the main factors in the college admissions process. However, there seems to be another, less obvious factor which plays a part in the acceptance or rejection of applicants: race. With a vendetta against what they see as this arbitrary practice in the college admissions process, Asian Americans are asking the courts to intervene.
Over the years, there have been a plethora of cases—many involving Asian-American students—that involve college applicants claiming that they have not been accepted to the college of their choice due to their racial background. Furthermore, according to the Asian American Coalition for Education, many studies show that prestigious schools "have been engaged in systematic and continuous discrimination against Asian Americans." The way colleges use race as a factor in their admissions processes has become increasingly controversial, sparking debate and uproar—it came to a head in the current upheaval over a lawsuit against Harvard. All these cases have posed the same question: Are universities abusing race as a factor in their admissions process and, furthermore, should it even be a factor?
The policies of affirmative action are a set of racially-conscious U.S. governmental policies meant to prevent instances of systematic racism in the country, especially in education and employment, and are intended to favor those who tend to suffer from discrimination. Despite this purpose, affirmative action seems to instead hurt Asian-American students in the college admissions process, as reports of racial bias among Ivy League universities, such as Yale and Harvard, seem to indicate that higher standards are placed on them. While colleges that support affirmative action in this way claim that considering race is necessary to ensure a diverse class, challengers argue that considering race allows for racial bias.  
Specifically, colleges appear to discriminate against Asian Americans when looking at standardized test scores and personal ratings. Asian Americans have the lowest acceptance rate for each SAT bracket and have to "score on average approximately 140 points higher than a white student, 270 points higher than a Hispanic student and 450 points higher than a black student." It seems clear that colleges are holding Asian-American students to higher standards than other racial groups. In addition, Asian-American students consistently perform better than other ethnic groups in terms of academics and extracurricular ratings but fall behind in personal ratings. According to a study conducted in 2015 on Inside Higher Ed, Asian-American students received an average combined score of 1654 on the old SAT, which was scored out of 2400, while white students scored an average of 1576, African-American students 1277, Mexican-American students 1343, Puerto-Rican students 1347, and other Hispanic students 1345. These practices of how highly selective universities unfairly are with Asian Americans demonstrate significant flaws within the policies of affirmative action.
A group called Students for Fair Admissions has sued Harvard under Title VI of the 1964 Civil Rights Act, claiming that Harvard discriminates against Asian-American applicants by placing these higher expectations on them. The group has argued that the prestigious college intentionally partakes in unlawful racial balancing by admitting fewer Asian Americans than the numbers they deserve. The plaintiff asserts that Harvard mainly does this by manipulating personal ratings so that the chances for admission for blacks and Hispanics will increase. Harvard has refuted this claim by saying that the assumption that they manipulate personal ratings lies on the false idea that academic superiority correlates with high personal ratings.
Yale University is also in the midst of a civil rights investigation that questions the way the university treats Asian-American applicants during the admissions process. However, just like Harvard, Yale has tried to refrain from making any statement regarding the state of their admissions process— they have refuted claims of racial bias, saying, "Yale does not discriminate in admissions against Asian Americans or any other racial or ethnic group." This investigation could have lasting repercussions on an institution that prides itself on having a diverse student body and having a vibrant and "varied academic community."
Some believe that race should be considered in the college admissions process to ensure diversity within the classes, while others think that race should not be something that determines your acceptance into a college because it only nurtures racism. These conflicting opinions can be seen nationwide and in our own community. "I think it's so unfair to judge students based on their race," said Olivia Wong ('20). "It should only be grades and extracurricular activities." She went on to emphasize the importance of diversity but how it shouldn't be a college's top priority. "I feel like you do want some diversity, but it shouldn't be colleges' main concern. They should just focus on if the person is qualified and not on their race."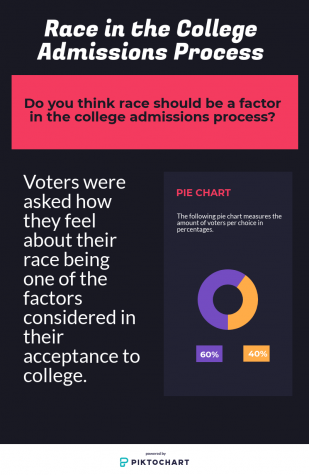 The ruling for the district court phase in the Harvard lawsuit is still months away, with U.S. District Court Judge Allison Burroughs predicted to release her opinion early in 2019. However, both sides say they plan to appeal, so the matter of affirmative action may once again be decided by the Supreme Court. Discrimination against Asian-American students in prestigious colleges is not a straightforward case, so there is no set timeline for the trial.