How to Make Chocolate Crinkle Cookies
As the cold weather comes around, I always seem to find myself baking chocolate crinkle cookies. With their distinct cracked tops and coat of sugar, they are an absolutely classic winter dessert and a necessary addition to any arsenal of cookie recipes. While they are typically considered holiday cookies, they are enjoyable all winter and all year long.
This recipe perfectly captures all the best parts of the cookie. I've experimented with a multitude of recipes, and this one always remains my tried and true. It's also a hit with my friends and family, as I find myself sharing this recipe every time I make them.
Ingredients:
1 cup all-purpose flour

½ cup + 2 tbsp unsweetened cocoa powder

1 tsp baking soda

⅛ tsp salt

½ cup unsalted butter, softened (1 stick)

½ cup granulated sugar

½ cup light brown sugar, packed

1 large egg

1 tsp vanilla extract

1 cup confectioners' sugar, for rolling
Directions:
Whisk together flour, cocoa powder, baking soda, and salt.

In a separate bowl, cream the butter and sugars together until fluffy and light. Then, add in the egg and vanilla extract.

Gradually, mix the dry ingredients into the wet until completely combined. The dough will be sticky and thick.

Split the dough in half and shape into two disks. Refrigerate for a minimum of three hours or up to three days.

After taking the dough out of the fridge, allow it to rest at room temperature for 20 minutes.

Preheat oven to 350℉ and line two baking sheets with parchment paper or a non-stick silicone baking mat.

Scoop about 1.5 tbsp of dough and roll into balls. Roll the balls in confectioners' sugar and place on baking sheet about 1-2 inches apart.

Bake for 8-9 minutes. Rotate the sheet after 5 minutes for even baking.

Allow to cool for 5 minutes and transfer to baking sheet.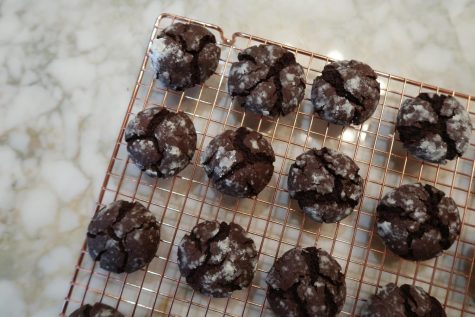 Adapted from Sally's Baking Addiction