An Overview of the Yellow Vest Protests in France
Hang on for a minute...we're trying to find some more stories you might like.
What are they protesting?
In Paris, protesters in fluorescent yellow jackets are rioting against the proposed increased fuel tax. This was shortly after President Emmanuel Macron proposed that starting in 2019, "the tax on gasoline will go up by around 12 cents per gallon and on diesel by approximately 28 cents per gallon, according to Transport Minister Elisabeth Borne."
President Macron claimed that this price increase was an aid to help reduce France's dependence on fossil fuels and transition the French population to more eco-friendly or electric cars. Alternatively, many of the protesters have claimed that this law unfairly targets the middle and lower classes that depend on these fossil fuel-based cars for day-to-day life.
Although these protests started as a protest against the tax increase, they have quickly become a vehicle of the French's dissatisfaction towards the high cost of living throughout France and Macron's presidency in general. The protesters have claimed that Macron and his administration don't care about ordinary, middle-class citizens. A French poll found that only 26 percent of French people have a favorable opinion of Macron, which is significantly lower than that of the previous leaders. Famke Krumbmüller, an expert in French politics at an OpenCitiz political consultancy firm in Paris, explained that "They're fed up with the rising prices and the cost of living. They feel like the political elite is forgetting about them."
What do the yellow vests mean?
The yellow vests, or the gilets jaunes, took their name from a 2008 law that declared that all French motorists were are required to carry the high-visibility vests in their vehicles in the case of roadside emergencies.
What's going on in Paris?
The protests began on November 17, with protesters blockading highways throughout France. These protesters then moved on to the capital, Paris, where they accumulated more numbers and began more aggressive and violent protests. Rioting took place at the Champs Elysees, and the Arc de Triomphe was vandalized with slogans like "We have the right to revolt," "Macron resign," and "The Yellow Vests will triumph!" The protestors targeted national French monuments as well as local stores and buildings in Paris, paving a violent and destructive path.
In response to these rioters, Emmanuel Macron said, "What happened today in Paris has nothing to do with the peaceful expression of legitimate anger. No cause justifies the attacking of the police, the looting of businesses, the burning of public or private buildings, the threat of passers-by or journalists, and the defeat of the Arc de Triomphe. The perpetrators of this violence do not want change, they want no improvement, they want chaos: they betray the causes they claim to serve and manipulate. They will be identified and held accountable in court."
In addition to these rioters, there is also a petition against the tax increase circulating, started by a French woman named Priscillia Ludosky. So far, there have been over 1.17 million signatures.
What are the consequences of the revolt?
For five consecutive weeks, protesters have risen in Paris. Overall, there have been thousands of arrests and 8 deaths. In addition, thousands were also injured because of the tear gas employed by the police and the fires resulting from rioters.
What is Emmanuel Macron doing in response?
In response to these protestors, Marcon condemned the violence on all platforms, but said that protesters' anger was "deep, and in many ways legitimate." In addition, Macron promised to raise the minimum wage and institute some tax concessions. He promised that the minimum wage would change by €100 per month, starting in 2019. In addition, the tax increase for low-income pensioners and overtime pay would be cancelled. Employers would also be encouraged to give tax-free end of year bonuses.
A planned tax increase for low-income pensioners would be cancelled, overtime pay would no longer be taxed, and employers would be encouraged to pay a tax-free end of year bonus to employees, he added.

About the Writer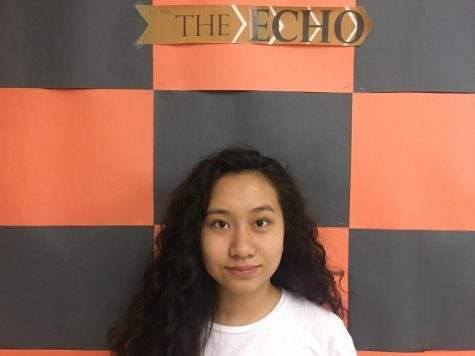 Sabrina Li, Staff Writer
Sabrina Li ('20) is a Staff Writer for The Echo. She spends her days binge-watching Netflix shows and shamelessly singing in and out of the shower. Her...