Breaking Down the Transgender Military Ban
The Supreme Court's 5-4 decision in favor of President Trump's transgender military ban signals the continuation of a policy foreshadowed in his controversial tweets from 2017.
Hang on for a minute...we're trying to find some more stories you might like.
Some may remember President Trump's July 2017 Tweet that reads as follows: "Our military must be focused on decisive and overwhelming….victory and cannot be burdened with the tremendous medical costs and disruption that transgender in the military would entail."
Spelling errors aside, this instantly-immortalized message became one of our president's few public declarations that somehow translated into actual policy. This came from then-Secretary of Defense James Mattis, who announced that this change would bring the military back to pre-2016 regulations that prevent a transgender soldier from openly serving and bans military-financed gender transition. Though it was expected to be instituted in March of 2018, the policy faced challenges in the federal courts from serving trans service members and was halted for a time. However, the Supreme Court ruled yesterday 5-4 that the ban will go into effect soon.
This comes on the heels of the Department of Health and Human Services' failure to recognize an estimated 1.4 million million Americans who identify with a gender that is not the sex that they were born into, following Obama-era legislation that expanded the definition to include progressive interpretations of gender identity that would be used in schools and a variety of other places. The current Director of the Office for Civil Rights at the U.S. Department of Health and Human Services Roger Severino, the then-director of the DeVos Center for Religion and Civil Society at the Heritage Foundation, declared in a commentary piece at the time that "[Those]….actions [were] the culmination of a series of unilateral, and frequently lawless, administration attempts to impose a new definition of what it means to be a man or a woman on the entire nation." This increasing hostility from the White House regarding the trans community has raised public accusations of transphobia against the current administration.
As for the "tremendous military costs" that transgenders allegedly bring with their medical needs, as the president asserted, these claims have largely been proven to be false. A 2016 study from the RAND Corporation estimates that these individuals would only comprise one-tenth of 1% of the military's annual spending, or $2.4 to $2.8 million.
However, the Defense Department made it clear that this is not a universal ban on transgender recruits, instead pointing to the difference between those who are transgender and those who have a medical condition known as gender dysphoria. After its use by right-leaning political pundits, gender dysphoria has become a common talking point for conservatives in response to proponents of trans rights. According to the American Psychiatric Association, "Gender dysphoria involves a conflict between a person's physical or assigned gender and the gender with which he/she/they identify." So who does this ban?
The policy outright bans any transgender individual—diagnosed with gender dysphoria or otherwise—who went through transition or requires it.
The policy also bans individuals who have been diagnosed and may require medical treatment.
The policy allows for those who show "36 consecutive months of stability (i.e., absence of gender dysphoria)." This also means that the individual in question would have to be stable for 3 years before enlistment.
Even if all of these conditions are met, the individual would have to agree not to transition during the time of their service and act in accordance with the standards of the sex that they were assigned at birth.
Those who oppose this ban should consider that those with depressive or anxiety-related disorders are also held to this this same 36-month standard of stability and that those with a current diagnosis of mental disorders such as schizophrenia or bipolar disorder are disqualified altogether. Being that many transgender individuals feel comfortable with their gender without any symptoms of dysphoria, the Defense Department is correct that the policy does not unreservedly prohibit all trans service members. However, many are arguing that this is effectively the same as a wholesale ban; it only allows for those who have not transitioned, do not want to transition and lack any dysphoria as a result of their identity—all this while still forcing them to serve as their assigned sex.
In response to the decision, the American Civil Liberties Union (better known as the ACLU) posted on its various social medias that the "Supreme Court did NOT lift the nationwide block secured in [their] case, Stone v. Trump, which is before a court in Maryland." The pending case that they are referencing retains a preliminary injunction that declared the ban unconstitutional. However, the Stone decision only regards the plan issued in August of 2017, not the aforementioned March 2018 "Mattis plan" that supposedly fixes the issues of constitutionality that were present before. That being said, the district court may move to dissolve the Stone injunction.
"It is important that we keep in mind this is part of an effort to confuse and exhaust us and it is part of the same strategy of this administration to roll back civil rights protections and target particular groups of people and communities," said Chase Strangio, the staff attorney of the ACLU LGBT and HIV project. "The injunctions are still in place so for now they are blocked from implementing any of this. We are fighting to keep it that way and will keep fighting." More news on this topic is sure to come soon.

About the Writer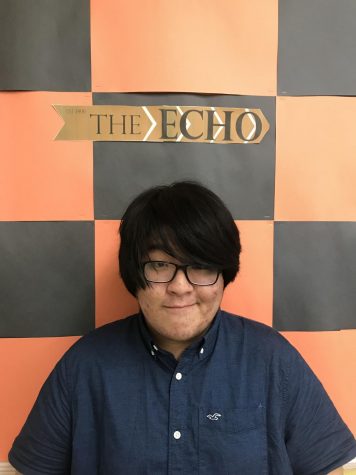 Aiden Kwen, Senior Editor
Aiden Kwen ('20), Senior Editor, is interested in interactions between pop culture and social issues; as the president of the Controversy Club at THS and...