Winter Wins: Track & Field Breaking Records
Not even the dropping temperatures can keep Tenafly's track and field team from dropping the ball—despite this year's frigid winter, the Tigers can be found outside running around town. While runners are hard at work on the track, the Tenafly jumpers are proving themselves out in the field events as well. Two Tenafly jumpers in particular—Fiona McDermut ('19) and Sophia Dongaris ('20)—have been training with pure dedication and determination this season and are already seeing stellar results. They have both broken school records for their respective events very early in the season.
McDermut has been a part of Tenafly's track and field team since her freshman year and has only grown to love the sport. As a high jump specialist, she is able to dedicate all of her time to this one event, perfecting her form and technique. Within her first month back to training with the winter track and field team, she beat Tenafly High School's indoor high jump record with an impressive jump of 5'2.25'', surpassing the previous record by a quarter-inch. When a jumper reaches this level of competition, every fraction of an inch matters. She achieved this personal record at Garfield High School on the morning of December 22, 2018, and took first place for Varsity Girls' High Jump at that meet.
When asked why she felt she was able to find success so early in the season, McDermut explained that she has not altered her training much. "I have definitely been more motivated because it is my last year to compete at the high school level and it is my last chance to accomplish my goals," she said.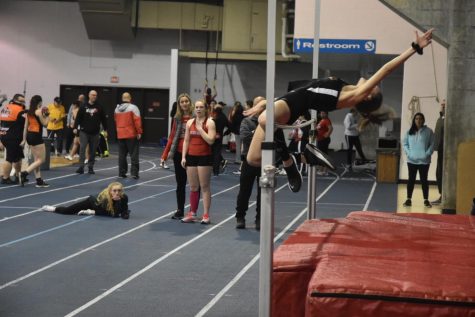 As a freshman, McDermut's biggest hope was to clear 5 feet. Reaching this goal inspired her to continue to push herself to the higher heights at which she currently competes. McDermut is now training with an eye toward the spring season of track and field. "In the spring season, I'm hoping to beat the outdoor school record of 5 feet 3 inches and continue to improve my personal record as much as I can before I graduate," she said. As a senior captain this year, McDermut leads the underclassmen jumpers and acts as a role model for them to witness all that can be achieved in a high school career.
Another athlete to watch is Dongaris, a junior only moving on an upward trajectory. She has increased the hours spent training through her time practicing outside of the Tenafly team practices. Dongaris's ability to compete in many events, ranging from high hurdles to triple jump and even high jump, makes her a very versatile team player. Like many students who begin the sport, Dongaris assumed she would be a sprinter. She could not be happier that she is a part of "jumpers' island," as the field athletes are affectionately called.
Dongaris has already broken two school indoor track and field records, a formidable accomplishment considering her age and this season's timeline. On December 17, 2018, at The Armory Track in Washington Heights, New York, Dongaris broke the 55-meter hurdle record with a time of 8.82 seconds. The previous record was 9 seconds flat for indoor hurdles. About a month later, on January 16th, Dongaris entered her first triple jump meet of the season at Ocean Breeze Athletic Complex in Staten Island. She beat both the indoor (33 feet 4 inches) and outdoor (35 feet 1.5 inches) records from 2015 with this single jump of 35 feet 6 inches.
"Setting these records was really important to me because at the start of my track career I would have never imagined something like this would've happened," Dongaris said. "This just makes me want to work harder and get more results."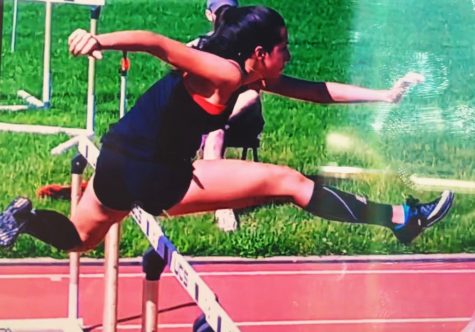 Increased weight training and extremely focused technical work have been paying off for Dongaris. "The stronger I get, the more it helps with my jumps and races," she said. This serious athlete definitely puts in the time: two to four hours a day practicing with a college coach, three to four times a week. Dongaris has become an invaluable asset to Tenafly's team and her teammates often look to her for advice on how to improve their own technique.
As a part of the Tenafly girls shuttle hurdles relay team, Dongaris helped lead the team to break—-you guessed it—-another school record. With a time of 33.7 seconds, Dongaris, Sachi Williams ('21), Julia Smolyak ('21) and Chloe Altschul ('19) set the new indoor shuttle hurdles record. The girls placed at the Bergen County Relays meet at The Armory Track on January 23rd of this year. Coming in two-tenths of a second short of the nationals qualifying time, the girls hope to have another shot at improving their time soon.
Best of luck to the Tigers for a successful rest of the season!