Students and Staff Receive Canine Therapy before Finals
Last week students and staff welcomed six furry stress-relievers—therapy dogs—to get students' and staff members' minds off of final exams. On the Friday before Finals Week, a half dozen members of Therapy Dogs of Tenafly and their certified pooches volunteered to visit the school as a way to provide a break from end-of-the-year stress, especially over final exams. Students and staff were invited to join the dogs in the Eugenia Pfeiffer Memorial Garden area outside the principal's office, where the dogs were made available for petting, holding, and snuggling during the lunch periods. The visiting dogs included a miniature poodle named Yogi, a cockapoo named Panda, and a goldendoodle named Latke, among others.
"I was so much less stressed," said Emily Kahn, '18, who came to see the dogs during her free periods. "The dogs calmed me down and relaxed me. I spent two periods out there with them and I'd never felt happier." Mr. Whitehead, an English teacher and dog lover, visited with the dogs during period 6. "I always feel better when I'm petting a dog. I wish we could have therapy dogs at the high school more often," he said.
"
I always feel better when I'm petting a dog.
— Mr. Whitehead, English teacher
Asked about the therapy dogs, Halle Rosenberg, '17, the program organizer, said, "I first came up with the idea to do a therapy dog event at THS when I was touring universities as a junior. This is something that a lot of colleges were doing and I was interested in doing something similar for my community." Halle brought the idea to the principal, Mr. Morrison, and he helped her find an organization that would volunteer its time for the event. "Overall, I thought this year was a huge success," said Halle. "As a dog owner myself, I know how amazing it is to be around dogs. What could be a better opportunity to share my love for dogs and help my community at the same time? With the help of Therapy Dogs of Tenafly, this was the second year we were able to put on this event and I hope it continues for many more."
About the Writer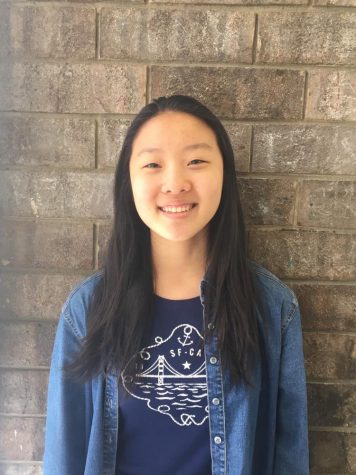 Yuri Han, Staff Writer
Yuri Han ('18) is a staff writer for The Echo. She is also co-editor of the school's literary magazine, Omega. Her creative work has been recognized by...