The Kulture behind Kahoot
The teacher walks into class, his dress shoes echoing across the linoleum flooring. The clock ticks the painful seconds away. It's the day before the big test. Students shift anxiously in their plastic-backed seats, dry eyes searching the room, hands cracking knuckles. He sits down in his creaky three-wheeled chair, placing his fingers upon the dusty keyboard, the letters clicking as they're pushed. The SMARTboard turns on, and there it is. Students' eyes open. One student begins to cry tears of pure joy, her sleep-deprived trance broken by the magic of….Kahoot.
The enchanting music. The four-colored screen. The names popping into digital form. The race for time, accuracy, and—above all else—glory. When something has gained a status as legendary as Kahoot, a school newspaper such as The Echo must take a deeper look at the culture behind the phenomenon. Kahoot is an online, interactive education platform in which students compete for speed and accuracy in custom question sets that are playable via a phone, tablet, or computer browser. Released in September 2013 as a joint project with the Norwegian University of Technology and Science, the learning experience has nothing short of exploded in popularity. According to Forbes, Kahoot hit one billion cumulative participating players in the month of March 2017 and 50 million monthly active unique users by May. Kahoot has also shown definite monetary promise, as confirmed by a recent investment from Disney valued at over $370 million. When you hear the familiar sound of fingers racing to tap screens, Kahoot hears ka-ching, but what spurred Kahoot's growth into the massive figure in education it has become? Tenafly High School students and teachers alike have developed a passion for the platform and the element of enjoyment and excitement it brings to reviewing.
"I think Kahoot is so successful and popular because it's just a win-win," said Jake Friedman ('21). "It's a great outlet for students to exercise their competitive muscles while simultaneously practicing things they learn in class. It's fun for the students but also effective for the teachers."
"I think it is a fun way to review for tests and quizzes and I like the competitiveness that it gives the kids," said history teacher Ms. Agapi Schmarge. "I think it works best if, instead of using the pre-made games, I make the Kahoot myself, which I will make more challenging, and combined with the competitiveness that my students tend to have, it makes it a lot of fun."  
Study Skills and Academic Support teacher Michelle Zanoria agreed. "Kahoot is game-based learning that helps you review in a fun way," she said.
While it's no secret that Kahoot is popular in schools, many may not know that Kahoot is also commonly used in work or corporate settings worldwide. Over 12 million corporate employees have used Kahoot and more than two million games have been hosted. DNB ASA, Norway's largest financial services group, for example, uses Kahoot for introducing, training, and polling employees. Kahoot has also been used by DNB to teach personal finance to thousands of elementary and middle school students. But the platform is most popular in the classroom. Eighty percent of Kahoot users are K-12 students, and while Kahoot has become a valuable corporate and community adult learning and polling tool, its massive impact upon education is greater than one might expect. Not only is the platform used by over two million U.S. teachers, but a whopping 40% of K-12 students in the United States play Kahoot monthly. And with a 70% expansion since last year, Kahoot has become a cultural phenomenon in the truest sense. The site's massive influence is clear to see, especially in Tenafly, where it has has gained masses of student fanatics.
Critically, teachers love it too. Kahoot allows teachers and students to search up topics and use public games to study. With the wide variety of categories and pre-made games Kahoot offers, it is easily accessible for teachers to use and provide students with an engaging way of studying. "When we do it [Kahoot] in class, we have fun with it. Learning when you're having a good time is better," said Spanish teacher Mr. Youssis. According to PsychologyToday.com's study called "The Neuroscience of Joyful Education," the human brain retains information better when learning is connected with strong positive emotions. Emotions of enjoyment generated by competing in games promote productive learning.
Kahoot can be also used to enhance learning for those who aren't able to get the same education that students here have access to. According to Forbes.com, Carol Salva, an ESL teacher in Houston, uses this platform to help refugee students and recent immigrants to learn English and U.S. customs. "Kahoot helps those students boost their self-confidence by creating Kahoots about their homeland and culture," reported Forbes.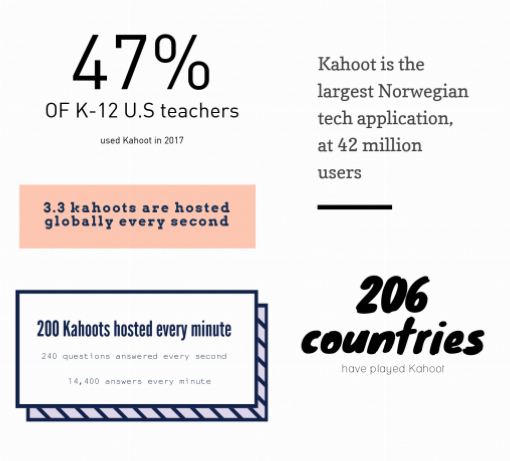 With the massive presence in education Kahoot has become and the fanbase of teachers and students it has developed worldwide, the culture behind Kahoot has a resounding glow of positivity—a glow of student smiles, teaching efficiency, technological advancement, and even a sense of acceptance and self-confidence. Kahoot is a force for good in the often confusing field of education. With its bright colors and catchy tunes, Kahoot is a pioneer in the field of education and even the corporate world.