New Jersey Senator Announces Presidential Bid
Cory Booker, an American politician, former mayor of Newark, New Jersey, and now one of the current senators for New Jersey, climbed his way up the political pyramid and last month announced his presidential bid for the upcoming 2020 presidential election.
This New Jersey senator has an interesting story behind the political campaigns and speeches, one that hits home, particularly, for northern New Jersey residents. Booker—born in the capital of the U.S., Washington, D.C., on April 27, 1969—was raised and grew up in Harrington Park, New Jersey, a town in Bergen County. It was there that he attended Northern Valley Regional High School at Old Tappan. Booker's parents, Cary Alfred and Carolyn Rose Booker, were both civil rights activists. The two went on to become the first black executives at IBM, so Cory had exposure to politics and law at a young age.
Booker excelled in many aspects in his life, including athletics. He was an accomplished football player defending the Golden Knights, and he also served as his class president his senior year, a dip in the pool of politics, although miniscule, and even held a leadership position for his school's student-run crisis hotline.
Wanting to further pursue his interest in politics and government, Booker attended Stanford University after high school, where he earned a Bachelor's degree in political science and a Master's degree in sociology. After graduating from Stanford, Booker was invited to study at the University of Oxford on a Rhodes Scholarship. He graduated in 1994 with a graduate degree. Booker then went to law school at Yale University and graduated in 1997. In that same year he also moved to Newark, New Jersey, where he would work hard to better the lives of the people living in the city and to better the city itself. Excluding Booker's time as his class president of his senior class in high school, Booker's first governmental position was a seat that he won on the city's council, just a year after moving there. Booker pursued establishing nonprofit organizations to aid Newark residents with amenities to improve the community. One of these initiatives was known as Newark Now, an organization designed to help locals transform their homes.
In 2006 Booker became mayor of Newark. "When I became mayor," Booker said in Governing, "our city had a reputation nationally for crime and corruption. Our population had been declining for 60 years. Businesses were leaving." After his time serving as mayor, he believed the city changed for the better because of the work he did. "You don't have to convince people anymore about the promise of Newark. You don't have to twist people's arms to get them to be a part of it." And Booker's devotion and dedication to turning Newark around during his mayoral position is clearly evident. Also according to Governing, new grocery stores and hotels—the first in decades—have opened. Panasonic North America relocated its headquarters downtown, as did Audible.com, which provides audio information and entertainment. Prudential Financial is building a new tower. The city reported $1 billion in real estate development in 2011 and 2012—about a third of all development across the state in sheer square footage. What Booker couldn't do with city resources, he sought to accomplish through public-private partnerships, attracting millions in philanthropic investments to further his policy agenda.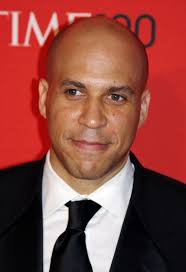 Continuing to climb the political ladder, Booker ran for the position of senator of New Jersey and assumed the position when elected in 2013. And now Booker has announced that he would like to take that final step and reach the apex of the political pyramid, as he announced to the country on February 1st, 2019 that he will be in the running as a candidate for the President of the United States in the 2020 election. He waited to release his video entitled "We Will Rise," in which he announces his bid for president, on the same day that marks the first day of Black History Month.
"The lines that divide us are nowhere near as strong as the ties that bind us," Booker said. "When we join together and work together—we will rise."
Cory Booker's YouTube Channel