How to Make Earl Grey and Blueberry Donuts
Earl Grey and blueberry is one of my favorite flavor combinations. While it may not be the most common, the fragrant Earl Grey and the slightly tart flavor of blueberries go beautifully together. The Earl Grey donut base and blueberry glaze taste amazing with each other in these baked donuts.
I made these to bring to school, and they turned out wonderfully. I love how they look, with their golden brown donut base and dark blue-purple glaze. They were a hit with my friends, and they're great for both a sweet breakfast or dessert.
Ingredients:
For the Donuts:
2 ½ cups all purpose flour

1 cup sugar

1 tsp baking soda

1 tsp salt

2 bags earl grey tea*

⅔ cup of vegetable oil**

1 cup buttermilk

2 eggs

1 tsp vanilla extract
For the Glaze:
½ cup blueberries

2 cups powdered sugar
Directions:
For the Donuts:
Preheat your oven to 350℉.

Whisk together the flour, sugar, baking soda, salt, tea, and set aside for later.

In a separate bowl, whisk together the vegetable oil, buttermilk, eggs, and vanilla in a separate bowl.

Gradually pour the dry ingredients into the wet, and mix together until just combined. Make sure not to overmix to prevent the formation of a tough donut.

Fill donut pans about 3/4 of the way. Let bake for 10-12 minutes.
For the Glaze:
Put the blueberries and powdered sugar into a blender/food processor. Blend until completely mixed.

Add more blueberries or powdered sugar according to the texture. (More blueberries will make it more liquidy, while more powdered sugar will thicken it up.)
To Construct:
Wait for all your donuts to cool before dipping them in the glaze.

Simply turn your donut upside down into the glaze, until the top half is completely coated. Let all the excess drip off, and put on top of a cooling rack.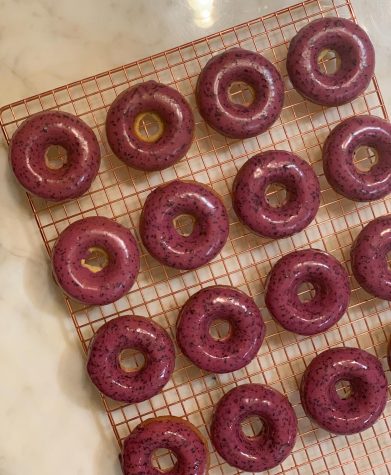 Recipe Notes:
*I simply opened up an earl grey tea bag and poured it into the dry ingredients.
**If you don't have vegetable oil, you can use any neutral oil as a substitute. Some examples of neutral oils are canola or safflower oil.
I used this donut pan, but any donut pan could work.
Adapted from Honeysuckle