Coach "Sutty" Sutera Inducted into Saddle Brook Wrestling Hall of Fame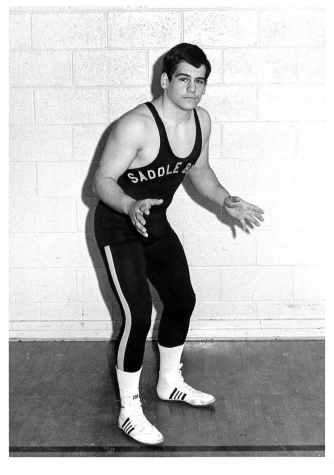 Mr. James Sutera, a longtime physical education teacher and wrestling coach, was granted the honor of being a 2019 inductee into the Saddle Brook Wrestling Hall of Fame. Surrounded by friends and family, he, along with Saddle Brook Class of 2002's Rob Panfili, was given a dinner to accept this prestigious award.
Mr. Sutera was inducted for his outstanding work as both a wrestler for Saddle Brook High School and a coach for the school as well. "I found out in about January," said Mr. Sutera. "I was really pleased. It was nice to be honored by other coaches and athletes."
The night was enjoyable, as both wrestling legends were inducted to their high school alma mater's hall of fame. "The ceremony was a great tribute in honor of Mr. Sutera," said Ms. Salamone, a colleague of Mr. Sutera's who was at the dinner.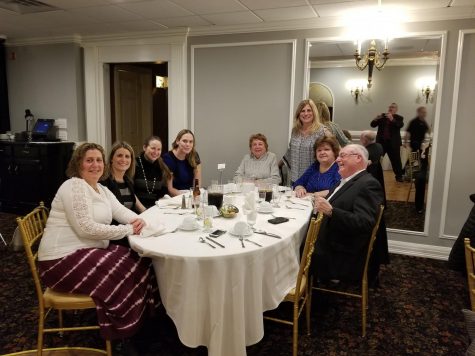 "It was great to hear stories told by Mr. Sutera dating from the early 70s to now. It was a celebration and a great reminder of the impact that we have on each other's lives and how it played a major role in shaping our lives today."
"It was a great dinner," said Mr. Sutera. "Only two people were inducted; me and another wrestler from 2002. He placed 5th in the state, and I was inducted as a wrestler and a coach. I had three good seasons there. In order to be put in, you have to have statistics, done things, been a good wrestler."
As the coach of the THS wrestling team, Coach Sutera has kept wrestling alive in his life.  "Sutty is very motivating as a coach," said Daniel Laparra ('19), one of the wrestling captains. "He has such a passion for wrestling, and that sort of energy is so contagious in the wrestling room that he makes us want to be there and actually look forward to practice."
Mr. Sutera seems to impart this same attitude of hardwork to his colleagues, as well. "Mr. Sutera is a valid candidate for this award because it encompasses the true essence of leadership, influencing human behavior, delegating responsibility, bringing people together for a common cause, and working with a purpose. He is…unconditionally loyal to those he has coached, continues to motivate his athletes to do the right things both on and off the floor.  He is a great representation of the coaches who have had to balance their own family lives with the challenges of long hours to the very best of their abilities," said Ms. Salamone. "He has earned the respect of many coaches and players around the league, county, and state, and has shown that hard work, dedication, and commitment pays off."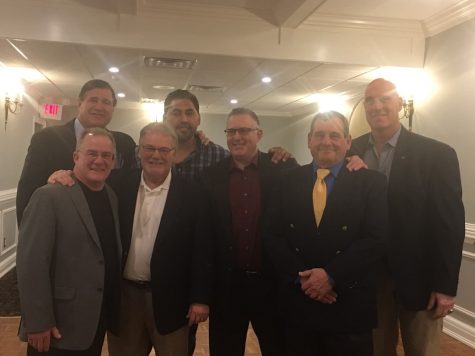 "Sutty has taught me [and the team] so many lessons not only in wrestling, but also in life," said Laparra ('19). "The main thing I learned from Sutty is discipline and dedication. Sutty has taught me what it means to be truly dedicated to something bigger than me. Whether it be waking up at 5:30 in the morning to be at the school at 6 or just coming in the morning during winter breaks. There are no off days to him—consistency is important. Sutty has done so much for our wrestling program, and it really all began for him in Saddle Brook. He and his family have had such a big impact on the people there, and he was one of the reasons Saddle Brook wrestling really took off. I feel like they owe it to him for how much he's done for the program."
"You learn self-discipline from wrestling," said Mr. Sutera. "It's a team sport, but it's an individual sport. You're on the mat by yourself, so even though you have your thirteen teammates on the side, you're alone, and that's what builds character. I tell my wrestlers all the time that wrestling demands self-discipline. If you can play that position, you can be successful in anything."