Boy Scouts of America Faces Charges of Abuse
Hang on for a minute...we're trying to find some more stories you might like.
The Boy Scouts of America, a nonprofit organization of more than 2.4 million youth and one million adult volunteers, has been an active program since 1910, with its mission being to "prepare young people to make ethical and moral choices over their lifetimes by instilling in them the values of the Scout Oath and Law," according to the official Boy Scouts of America website. This training to prepare youth to make "ethical and moral choices," however, has been guided by some leaders who have sexually abused children as young as elementary students. According to an expert who has been working on the court case of sexually abused Boy Scouts, 12,254 victims have been abused by more than 7,819 troop leaders and volunteers. According to npr.org, allegations of these cases date back to the 1940s. Tim Kosnof, an attorney who has been involved in more than a thousand court cases of sexual abuse against the Scouts and the Mormon church, stated that 150 pedophiles have still not yet been publicly accused.
Sexual abuse of Scouts has been happening since 1940, and accusers' ages range from 15 to 75. In 2015, the Los Angeles Times investigated and published files of these abuse cases, the first known incident taking place in 1947. Five thousand men and women were kicked out of the Scouting organization for being involved in molesting children. According to the Washington Post, Boy Scouts of America was sentenced to pay $18.5 million in punitive damages in a case brought by a man 30 years after he was molested when he was 12. Many of the cases brought by the victims have been brought forward years after the events happened. Kosnoff said, "It's humiliating, kids don't tell, they carry the secret into adulthood, their coping strategy is not to tell anyone. Many of these men have indicated that they have suffered and struggled their entire lives with this burden." Children who have been molested tend to keep their stories to themselves, not having the courage to tell anyone. Fifty-six-year-old James Kretschmer, who has stated that he had been groped by one of his leaders at a camp during middle school, said, "Nobody would have listened to me. The problem is, then you think, 'Is it something I did? What was I doing, was it my fault? If I hadn't done whatever, he wouldn't have done that.' It took me years and years to realize it wasn't that little child's fault. It was the adult who had control."
Victims of sexual abuse feeling that they are responsible for the abuse they suffered is not uncommon. According to psychologytoday.com, "control by the abuser, shame about the abuse, and the dysfunctional nature of the relationship lowers the victim's self-esteem and confidence and often causes the victim to withdraw from friends and family, creating even more fear and dependency on the abuser." For young children to be abused at an age where they haven't matured yet, trauma of an abuse can damage their mental health for the rest of their lives. Kendall Kimber, another victim, had been abused by a leader when he was invited to the leader's house to join Order of the Arrow, which is an honor society within the organization. He was forced to perform oral sex on the leader. He never told anyone about what happened until he found out that his brothers were also abused by the same leader. Kimber lost one of his brothers to suicide; Kimber said that the abuse incident probably had effect on his decision to take his own life. Kimber said that he "was a kid with attention issues," so when an older figure with authority gave him special attention, he felt wanted and important.
Boy Scouts of America followed in the footsteps of other organizations, such as the Catholic Church and the USA Gymnastics Team, with allegations of the program trying to cover up the abuse cases. According to USA Today, USA Gymnastics filed for bankruptcy protection in December, following the lead of more than a dozen church dioceses. The Scouting organization's insurance companies have threatened to stop covering lawsuits, leaving at least 200 cases uncleared.

About the Writer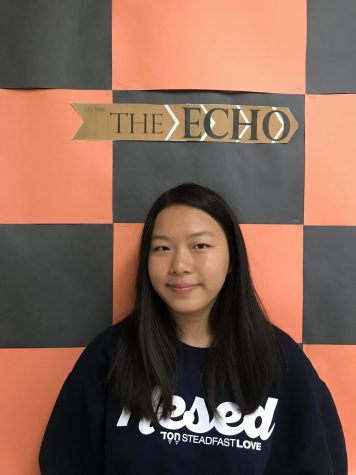 Priscilla Song, Managing Editor
Priscilla Song ('20), Managing Editor, enjoys writing and reading. In her free time, she also likes to spend time with her family and participate in...