Sri Lanka Bombings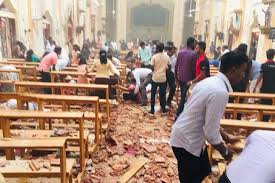 This year's Easter Sunday, April 21st, a usually holy and celebratory holiday for those who recognize the day of Jesus Christ's resurrection, brought tragedy to the coasts of Sri Lanka when hotel guests and church service attendees were assailed by nine suicide bombings carried out by the Islamic terrorist group ISIS. Three-hundred and ten people were killed in the incident and roughly 500 more were injured. The bombs targeted churches and hotels across the country. Three-hundred and ninety-five lives were taken, a group consisting of 39 foreigners and 45 children.
On Tuesday, April 23rd, NBC reported how ISIS took responsibility for the Easter Sunday bombings. The terrorist group released a video of men pledging allegiance to ISIS chief Abu Bakr al-Baghdadi. The video showed Zahran Hashim, a Sri Lankan extremist cleric and preacher for NTJ, as the leader behind the attacks.
According to CNN, two of the nine suicide bombers have been identified as brothers Imsath Ahmed Ibrahim and Ilham Ahmed Ibrahim. They happen to be members of the wealthiest Muslim families in the capital and have connections to the country's political and business elite. They are sons of the spice trader Mohamed Ibrahim, the founder of Colombo-based Ishana exports.
The government is still investigating the video and other alleged terrorist groups responsible for the attacks. However, despite recent attacks, Sri Lanka continues to welcome tourists. "Sri Lanka is open for business and all possible measures have been taken to ensure the safety and security of tourist," said the Sri Lanka Tourism Development Authority in a Facebook post, CNN reported.
"Sri Lanka Tourism deployed trained emergency response teams and its representatives at hospitals, affected hotels and the airport to assist tourists in any way possible," SLTDA added.
Tourism is Sri Lanka's main industry, playing a significant role in its economy, so Sri Lanka's government is working to continue to encourage tourism in the face of the recent terrorism.