THS Takes Italy
Imagine roaming around in a foreign country with just your friends from school. No parents. That's exactly what 10 girls from our school did. Alexandra Osterwalder ('20), Alexis Del'Aquilla ('20), Rachel Wetstein ('19), Stella Uresse ('22), Tais Ramos ('22), Susannah Abrams ('19), Joy Mei Damato ('20), Alexis Jacobson ('19), Inbar Strauss Kirshner ('22), and I, Sophia Dongaris ('20), along with Signora PM, Mrs. Millar, and Mr. Millar, traveled around visiting small towns and big cities in Italy.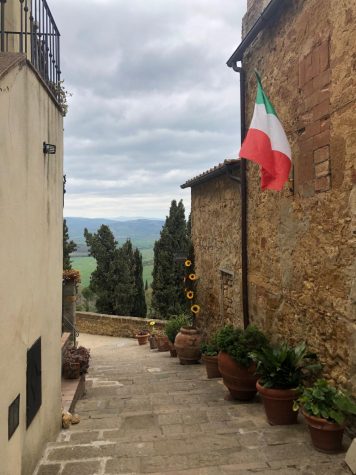 As soon as we landed in Rome on Sunday the 14th, we hit the ground running with our first stop at Orvieto in Umbria. Tired and jet-lagged, we still managed to walk around the whole town in torrential downpours with smiles on our faces. On day two, we traveled to a little town called Pienza with a stunning overlook at Tuscany's rolling hills. We had about three hours to ourselves to roam around, shop, and, of course, eat the delicious Italian food. "Getting to experience other cultures and getting closer with the other girls was an experience of a lifetime," said Del'Aquilla ('20). "It was something so different and I know I'll remember it. Being able to go off on our own to explore Italy was so influential and I'm so glad I took this chance to go abroad for the first time."  After Pienza, on day two, we headed to Montepulciano. With our tour guide, we visited the Temple of Saint Biaggio and were able to see the Piazza Grande of the beautiful town. We definitely got our steps in with the extremely narrow steps to the top of the tower in the town hall and the inclines of Montepulciano too!
On day three we traveled to Siena and visited the Duomo di Siena. Climbing to the top of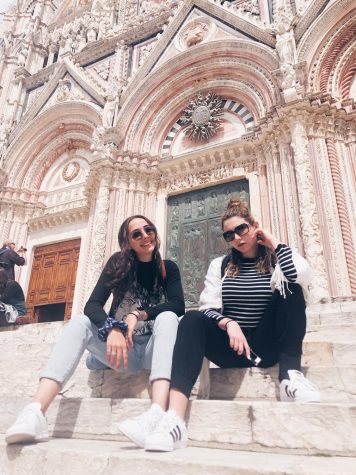 the Duomo, we saw spectacular views of Siena and the blueprints to the church. Inside, the Duomo had beautiful stained glass and paintings all around. After that, we visited the Museum of the Duomo. On day four, we moved on to Florence, visiting the Uffizi Gallery, an art museum containing art by Duccio, Michelangelo, Raffaello, Leonard, Botticelli, and many others. Following that, we had about three hours of free time to wander around Florence to eat and shop.
Del'Aquilla, Wetstein, Jacobson, and I went off across the famous Ponte Vecchio bridge to where the locals hang out and had a delicious lunch consisting of handmade pasta and pizza, while others stayed on the city side to shop. Florence is an overwhelmingly beautiful city, and it seemed like the city itself was a museum. We had the chance to climb up the dome of the Santa Maria del Fiore, which was 500 steps to the top, to see the breathtaking view of the city. After the trip up the stairs, everybody was in shape. Day five we spent back in Siena with more free time and a visit to the museum in the town hall.
On day six, we visited the postcard-perfect town of Sarteano, with its Etruscan roots and gorgeous theater. Thanks to Mr. Millar, who is on sabbatical in Italy, for sharing this hidden treasure with us. What was supposed to be our last full day in Europe we spent in Rome. Visiting the Colosseum, Trevi Fountain, Pantheon, Forum, and of course stopped for gelato on the way.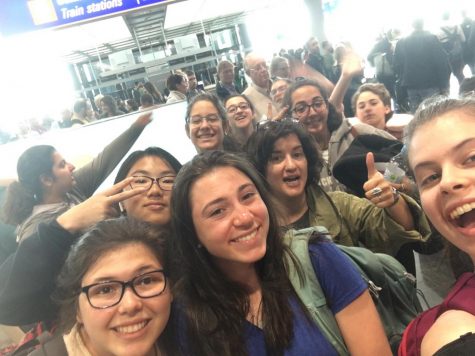 With a wake-up call at 3 am the next day, we were ready to head home. We got on our plane from Rome to Frankfurt,  only to be disappointed to find out that our flight from Frankfurt to New York had been canceled last minute. With no other planes able to take us back to the States, we were stuck in the Frankfurt airport for about 8 hours trying any way possible to get home that day. Instead, we had to stay overnight in Germany. Even though it wasn't ideal, it was a fun and hilarious ending to an amazing trip. The three teacher chaperones were absolutely awesome and the girls really expressed that on the trip. "I would never change the three of them as our chaperones. They were basically like our parents on the trip, and they were so much fun to be around," said Del'Aquilla.
Mrs. Millar seemed to enjoy us as much as we enjoyed spending time with him and the chaperones. "I would love to reiterate," he said, "how lovely it was to see the students interact with schoolmates they had not known at all prior to the trip. I would travel with these ten ladies anytime!"
We would like to wish Mr. Millar the best for the rest of his sabbatical in Siena.