Junior Samantha Lawrence Wins Athlete of the Week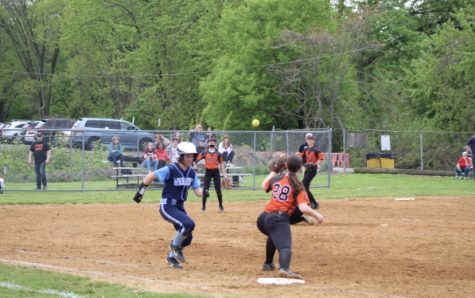 Samantha Lawrence, a junior and a Tenafly tri-star athlete, won The Record's Female Athlete of the Week the weekend of May 4th. After an outstanding offensive and defensive performance during Tenafly's first round of the Bergen County Tournament against Waldwick, Lawrence surpassed all of the other nominees and earned the title.
Also a nominee for Jersey Sports Zone's North Jersey Final Game Ball and part of the team's nomination for North Jersey's Top Team: Fan Vote Award, Lawrence has had a phenomenal season with hits and defensive plays galore.
"I am very honored to have received this award," said Lawrence. "It was a complete shock when Koehler called me and said that I had won because I didn't even know he had nominated me. I was with a few of my teammates, which made it really special."
The team has been having a successful season thus far, breaking the streak of having a losing record, and making the Bergen County Tournament for the first time in years. Lawrence, who is considered a power hitter for the team, has played a monumental role in elevating the game of the Tigers.
"Sam is a very good athlete," stated Coach Koehler. "She can play any sport at the high school and be one of the best players on her team. She puts a lot of time and effort in everything she does."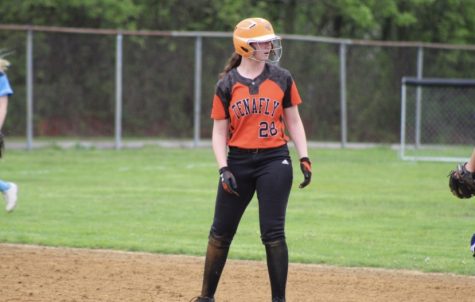 "I don't think that there is anybody that deserves this award more than Sam," stated pitcher Megan George ('21). "Not only is she an amazing player, but she is also an amazing role model for the rest of the team. She works hard at each and every practice and will do anything to get better. I feel very lucky to play with Sam. Just watching her play the sport has made me a much better player myself, and I have learned a countless number of things from her. She always puts the team first ."
Lawrence, a tri-star athlete, has excelled in all of her sports. Koehler, who coaches her during her volleyball season, has grown to know Sam as both an athlete and a person.
"Sam is a winner," said Koehler. "Not many athletes possess the traits she has. She finds ways to get the job done. She's coachable. I think I'm tough on her at times because the sky's the limit with her. Sometimes as athletes, we settle or think we can't get any better, but Sam constantly strives to get better.  That's why I appreciate her. She's mentally tough, and you need that to ever have a chance to be an all-county player or win Athlete of the Week."
Lawrence was just nominated to be a senior captain for the 2020 season. The process consisted of girls on the team voting on who they felt showed leadership and captain potential. Lawrence was an obvious candidate.
"I would like to thank my teammates because without them, we wouldn't have made it into the county tournament, and I wouldn't have had the opportunity to play as well as I did to help our team win in a very hard, fought game," stated Lawrence. "I'm very proud of everything our team has accomplished this year and I'm glad that I was able to be a large part of that."