The Story of James Charles: From Covergirl to Cancelled
The so-called "beauty" community on YouTube is anything but. Despite its name, scandals get horrendously ugly, and they happen frequently enough to prompt the rise of channels whose videos have the sole purpose of clarifying drama between YouTube stars. Recently, beauty YouTubers James Charles and Tati Westbrook had a major falling-out, and Westbrook took to YouTube to illuminate her rationale for saying "Bye Sister!" to Charles. The shocking contents of the video have left the beauty community in pieces. Since just this weekend, Charles has lost millions of subscribers, who have apparently flocked to Westbrook's channel instead.
In her 43-minute video, Westbrook detailed the reasons for her leaving Charles in their professional and personal relationships. Firstly, she explained the background of the once positive relationship they held. She claimed that, as a larger YouTuber, she helped Charles gain both fame and money and wanted simply to see him succeed. "I've promoted him, I've supported him, I've put him in so many videos…I wanted him to make it. I was, from the pit of my gut, so proud. So proud." she stated. Her explanation of their relationship was eloquent and genuine, and she affirmed that she did not seek any financial gain from Charles.
Westbrook's biggest disturbance in her relationship with Charles, who is gay, was his obsession and sexualization of straight men. In the video, Westbrook detailed many of his inappropriate actions towards straight men, including an anecdote about his misconduct at her birthday dinner. She alleged that he expected to get away with his behavior by saying, "Doesn't matter, I'm a celebrity." Westbrook wasn't the only one who noticed Charles' misbehavior in this way. Singer Zara Larsson took to Twitter to expose Charles as well: "I'm cackling 'cause he hit up my boyfriend in the DMs several times knowing damn well he's straight," she tweeted regarding her boyfriend Brian Whittaker. Followers of James Charles have also noted his obsession and inappropriate jokes about Shawn Mendes and the Dolan twins. Westbrook attempted to subdue Charles in her video by saying, "This behavior is not normal, it's not okay…You need someone to tell you to stop it, and that's exactly what I did."
Finally, Westbrook revealed Charles' betrayal towards her business. Westbrook launched Halo Beauty, her own line of hair and skin vitamins, in 2018, and Charles allegedly refused to promote her line because of his young audience. However, he later posted an Instagram story ad in recent weeks endorsing one of Halo Beauty's biggest competitors, Sugar Bear Hair, claiming that the company helped him at Coachella. Westbrook explained her frustration with Charles in the video: "Have some loyalty to that fan base who has put so much money into your bank account instead of lying to them."
Charles made an eight-minute video in reaction to "Bye Sister," in which he apologized to Westbrook. However, his apology video was met with critique across social media. To some viewers, his apology appears ingenuine and dramatic, like he's forcing himself to cry. The cherry on top? The likes-to-dislikes ratio.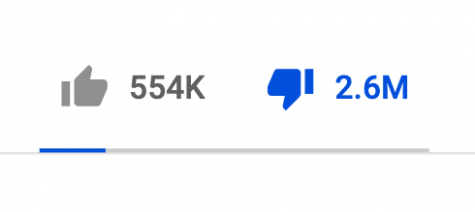 Many celebrities have reacted in opposition to Charles following Westbrook's video. Close friends Emma Chamberlain, Ethan Dolan, and Grayson Dolan, who were part of a YouTube friend group called "The Sister Squad" with Charles, have unfollowed him on social media. Other notable names who have disconnected themselves from Charles on social media include Kylie Jenner, Demi Lovato, Shane Dawson, and Jeffree Star. Charles' YouTube following has dropped significantly, from 16 million subscribers just before Westbrook uploaded her video to barely 13.5 million. In reaction to this huge disturbance in the beauty community, Anya Kasubhai ('20) stated, "It's nice to see that celebrities are being held accountable and that even their own supporters will hold them to high morals."
It's unclear if the beauty community will ever accept Charles back in after his brutal downfall. However, it's important to remember that Charles and his career are young—in fact, he's just days away from turning 20, and he really only gained major fame in 2016, when he became the first male ambassador for makeup brand Covergirl. Although his actions are inexcusable to some, it's Charles' decision whether he will continue to film videos, produce his eyeshadow palettes with makeup giant Morphe, and try to take back his name as an influential male figure in the beauty community. But judging by the huge impact of her video, which has amassed almost 40 million views thus far, Tati Westbrook doesn't seem like she'll be "making up" with James Charles anytime soon.