Science Research Students Present Projects at Symposium
Every year, Tenafly High School's Science Research Honors students showcase their work of the past year or years at the Science Research Honors Symposium. There, a guest speaker comes to talk about his or her work in the science field, and students exhibit their projects that they carried out individually, with their mentors, or in particular programs. Sophomores present about an article they read, juniors present their work to date, and seniors present their findings, the culmination of their last three years. This year's symposium took place on May 9 from approximately 1 to 8 p.m. in the school library.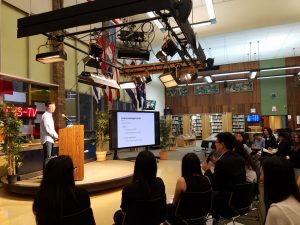 Science Research Honors is a three-year program that teaches students about the methods of science research by involving them in real scientific study with field mentors and highly trained THS science staff members. This starts with a literature search to narrow their topic, then finding mentors in that field to design and implement legitimate experiments, and, finally, spending hours upon hours exploring that topic.
At the Science Research Symposium, students listen to a talk given by a guest speaker in the afternoon, and after a short break during which they leave the school to eat dinner, return in the evening to present their projects and accomplishments to parents, teachers, and other students. Opening up this year's symposium was Dr. Stephen Schnetzer, professor of physics at Rutgers University, who described the expanding universe during periods 6 and 7. Students greatly enjoyed his speech. Maddie Davis ('21) said, "The guest speaker this year gave a very interesting talk on the expanding universe." Then, students returned for the later part of the symposium, from 5 to 7:45 p.m. First, there was a poster session where all science research students presented their projects and observers could walk around and see the work of every student. Then, the emcees called everyone to the center of the library, where students acknowledged their teachers, thanked their mentors, and said a formal goodbye to the seniors. Afterwards, all of the seniors in the program presented their work on a PowerPoint.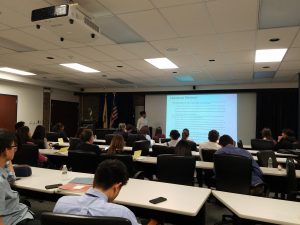 There were two sessions for the senior presentations. During the first session, three seniors were sent to the library and the PITT, where they presented, and during the second session, the rest of the seniors were distributed into classrooms. The seniors had worked on a variety of projects, which ranged from programming an ant colony to "breeding" C. elegans.
Audience members who saw the seniors' presentations found them fascinating. "I think my favorite part of the symposium was the senior presentations, which was the last segment of the whole event," said Ellie Park ('21). "In my opinion, their projects tend to be more interesting because their experience in research gives them more freedom in choosing a topic to focus on. Watching the presentations was also a good opportunity for us underclassmen to learn how to present. We could see how they navigated through questions from the audience. Lastly, since the students in Science Research are sort of a family, it was fun to see our friends present something they were passionate about."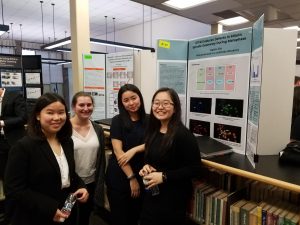 All of the Science Research students participated in the symposium, and anyone was welcome to come and observe.