Teens Allegedly Drugged at Jake Paul's Party
YouTuber Jake Paul threw a large-scale party for rapper Desiigner at his $6.9 million mansion last Saturday, and the mother of one of the guests came forth on Facebook with allegations of her daughter being drugged at the party.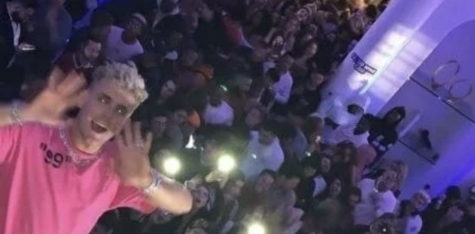 The mother, whose identity is unknown, posted on the Moms of Conejo Valley Facebook page: "A big warning to those with teenage daughters: My daughter was at a party in Calabasas last night for YouTuber Jake Paul. The house was a mansion filled with young people. She ended up in the hospital with eight other girls who had been drugged and ended up at West Hills Hospital incoherent. Something was put in their drinks. The girls were all half naked and unable to walk or talk. They were made to sign a disclaimer at the door. I'm sharing this in hopes that you will talk to your teens and young adults. I'm sharing this in hopes to help someone. I will be reporting this to the authorities." Each guest had to allegedly sign a waiver upon entering the party, implying that the host would not be held responsible for any damage done to guests, including but limited to illegal drug and alcohol usage.
It is suspected that the girls entered the party by either lying about their ages or using fake IDs. Paul's attorney, Stanton Stein, said in response to the issue, "We take this claim very seriously. We are working with authorities to make absolutely sure we do our part to uncover the truth." The Los Angeles County Fire Department said that they had "spent the majority of Saturday night transporting multiple patients from the party." According to Buzzfeed News, firefighters transported at least two sick people to the hospital. However, the sheriff's office said that they had not "received information from local hospitals that young adults were drugged." Paul's representative suggested that some guests would get alcohol poisoning at a party that was attended by hundreds of young people. He also stated that there were 38 security officers at the party and that all guests' IDs were checked. The party featured motocross and boxing activities, and an ambulance with paramedics was present in case of an emergency. From the authority's point of view, no serious offense had occurred, for Paul had the necessary precautions to prevent an accident. Newsweek.com says that there had not been a single credible claim of misconduct and suggests that "Paul's reputation might be more of the issue." The former Disney star had been caught up in several scandals, including cyberbullying, racism, and his brother's infamous suicide forest video. It is still unclear whether any underage teens were actually drugged at the party, judging from the lack of evidence, but the biased claims of haters of Paul say otherwise.
If Paul is found guilty of these charges, he could be convicted of encouraging underage drinking and spiking drinks.