Horseplay at the Kentucky Derby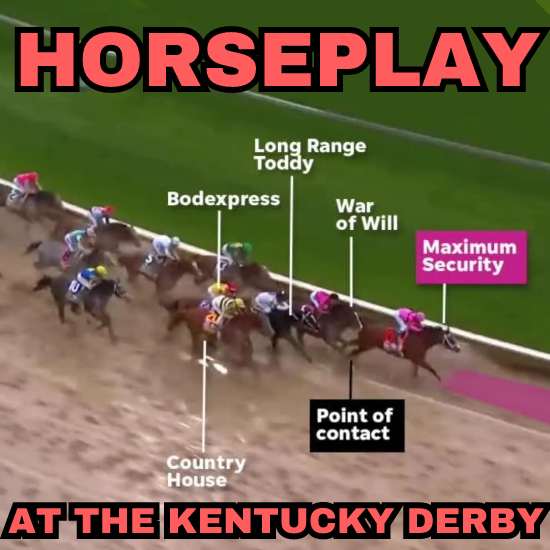 Horse racing. America's number one pastime. Maybe not number one. Like thirteenth. Eh, maybe seventeenth, pushing on eighteenth. Dust in the air. Flags waved. The crisp sound of hooves on sand. Neighing in the distance. While an enormous fan base and betting economy surrounds the sport, chances are, you, much like myself, don't know much about this hobby and culture. But recently, just this last Saturday, a scandal galloped through the horse racing community, leaving a dust cloud of debate and controversy in its wake so great, it has crossed the boundary from horse-specific to national news: Derbygate.
In this piece, I'll take you through the weird and wild world of horse racing using nothing but the stars, sun, and horse puns as my guide. It was a brisk Saturday morning, the 145th Kentucky Derby at Churchill Downs. There was fierce competition that day. Bets were made, prayers said, and horsehair combed. The fiercest of competition were veteran horses War of Will and Maximum Security alongside fellow thoroughbreds Bodexpress, Long Range Toddy, Country House, Code of Honor, and Tacitus among others. The race was on. The horses were flying, long neck by long neck. Then came the final stretch. Maximum Security was taking a slight lead, right in front of War of Will until, suddenly, Maximum Security doubled, maybe even tripled that lead. He won. Confetti rained down. Horses neighed in congratulation. But someone had a long face: War of Will trainer Mark Casse.
Slow motion video analysis suggests that Maximum Security drifted out of his lane potentially blocking off fellow racers with a slight contact or interference with, you guessed it, War of Will, Casse brought this to attention and eventually disqualified Maximum Security from victory. Mark famously compared the unstable ride by Maximum Security's Luis Saez to that of "a drunk driver," pointing a finger at the jockey, accusing him of intentionally blocking other horses. Basically, War of Will and his jockey were horsing around a bit.
Why is this controversial? Multiple reasons. First, low-risk hobby betters and big gamblers alike had lost money due to the controversial decision. Imagine, you hear about Maximum Security's victory after you bet on him by chance only to be forced to pull in the reigns and hold your horses. Premature celebration raised hopes and crashed them down, only for a full reverse. War of Will's victory posed him as a frustrating dark horse.
Mr. Whitehead, an English teacher, poet, and The Echo advisor, thought it would be fun to bet a bit of money on the race, deciding on Maximum Security because he liked the name, only to be let down. "I was flabbergasted. I was watching the race on the television while at a sushi bar," Whitehead explained, "I had already paid my bill and we were just waiting for the race to end. We saw Maximum Security win, so I high-fived my wife and we left to go to the off-track betting place to cash in my ticket. When I got there and I heard the woman said that my horse was disqualified, I said, 'You gotta be kidding me!' She said 'No, I'm not.' I crumbled my ticket and walked out disheartened."
Second, video analysis included in the article isn't as clear as Mark Casse seemed to think it was in the heat of the race. Several critics and horse racing writers and enthusiasts are outraged by the brash decision to exclude Maximum Security from the winner's circle. And although I hate to beat a dead horse, the decision, as far as I can see from video evidence, is complete horse feathers. It's a bit disappointing and it damaged the predictions or bets of many watchers.I can't even imagine how Saez must have felt ponying up his hard-earned trophy.
At the end of the day, do I think horses and their racers should be held accountable for slight drifting? Neigh. Horses will  horse around. It's in their nature.  Much like their riders, they aren't capable of monitoring their every movement or dip over racing lines. I guess you can lead a horse to the derby, but you can't make it think, and maybe Mark Casse should get off his high horse…and other horse puns.