Tenafly Students Compete in Foreign Language Poetry Recitation Contest
On May 16, six students from Tenafly High School competed in the annual Dr. Orlando E. Saa Poetry Recitation Contest at William Paterson University. The contest is geared towards middle and high school students and includes categories in several different world languages, so they can recite a poem in either the language they study in school or speak at home. The students entered from Tenafly High School were Elyse Rho ('20), Yu Xuan Liu ('21), Sheva Hamrani ('22), Erin Hong ('22), Tino Shumba ('20), and Chisato Fujita ('22).
The Dr. Orlando E. Saa Poetry Recitation Contest, named after its first program coordinator, began in 1982 as a branch of the Foreign Language Collaborative Program and sponsored qualified students for a scholarship to study their language in a country of their choice. This year, there were more than 700 northern New Jersey high school students from 50 high school districts that were scheduled to compete in one of the eight languages offered: Arabic, Mandarin, Chinese, French, Italian, Korean, Japanese, Spanish, and ESL. Each school is allowed to enter one contestant for each proficiency level, which are Beginner, Intermediate, Advanced, and Native.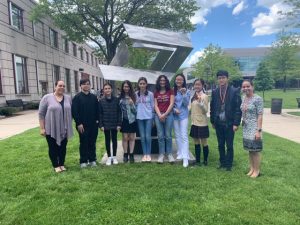 When asked about the benefits of competing in the poetry recitation contest, Dr. Giblin, the head of the World Language Department at Tenafly, said, "I think there are a couple things that are really valuable for students [competing at the Orlando Saa Poetry Contest]. It allows them to showcase their language skills and express themselves differently from inside the classroom, where there's not an emphasis on poetry. It's good practice to be in front of peers and the faculty from the university and have a challenge. For middle school kids, they can see the high school students and see where they could be in three or four years."
Elyse Rho competed in Intermediate Chinese, Yu Xuan Liu in Advanced Chinese, Sheva Hamrani in Beginner French, Erin Hong in Intermediate French, Tino Shumba in Advanced French, and Chisato Fujita in Native Japanese. Judges evaluated the contestants based not only on memorization, but also on the gestures and emotions they showed during their recitation, in addition to their own spin on the poem. Erin won first place and Chisato won Honorable Mention in their respective categories.
Students who competed learned a great deal from their experience. "It was interesting to talk with other people in French," said Shumba. I think, in retrospect, if I could do something differently, I would exaggerate the words more and express my emotions more."